AMD Previews "Naples" Server Processor, Coming in Q2 2017
AMD today took a significant step into the server and datacenter market with its most detailed look yet at the upcoming high-performance CPU for servers, codenamed "Naples".
The new server CPU based on the high-performance "Zen" core. This 32-core, 64-thread CPU signals AMD's re-entry into the high-performance server market, as the company hopes to be a significant player in the datacenter. AMD claims that its new server processor exceeds today's top competitive offering - the Intel Xeon E5-2699A v4 processor - on critical parameters, with 45% more cores, 60% more input / output capacity (I/O), and 122% more memory bandwidth. AMD "Naples" processor includes up to 32 CPU cores versus the Xeon E5-2699A v4 processor with 22 CPU cores. AMD's chip offers up to 64 PCI Express high speed I/O lanes per socket, versus the Xeon E5-2699A v4 processor at 40 lanes per socket. Last but not least, the "Naples" chip supports up to 21.3 GB/s per channel with DDR4-2667 x 8 channels (total 170.7 GB/s), versus the Xeon E5-2699A v4 processor. One area where the AMD chips will fall short is in high-performance applications, where Intel chips could excel. Intel's Skylake server chips will have AVX-512 to run vectorized applications, while AMD's chips have only AVX-128.
With up to 64 cores, 4 TB of memory, and 128 lanes of PCIe connectivity, two-socket servers built with the AMD "Naples" processor will have the flexibility, performance and security to support workloads that once required 4-socket or larger server configurations.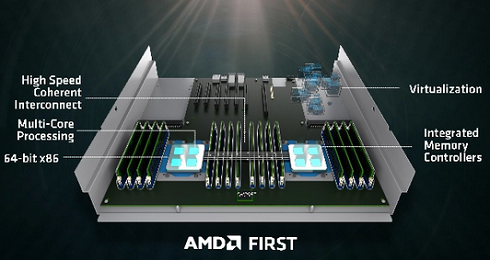 "Today marks the first major milestone in AMD re-asserting its position as an innovator in the datacenter and returning choice to customers in high-performance server CPUs," said Forrest Norrod, senior vice president and general manager, Enterprise, Embedded and Semi-Custom business unit, AMD. "'Naples' represents a completely new approach to supporting the massive processing requirements of the modern datacenter. This groundbreaking system-on-chip delivers the unique high-performance features required to address highly virtualized environments, massive data sets and new, emerging workloads."
"Naples" features:
A scalable, 32-core System on Chip (SoC) design, with support for two high-performance threads per core
Industry-leading memory bandwidth, with 8-channels of memory per "Naples" device. In a 2-socket server, support for up to 32 DIMMS of DDR4 on 16 memory channels, delivering up to 4 terabytes of total memory capacity.
The processor is a complete SoC with fully integrated, high-speed I/O supporting 128 lanes of PCIe, negating the need for a separate chip-set
A highly-optimized cache structure for high-performance, energy efficient compute
AMD Infinity Fabric coherent interconnect for two "Naples" CPUs in a 2-socket system
Dedicated security hardware
AMD will deliver two presentations on its datacenter strategy and upcoming products this week during the Open Compute Summit.