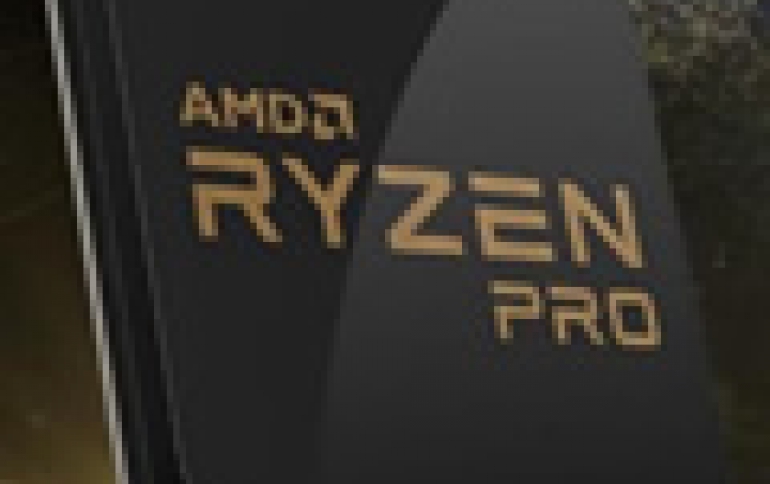 AMD Launches the Ryzen Pro Processors For Business PCs
AMD is introducing their Ryzen PRO processors for business and commercial desktop PCs, offering a lineup that includes the Ryzen 3 PRO, Ryzen 5 PRO and Ryzen 7 PRO families with four, six, or eight cores.
Compared to the standard Ryzen chips, the PRO chips have the same feature set plus enhanced security, 24 months availability, a longer warranty and a promise related to the quality of the new chips.
In general, each Ryzen numbered series approximately corresponds to Intel's numbering, but AMD is claiming some advantages over Intel. Intel doesn't make any vPro-enabled i3-series processors. Even if your computational needs are modest, and an i3 is otherwise sufficient, you'll have to step up to at least an i5 if you want vPro capabilities.
The AMD Ryzen PRO lineup of processors consists of six SKUs that belong to the Ryzen 7, Ryzen 5 and Ryzen 3 families. The Ryzen 7 PRO models are aimed at workstation applications and thus have all eight cores with simultaneous multithreading enabled, the Ryzen 5 PRO models are designed for advanced mainstream desktops and therefore have four or six cores with SMT, whereas the Ryzen 3 PRO models are aimed at office workloads that work well on quad-core CPUs without SMT.
 
Cores/Threads
Frequency
Cache
TDP
Base
Boost
L2
L3
Ryzen 7 PRO 1700X
8/16
3.5 GHz
3.7 GHz
4 MB
16 MB
95 W
Ryzen 7 PRO 1700
3 GHz
3.7 GHz
65 W
Ryzen 5 PRO 1600
6/12
3.2 GHz
3.6 GHz
3 MB
Ryzen 5 PRO 1500
4/8
3.5 GHz
3.7 GHz
2 MB
Ryzen 3 PRO 1300
4/4
3.5 GHz
3.7 GHz
8 MB
Ryzen 3 PRO 1200
4/4
3.1 GHz
3.4 GHz
At the low end, AMD has a pair of Ryzen 3 Pro chips with four cores and four threads each, operating at the same kind of price point as the two core, four thread i3, but with the same management and security capabilities as other Pro parts. Ryzen 3 Pros also have some amount of turbo boosting, which i3s don't.
The Pro CPUs have 3 year warranties, instead of the 12 months of the consumer parts.
However, AMD's Ryzen Pro chips have not integrated GPUs. While the high-end Ryzen 7 Pro parts are likely to be used for high-end workloads with discrete GPUs, the mid-range Ryzen 5 Pros and low-end Ryzen 3 Pros are much less likely to justify that additional expense. Intel's competing chips, in contrast, all come with an integrated GPU, enabling a range of small form factors, reduced power consumption, and lower bills of materials.
AMD claims that the 'Zen' core in every Ryzen PRO processor provides up to 52 percent improvement in compute capability over the previous generation ("Piledriver" architecture), and the Ryzen 7 PRO 1700 offers up to 62 percent more multi-threaded performance than select competing solutions (Intel i7-7700 system).
Targeted for enterprise and public sector implementations, Ryzen PRO processors offer silicon-level security, providing hardware-based cryptographic and security technologies to help protect against threats. Security standards like secure boot, fTPM (firmware Trust Platform Module), AES, and Windows 10 Enterprise security features are fully supported across the entire Ryzen PRO processor family.
AMD says that the Ryzen Pro processors are sourced from wafers with the highest yields to provide commercial-grade quality and reliability. Open-standard DASH manageability allows for CPU-agnostic administration and helps ensure businesses avoid getting locked into proprietary solutions.
Suppliers of commercial client desktops are expected to provide Ryzen PRO-based PCs to businesses worldwide in the second half of 2017. Ryzen PRO mobile is scheduled for the first half of 2018.