AMD Introduces New Kaveri APUs for System Builders
Advanced Micro Devices (AMD) is officially bringing its 'Kaveri' A10, A8 and A6 chips to the small-form factor and even larger desktops starting at $399. This 4th generation A-Series APU come with 12 Compute Cores (4CPU + 8 GPU) and unlock the APU potential with Heterogeneous System Architecture (HSA) features, while it also boasts powerful AMD Radeon R7 Series graphics. Combined with AMD's Mantle API, the AMD A10-7800 APU can enable accelerated performance across select AMD Gaming Evolved titles.
The A10-7800 quad-core chip runs at variable clock speeds of up to 3.9GHz, has eight graphics cores, and is priced at $158 for 1,000 units. The 3.8GHz quad-core A8-7600 chip has six graphics cores and is priced at $104. The 3.9GHz A6-7400K dual-core chip has four graphics cores and is priced at $79.
A10-7800 AMD Radeon R7 Graphics

A8-7600 AMD Radeon R7 Graphics

A6-7400K AMD Radeon R5 Graphics

Compute Cores

12
(4 CPU + 8 GPU)

10
(4 CPU + 6 GPU)

6
(2 CPU + 4 GPU

Max Turbo / CPU Frequency

3.9/3.5 GHz

3.8/3.1 GHz

3.9/3.5 GHz

HSA Features

Yes

Yes

Yes

AMD TrueAudio Technology

Yes

Yes

Yes

Mantle Support

Yes

Yes

Yes

AMD Configurable TDP

Optimized (45W)

Optimized (45W)

Optimized (45W)

Suggested Etail Price

USD$158

USD$104

USD$79
The Heterogeneous System Architecture (HSA) allows the CPU and GPU to work together by quickly dividing and directing tasks to the appropriate cores for performance and efficiency.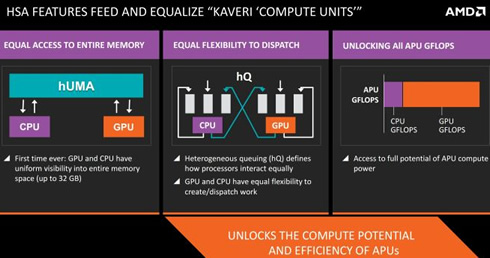 Graphics Core Next Architecture with AMD Radeon R7 series graphics support UltraHD (4K) resolutions and new video post-processing enhancements that make 1080p videos look great when upscaled on an UltraHD-enabled monitor or TV.
Equipped with AMD Quick Stream, AMD Steady Video and AMD TrueAudio technologies, the AMD A-Series APUs combine to deliver lifelike audio and video.
Utilizing a configurable thermal design power option (cTDP), enthusiasts are able to fine-tune for efficiency. The APUs are rated at 65W and the user will have to enable 45W mode in the BIOS of the motherboard. Enabling the 45W mode corresponds to an ~400-500 MHz drop of full loading frequency while still enabling a high turbo. AMD quotes a 6-7% drop in performance in PCMark 8 and 3DMark by moving down to the 45W TDP mode, with SFF or low power systems seeing the most benefit.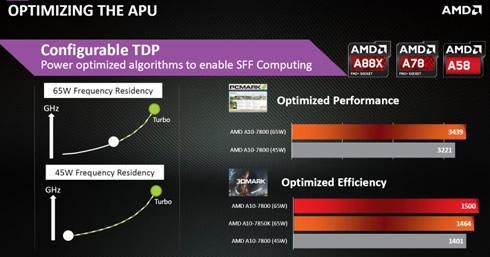 In addition, AMD also announced the introduction of the AMD A8-7600 and AMD A6-7400K APUs, designed for consumers looking to upgrade their application and work experience on the PC. With the unifying FM2+ infrastructure for AMD APUs, users are enabled to build smaller form factors for gaming and home theatre PC (HTPC) systems.
In addition with AMD Radeon memory, users can benefit from AMD AMP technology to help boost their gaming experience with the AMD Radeon R9 2400 Gamer Series memory which has been tested and certified for AMD A10 APUs.
AMD is also running a promotion for the A10 series of Kaveri APUs during August through to October – purchase an A10 APU and choose from either a full copy of Thief, Sniper Elite III or Murdered Soul Suspect. This offer will be available in North America, Latin America, EMEA and Asia Pacific/Japan.