AMD Expands 2nd Generation Ryzen Threadripper Desktop Processor Line-up With 2970WX and 2920X Models
Today, AMD announced the availability of two additional 2nd Gen AMD Ryzen Threadripper processor models, 2970WX with 24 cores and 48 threads and the Ryzen Threadripper 2920X with 12 cores and 24 threads.
The Ryzen Threadripper WX series is purpose-built for prosumers focused on raw computational power for heavy workloads. In turn, Ryzen Threadripper X series provides enthusiasts, gamers, and streamers high performance with a smooth gaming experience based on higher base and boost processor clock speeds than the previous generation.
The 24 core/48 thread Ryzen Threadripper 2970WX processor and the 12 core/24 thread Ryzen Threadripper 2920X processor offer high multi-threading with up to 39 and 55 faster multi-threaded performance compared to the Core i9-7960X and Core i7-7820X respectively, according to AMD.
Ryzen Threadripper 2920X also offers simultaneous 4K gaming and 4K30 at 40,000 Kilobit per second (Kbps) encoding.
Both the 2970WX and 2920X processors offer up to 32 faster performance in ray-tracing, and 60 faster encryption for creators compared to the Core i9-7960X and Core i7-7820X respectively, AMD claims.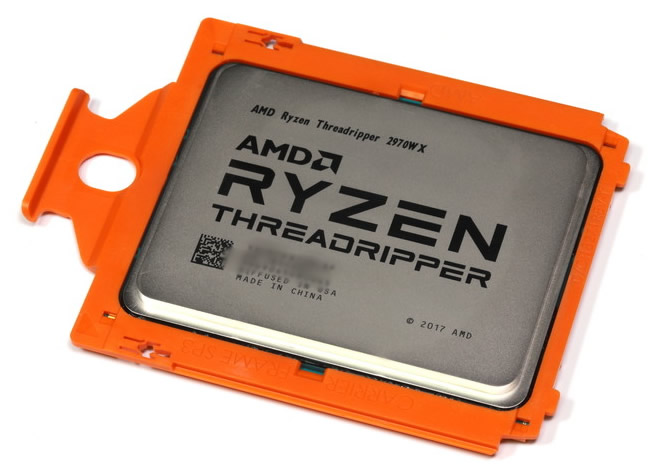 Designed specifically for Ryzen Threadripper WX processors, a new feature is Dynamic Local Mode (DLM) software, which optimizes application performance by ensuring the most demanding threads always receive preferential time on cores with local memory. This feature is automatically configured by downloading AMD Ryzen Master on Ryzen Threadripper 2990WX or 2970WX systems. Without requiring any user input, Dynamic Local Mode:
measures CPU time of active threads;
ranks active threads from most to least demanding;
automatically migrates the most demanding threads to dies with local memory access;
accelerates lightly-threaded and latency sensitive apps without impact to heavy multi-threaded tasks.
When enabled, Dynamic Local Mode results in an average of 15 percent additional performance for Ryzen Threadripper WX Series CPUs in select applications, including the SPECwpc benchmark and games like PUBG, Far Cry 5, and Alien: Isolation, according to AMD. AMD also plans to open the feature up to even more users by including Dynamic Local Mode as a default package in forthcoming updates to AMD chipset drivers.
The new Threadripper 2 platform takes advantage of AMD's newest Zen+ microarchitecture which is good for +3% performance at the same clock speed, but also the 12nm manufacturing node, which improved frequencies for an overall 10% improvement.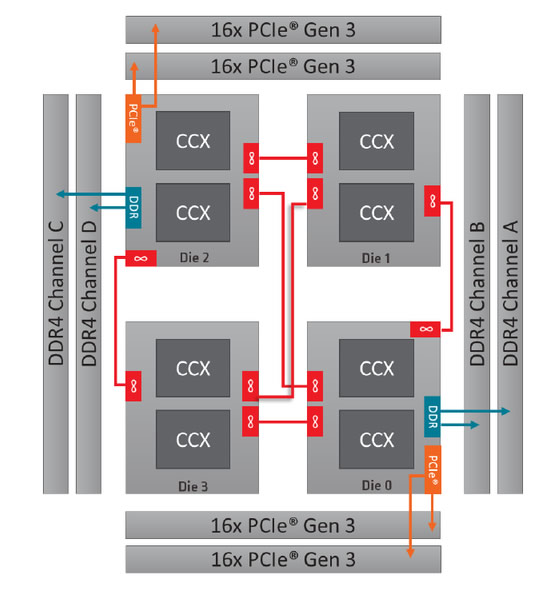 In the Threadripper 2, we have one Zeppelin die connected to two memory channels, another Zeppelin die connected to another two memory channels, and the two new active dies not connected to any memory. This means that in order those two dies to access memory, it has to perform an additional hop.
2nd Generation AMD Ryzen Threadripper Desktop Processor Line-up and Availability
MODEL
CORES/
THREADS
BOOST/ BASE FREQUENCY
(GHZ)
Total
Cache
(MB)
TDP
(WATTS)
PCIe Gen
3.0 LANES
(processor /
platform)
SEP
(USD)
AVAILABILITY
AMD Ryzen™ Threadripper™ 2990WX
32/64
4.2/3.0
80
250W
64 / 72
$1,799
Aug. 13, 2018
AMD Ryzen™ Threadripper™ 2970WX
24/48
4.2/3.0
76
250W
64 / 72
$1,299
Oct. 29, 2018
AMD Ryzen™ Threadripper™ 2950X
16/32
4.4/3.5
40
180W
64 / 72
$899
Aug. 31, 2018
AMD Ryzen™ Threadripper™ 2920X
12/24
4.3/3.5
38
180W
64 / 72
$649
Oct. 29, 2018
All 2nd Gen Ryzen Threadripper CPUs are supported by new motherboards as well as existing X399 platforms with a BIOS update, with designs already available from motherboard manufacturers including ASRock, ASUS, Gigabyte, and MSI. During the holiday 2018 period, these motherboard manufacturers are offering bundles starting from $199 when paired with Ryzen Threadripper CPUs.
Both the 24 core/48 thread Ryzen Threadripper 2970WX and 12 core/24 thread 2920X models are available today.