AMD Details New 35W Ryzen 3 2200GE, Ryzen 5 2400GE APUs With Graphics Built in
AMD has added new low-power variants of the company's 2000-series APUs - the Ryzen 3 2200GE and Ryzen 5 2400GE.
These new APUs have lower TDPs compared to their previous generation counterparts, down from the 65 W to only 35 W.
The Ryzen 3 2200GE has with 4 Zen cores (sans SMT) clocked at a 3.2 GHz base frequency, with supported boosts of up to 3.6 GHz (compared to 3.5 and 3.7 GHz, respectively, on the 2200G variant). The built-in Vega GPU has 8 cores running at 1100 MHz.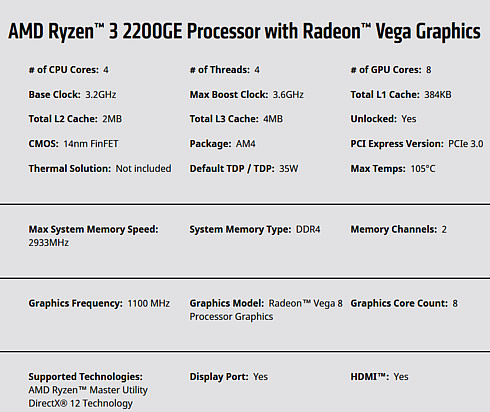 The Ryzen 5 2400GE enables SMT for a full eight threads, and features a 3.2 GHz base clock that can boost up to 3.8 GHz. The integrated graphics processing unit has 11 Vega cores running at 1250 MHz.