Ads Coming to Google's Mobile Homepage and App
Google will begin featuring ads on the homepage of its mobile website and smartphone app later this year, giving the search engine a huge new supply of ad slots to boost revenue.
Alphabet Inc.'s Google dominates online advertising, raking in $116 billion in sales last year. But an unusual slowdown last quarter dented its stock. Some of the worry is that Amazon.com Inc. and Facebook Inc.'s Instagram service are becoming the go-to spots for marketers hunting for online shoppers.
In response, Google is introducing Discovery ads. Rolling out to all advertisers globally later this year, Discovery ads allow advertisers to reach people across Google properties. The ads will show brands or productss in swipeable image carousels, rendered natively across each Google property.
By combining this reach and creative canvas with Google's understanding of intent, Google says that advertisers should be confident they're anticipating what their customers want. Advertisers will be able to reach hundreds of millions of people across the YouTube home feed, the Gmail Promotions and Social tabs, and the feed in Discover using a single campaign.
The ads on the Google home page. On the smartphone app, the ads will appear on the main screen.
Later this year, Google is also launching "Gallery ads": a new search ads format that brings more of advertisers' content to the Search results page. Google says that on average, ad groups including one or more gallery ad have up to 25 percent more interactions—paid clicks or swipes—at the absolute top of the mobile Search results page.
Google is also bringing "Showcase Shopping ads" - a highly visual ad format that incorporates rich lifestyle imagery into Shopping ads - to even more surfaces like Google Images, the feed on Discover, and soon YouTube.
The new Google Shopping
Google wants to make it easier for users to discover and buy new products because they shop in brief spurts while watching TV or sitting in the bathroom.
This year Google is unveiling a redesigned Google Shopping experience with new ways for shoppers to discover and compare millions of products from thousands of stores. When they're ready to buy, they can choose to purchase online, in a nearby store, and now directly on Google. For retailers and brands, it brings together ads, local and transactions in one place to help them connect with consumers across their shopping journey.
Shoppers will have a personalized homepage on the Shopping tab where they can filter based on features they care about and brands they love, read reviews and even watch videos about the products.
A blue shopping cart on the item shows shoppers they can purchase what they want with simple returns and customer support, backed by a Google guarantee. With this new experience, Google is merging the best of Google Express with Google Shopping.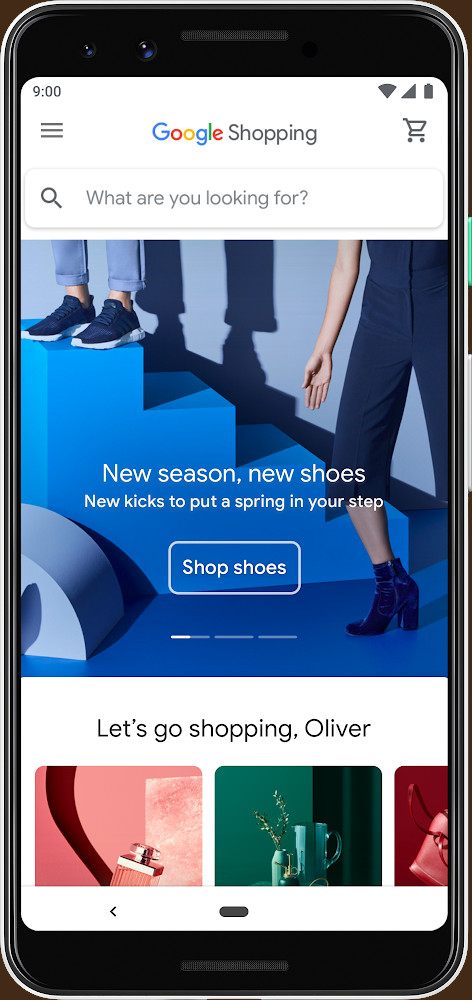 If you're a Shopping Actions merchant, your products will automatically be part of this new purchase experience on Google Shopping, Google.com and the Google Assistant. Later this year, Google will expand Shopping Actions to other Google surfaces including YouTube and Google Images.
Frictionless Mobile Experiences
Over the next few weeks, for bussineses that use mobile apps, Google will enable app deep linking from Google Ads and offer will more robust reporting across web and apps.
App users will be taken directly from your Search, Display and Shopping ads directly to the relevant page in your mobile app, if they have your app already installed. This means advertisers' customers will be able to complete their desired action—buy something, book a trip or order food delivery—in a way that's optimized for the destination.