3-Way Nvidia SLI Officially Announced
Extreme gaming just got a whole lot better. Nvidia has extended its SLI technology allowing up to three GeForce graphics cards to be used in a single machine. 3-Way Nvidia SLI is promising to allow new, graphics-intensive titles, such as Call of Duty 4, Company of Heroes Opposing Fronts, Enemy Territory: Quake Wars, and Unreal Tournament 3, to be played at the highest resolution possible, with all the graphics settings cranked to the max, and antialiasing applied for the first time.
Nvidia claims that the 3-way SLI delivers up to a 2.8x performance increase over a single GPU system, giving high-end gamers 60 frames per second at resolutions as high as 2560x1600 and with 8x antialiasing.
The heart of a 3-way SLI system is an NVIDIA nForce 680 SLI MCP motherboard and three GeForce 8800 GTX or GeForce 8800 Ultra graphics cards. With 3-way SLI, gamers can take advantage of the power of 384 stream processors, a 110+ gigatexel per second texture fill rate, and over two gigabytes of graphics memory.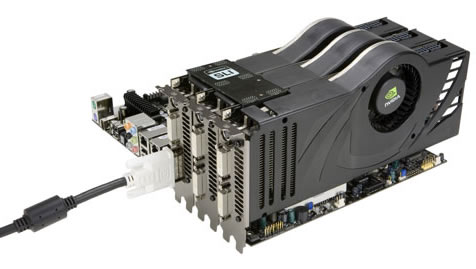 Note that the specificic configuration requires a significant budget. This includes $1800 for the GTS or Ultra graphics cards, as well as $300 for a 1200W PSU and of course, a well-ventilated PC box to handle the high geat generated by the three graphics cards during playing. However, 3-way SLI gives gamers the flexibility to scale their graphics processing power with one, two, or three GeForce GPUs, depending on their desired price and system configuration.
3-way SLI systems are available from gaming PC system builders and the components needed to build your own 3-way SLI system are available from leading retailers. For a list of system builders or to see a complete list of NVIDIA 3-way SLI certified components, visit http://www.slizone.com.