9. RW Writing Tests
Yamaha CRW2200E IDE CDR-W - Page 9
RW Writing Tests
We used Nero 5.5.1.8 for writing CDs at the maximum RW speed for all the tested drives. It's nice that Yamaha in the new 2200x series adopted the 10x re-writing speed: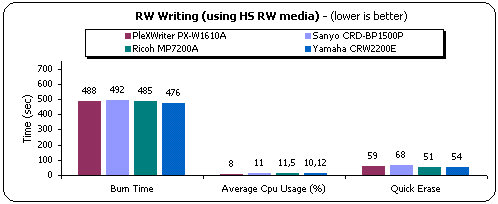 The Yamaha has an impressive re-write time of 476secs managing to outperform the rest drives... The time gap is from 9 to 16secs! A very nice surprise from Yamaha, considering that the previous 2100x series featured only 8x rewrite... Also the erase time stays below 60secs but the Ricoh 20x seems slightly faster.
Packet Writing Tests
The Yamaha CRW2200E supports both 10x CLV and 4-10x CAV packet writing peformance which according to Yamaha:
"...CLV mode is definitely faster when you write large numbers of files or large data 'sequentially'. But when it comes to "random" write/read access to a High Speed CD-RW disc (such as when opening, editing and overwriting a Word document stored on the disc), CAV mode can perform better. This is because CAV keeps disc rotation speed constant and does not require continuous adjustment by spinning up and down according to the location of where the data is read or written..."
We used InCD v2.13 for most of our packet writing tests. The 2 packet-writing modes can be selected within drive's InCD properties tab: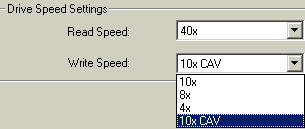 We used a TDK HS-RW media and we formatted it. The formatting of the media takes around 18 minutes. The formatted disc had 534mbs of free space. We copied a 403 MB file (403.147 kbs) from a Hard Disk (on the same PC as the writers) to the formatted RW media using Windows Explorer (we dragged and dropped) and we completed the test twice to eliminate any possible time measurement faults and user errors:
The Yamaha 2200E gave the fastest packet writing among the four tested drives. It managed to surpass all other drives. The drive also performed very well in the reading packet-writing formatted discs and looses the first place with only 0.5x gap. In case you wondered, the drive's performance with 4-10x CAV selection was much slower (as expected) and reached 4.96x.