Xiaomi's Bezel-less Mi Mix, Mi Note Phablet and Mi Notebook Pro Unveiled
Xiaomi today unveiled the second generation of Mi MIX smartphone, featuring a near-bezel-less design with a full screen display. The company also unveiled the new Mi Note phablet and the Mi Notebook Pro laptop.
The Mi Mix 2 has been developed by a team led by designer Philippe Starck. It has a 5.99-inch QHD display and an improved 18:9 screen resolution, compard to the first generation device. The Chinese phone maker claims to have trimmed the lower border down by a significant 12 percent.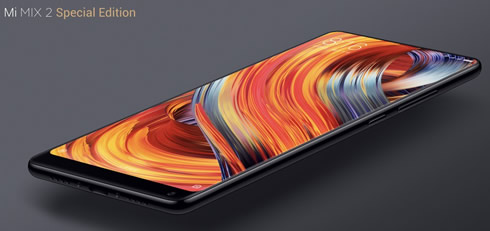 Once again Xiaomi has removed the front speaker to optimize the screen, and has opted for a piezoelectric ceramic acoustic technology setup which essentially uses a combination of metal frame inside the device and the screen to deliver sound without a visible speaker.
The smartphone's 12MP main Scamera uses a Sony IMX386 sensor with a larger pixel size of 1.25um and 4-axis optical image stabilisation. The front camera is 5MP.
The device is powered by Qualcomm's new Snapdragon 835 processor, 6GB RAM and comes in storage variants of 64GB, 128GB and 256GB. It packs a 3400 mAh battery (1000 mAh less than Mi Mix) with Quick Charge 3.0 support.
Xiaomi Mi Mix 2 is powered by the company's own MIUI 9 based on Google's Android 7 Nougat. The smartphone is also likely to get update to the latest Android variant, Android 8.0.
As for connectivity, the Mi Mix 2 offers support for LTE 4, dual-band MIMO Wi-Fi, 4G +. In all, it supports 43 bands. The smartphone, however, lacks support for 3.5 mm headphone jack.
Mi Mix 2 basic specs:
5.99-inch 2160x1080 LCD at 401ppi
151.8mm x 75.5mm x 7.7mm, 185g
Qualcomm Snapdragon 835 processor
6GB of RAM (8GB on ceramic special edition)
64/128/256GB storage options (special edition is only 128GB)
3400mAh battery
USB-C
No headphone jack
Bluetooth 5.0
MIUI 9, based on Android Nougat
43 LTE bands
The options start at 3299 RMB ($506) for 64 GB of storage, with 3599 RMB ($550) for 128 GB and 3999 RMB ($613) for 256 GB. A special edition model that pairs 8GB RAM with 128 GB of storage is on offer for a more pricey 4699 RMB, or around $720.
Xiaomi also announced today its newest Mi Note smartphone. It has a 5.5-inches display, a 4-sided curved glass body with a mirror-like effect, a 14nm octa-core Snapdragon 660 processor, a 3,500 mAh battery and 6GB RAM. There's a 16-megapixel selfie camera and 12-megapixel dual-lens arrangement for the rear-side camera, including 2X optic zoom, portrait mode and four-axis optical image stabilizer (OIS).
The Mi Note 3 also comes with an AI based facial recognition feature that allows you to unlock the smartphone with just a glance. Xiaomi claims that face unlock is as fast as a fingerprint scan and can be used when you hand is wet, in winters while using gloves and so on.
The new Mi Note 3 comes in at 2499 RMB ($383) for 64 GB, 2899 RMB ($445) for 128 GB and 2999 RMB ($460) for 128 GB.
New Mi Notebook Pro positioned next to MacBook
Xiaomi on Monday unveiled the 15.6-inch Mi Notebook Pro, a laptop aimed at MacBook Pro fans who need a cheaper alternative.
The fully-fledged verion of th alaptop comes with an Intel new 8th generation i7 processor, 16GB RAM and a dedicated GPU in Nvidia's GeForce MX150. That combination makes it an apparent 40 percent times more powerful than the Mi Notebook Air from last year, Xiaomi said. For this configuration, you'll have to spend 7,000 yuan or about $1,070. You'll get the same laptop with 8GB RAM for around $100 less, while an i5 variant will cost about 5,600 yuan or $860.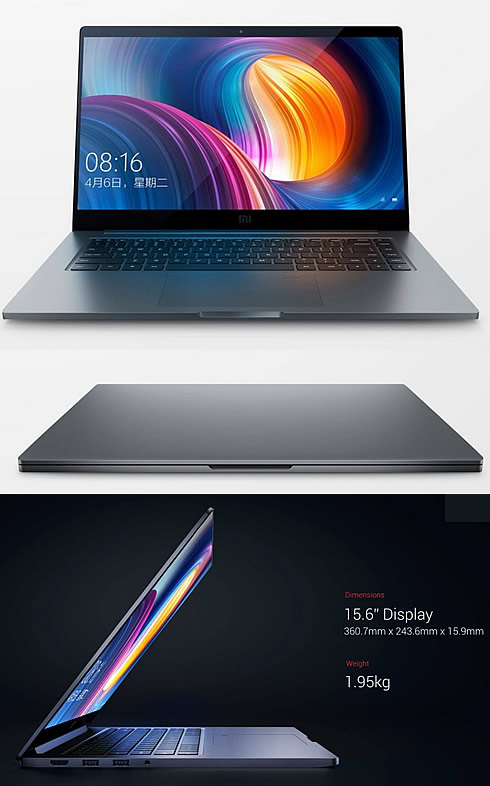 Of course, the GeForce MX150 won't get you too far when it comes to gaming, but it's designed to power through photo and video editing. On the other hand, Intel's 8th generation CPUs yield a performance boost of 40 percent over the seventh-generation Kaby Lake chips. This means that you easily get 4K video, although the Notebook Pro has a 15.6-inch screen with a resolution of just 1,920 x 1,080 pixels.
The machine also includes a fingerprint sensor inside the trackpad, three-in-one SD card support, USB-C and regular USB ports, a headphones jack and a full HDMI slot.
There's no official word on a US release yet.