Xiaomi MI MIX ALPHA Smartphone Has a 108MP Camera, 180 Screen-to-body Ratio
Xiaomi today announced the release of Mi MIX Alpha concept smartphone, featuring a Surround Screen with a screen-to-body ratio of more than 180.6% as well as a 108MP camera.
The concept phoneis crafted with a combination of titanium alloy, ceramics and sapphire.
Carrying the original Mi MIX exploration spirit, when Mi MIX Alpha lights up – the front, side, and back of the phone are almost entirely display.
Unlike traditional smartphone assembly methods, Mi MIX Alpha's internal assembly is first carried out, while its display layer, touch panel, and protection layers are laminated one-by-one. All display component layers are compiled in that order to achieve high curvature Surround Display design, so the internal stress caused by bending the display layers can be released layer by layer. To achieve a smooth and flat surface, Xiaomi says that thge Mi MIX Alpha uses a durable protective layer which optimizes the screen stack structure.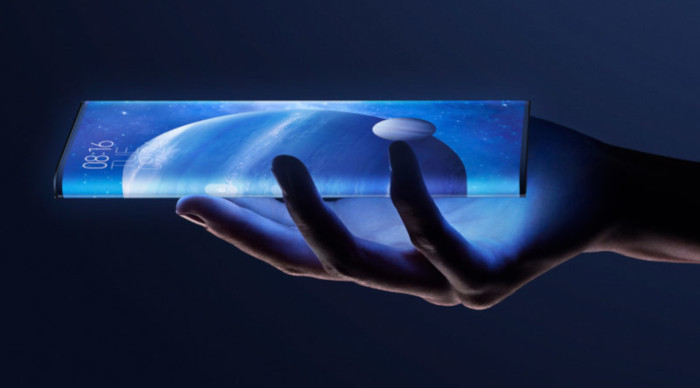 To accommodate the nearly all-screen offering, Mi MIX Alpha has minimal bezels on the top and bottom, and ditches the physical side buttons altogether. A new display acoustic technology replaces the traditional earpiece receiver and proximity sensor while the device's sides are pressure-sensitive and leverage a linear motor to simulate the touch of real buttons.
The Mi MIX Alpha features a 108MP camera with the highest resolution, highest pixel count, and the largest sensor found in any smartphone ever.
The main 108MP camera sports a 1/1.33-inch large sensor – 389% larger than the 48MP camera. This image sensor is capable of producing 108MP photos with a resolution of 12032 x 9024 pixels and supports four-in-one Super Pixel to produce large 1.6μm pixels under low-light conditions. The camera also supports new technologies such as ISOCELL Plus and smart ISO, and is equipped with four-axis optical image stabilization (OIS) to ensure stable videos.
In addition to the 108MP camera, Mi MIX Alpha also has a 20MP ultra wide-angle camera which supports 1.5 cm super macro photography, and a 12MP telephoto camera that supports 2x optical zoom and Dual PD focus.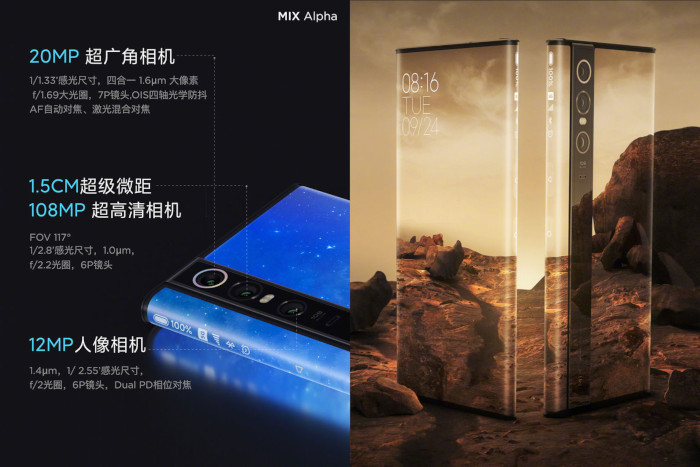 The Mi MIX Alpha's top and bottom parts of the frame are built with aerospace-grade titanium alloy. The alloy is three times stronger than stainless steel but weighs less. On its back, the entire protective cover for the camera area uses a single piece of sapphire glass, which is embedded in ceramic.
On the performance front, Mi MIX Alpha uses the same flagship-grade Snapdragon 855+ mobile SoC as the Mi 9 Pro 5G and supports 5G bands of the three major carriers in Mainland China. The device also features the top-tier 12GB+512GB memory and storage combination, and supports UFS3.0. Mi MIX Alpha is equipped with a 4050mAh battery and comes with a standard 40W wired fast charge.
Xiaomi aims to start small-scale production for Mi MIX Alpha at the end of December and retails at RMB 19,999 ($2814.74), making it even more expensive than the Samsung Galaxy Fold.