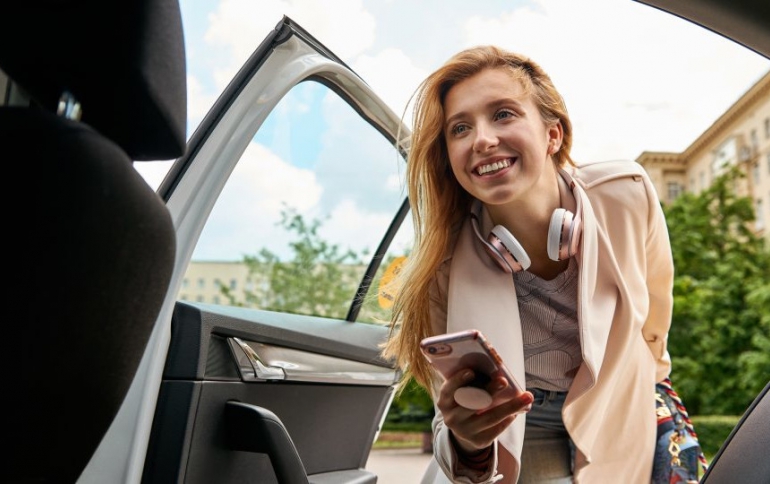 Uber Unveils Unified App For All its Services
Uber is adding more services into its ride-hailing app as it explores ways to generate more revenue and finally turn a profit.
The makeover announced Thursday includes force-feeding its food delivery service, "Eats," into the Uber app that millions of people use to summon a ride.
Uber also will start making other changes to the ride-hailing app as part of its effort to create an "operating system for life," according to company CEO Dara Khosrowshahi.
"This is a big change for us, but we, as a company, have never been afraid of big changes," Khosrowshahi said.
Uber is under intensifying pressure to start making money. With the exception of when it has generated a windfall by selling a part of the company, Uber has done nothing but lose money since its inception, while also pioneering a way for people to easily find someone come pick them up at prices that undercut traditional taxis.
So, Uber debuts the next generation of the Uber app: a new way to discover, access and experience the company's services available through the platform.
Uber started with on-demand rides, but has grown to offer access to everything from food delivery to electric bikes and scooters. Uber even integrated public transit into the Uber app—as well as a few helicopters.
With the new app, you'll now see Uber's Rides, Eats and future options side-by-side. This new app experience is currently testing in hundreds of U.S. and international cities.
Uber also announced today new technologies:
Verify Your Ride: To make sure you get in the right car, you'll now be able to choose to receive a unique four-digit PIN to verbally provide to your driver. The driver will only be able to start your trip in the app once the correct PIN has been entered. Uber is also developing new technology that uses ultrasound waves to automatically verify you're in the right car, no PIN needed.
On-Trip Reporting: You'll no longer have to wait until after you get out of the car to report a problem to Uber. Soon, riders will see a "Report Safety Incident" option in their safety toolkit (the blue shield icon) that will let them report a safety issue during their trip. Uber's safety team will follow up after the trip.
Text to 911: Last year, Uber added an emergency button in the Uber app to connect riders and drivers directly to 911 in case of an emergency. Now, the company is adding an option to send a text message to 911 in cities and counties that support this technology. Uber will automatically draft a text message that includes trip details like the car's make and model, license plate, and location so that 911 operators can respond quickly.
Improved Real-Time ID Check: In 2016, Uber announced Real-Time ID Check, which helps ensure that the driver behind the wheel matches the account in Uber's system. Uber started with basic selfies, and today's enhancement prompts a driver to perform a random series of basic movements—blinking, smiling and/or turning their head—to add another layer of security.
Bike Lane Alerts: By the end of October, riders in more than 200 cities around the world will receive an in-app notification when they're being dropped off near a bike lane.
Uber also announced a number of new products and features:
An Uber Pass provides all-in-one savings like ride price protection, $0 delivery fee on Uber Eats orders (and more) for Uber's customers in 10 cities who use rideshare, Uber Eats and, for a limited time, Uber's bikes and scooters. These options complement Ride Pass, which is available in 40 cities. And today Uber also announced an Eats Pass is now available in 18 cities for frequent food delivery customers.
Uber Rewards is expanding to allow the company's customers earn redeemable points every time they take an Uber ride or get Uber Eats. In the US, Uber Rewards members can now choose new rewards like $0 delivery fee on Uber Eats orders, free meal items from partners like McDonalds and Ben and Jerry's (coming soon), and discounts on UberX and Uber Comfort rides. Uber Rewards is also going global, so US travelers can earn points when using
Uber anywhere abroad—and the program is expanding to Brazilian and Mexican customers, too.
Uber is launching allergy-friendly filters for Uber Eats, a new feature that will make it easier for the millions of people with allergies or dietary restrictions to more effectively order on Uber Eats. When choosing a dish, you can easily communicate your allergy or dietary restriction to restaurants through the app. If a restaurant can't accommodate a request, they can message you and provide an opportunity to order another item that fits your needs.
Uber announced an exclusive partnership with sweetgreen.
Lastly, Uber is partnering with Rachael Ray, who will open her first-ever restaurant—virtually—on Uber Eats. Timed with the launch of her new cookbook, Uber is teaming up with Rachael to offer some of her favorite recipes in 10 cities for 10 weeks. The virtual restaurant will live exclusively on Uber Eats and will offer Uber's customers and fans alike the opportunity to enjoy Rachael's food at home for the first time.
Uber also announced several new features geared towards drivers and couriers:
Uber announced the upcoming debut of an earnings estimator to help drivers better predict their earnings potential.
Uber is rolling out new tools to help, including a new Demand Heatmap that highlights areas where more riders are requesting trips, and better predictions of when drivers can expect a trip request.
In November, Uber is introducing Back to Busy Area. If a driver completes a trip in a quiet area, they can turn this on to help filter trip requests back in the direction of their choice.
Uber is working to recognize and create more opportunities to reward drivers. The Uber Pro program includes rewards like 100% tuition coverage at ASU
Online and discounts for common driving-related expenses. Today, more than 1.5 million drivers are part of Uber Pro, and Uber is on track to hit 3 million by the end of the year. Uber is also bringing Uber Pro to even countries, including the UK, Brazil, and Argentina.
Uber also took steps to make sure it is being a good citizen to every city it serves:
Uber is expanding the in-app Transit option to San Francisco, Mexico City and Paris today, and 7 more cities (on every continent!) by the end of the year.
Uber also announced new updates to make Bikes & Scooters easier to find when you're on the go, and new hardware to keep help devices charged and available to customers.

The new generation of JUMP bikes and scooters come with easy-to-use swappable batteries. To make finding a ride with a full battery easier than ever, Uber is building the new JUMP Charging Kiosk, which will allow you to swap out a low-charge battery for a fresh one, on the go. Uber's new battery-swappable bikes, scooters and charging infrastructure will be in select cities next year.
Starting next month, Uber will begin showing bikes and scooters on the map inside the Uber app, so it's easier to see micro-mobility options around you—whether they are Uber's or not. Uber wil make this change in all 28 cities where our JUMP bikes or scooters are available, plus a dozen US cities where Lime scooters are available via the Uber app.
Beginning next month, you'll have to request straws, utensils and other serving items when you place your order. Restaurants should no longer include them by default.
And through a new partnership with Feeding America, Uber is working to help tackle hunger and food insecurity, which affects more than 37 million Americans. Uber will bring its technology and network to bear, for instance by working with restaurants who use Uber Eats to donate excess food that would otherwise go to waste, or using our Uber Freight network to move food donations between Feeding America's nationwide network of 200 food banks and 60,000 food pantries.
Uber is committing to measure its environmental impact and to reporting on progress in the coming months; reducing its carbon footprint by committing to power all of our US offices with 100% renewable energy by 2025; and investing in products and programs to reduce carbon intensity on Uber's platform, including new partnerships with EVgo and Powerdot, and helping to found the Global New Mobility Coalition, a new entity at the World Economic Forum.