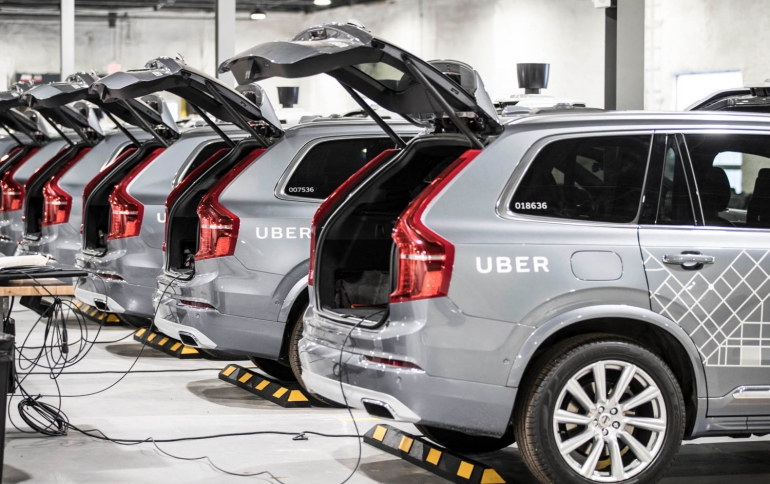 Uber Quarterly Loss Surges to $1.1 Billion
Uber's sales are slowing even as the ride-hailing company is spending more to fuel global growth.
Uber Technologies Inc. reported revenue growth of 38 percent in the third quarter -- almost half of what the growth rate was six months earlier. The company lost $1.07 billion in the quarter ended Sept. 30, an improvement over a year ago, but the loss widened 20 percent from the second quarter.
Uber had $6.55 billion in cash on hand at the end of the quarter, not including the $500 million it recently raised from Toyota Motor Corp. or its $2 billion debt offering.
The company plans a initial public offering in the second half of 2019.
Rival Lyft is also reportedly considering an IPO in the first half of next year.
The San Francisco-based company also offered a glimpse into its food delivery business for the first time. Uber Eats generated $2.1 billion in gross bookings. That represents 17 percent of Uber's $12.7 billion in gross bookings last quarter.
Uber is also eyeing electric-scooter rentals, logistics and autonomous cars.
Speaking at the Wall Street Journal technology conference on Tuesday, Chief Executive Officer Dara Khosrowshahi defended the company's ability to achieve profitability. He argued that some ride-hailing markets generate profit for Uber after accounting for local operations teams, drivers and other regional expenses. In the U.S., however, the business is not profitable even by this lower standard. "In the U.S., which is our largest market, we're in a big battle" with Lyft Inc., he said.