Toshiba SD-R1202 CD-RW / DVD combo
1. Introduction
TOSHIBA SD-R1202 COMBO IDE CD-RW/DVD-ROM - Page 1
- Introduction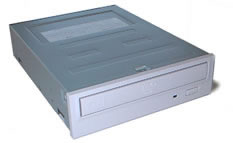 This time we will not test another super high speed CD-RW recorder, which we have lately used to see from the most of the manufacturers. Toshiba offers a new proposal, which combines CD-RW recording with DVD reading capabilities. The "Toshiba SD-R1202" IDE CD-RW / DVD-ROM drive does not intent to replace your existing recorder but users could find attractive the idea of a reliable combo drive in their PC.
- The drive
The combo drive supports 16x CD writing, 10x re-writing, 40x (CD) and 12x DVD-ROM reading. The firmware version installed is v.1023 and the cache buffer of the drive is 2 MB.
Nero Info tool also states that the drive can read CD-R/RW, DVD-R/RW, DVD+R/+RW, Video CD, supports CD-Text and Packet writing, TAO, DAO, SAO, RAW SAO 96 and RAW DAO 96 modes.
The drive came with Region code 2 set and the region can totaly change 5 times.
- The package
The retail package includes the SD-R1202 drive, CyberLink PowerDVD software decoder, VOB Instant CD/DVD -- for CD creation and back-up, one piece each of CD-R and CD-RW blank media, IDE BUS and audio cables, mounting screws, an installation instruction manual and a quick start guide.
The generic looking front panel of the drive includes the "DVD-ROM" and "CD-Rewritable" logos. There is also one operation led, the eject button and the headphone input jack/volume selector:
On the back of the drive there are the usual connectors (IDE interface, power), the jumpers for setting the drive as Master/Slave/Cable Select, the SPDIF output connector and 3 jumpers which are not used (factory reserved).
The IDE connection can be run in PIO Modes, DMA Mode 2 (16.6 MB/s), or DMA mode 3 (33 MB/s), depending on what you set in the motherboard's BIOS to run the drive at. There is no way to force the drive into DMA mode via jumpers.
- Installation
Toshiba SD-R1202 was installed as Master in the secondary IDE BUS. The drive worked in UDMA-2 mode and after boot up, it identified itself as the "Toshiba SD-R1202". Under WinXP, DMA was activated automatically.
The drive was a February 2002 model , with v1023 firmware revision installed. The drive supports a buffer underrun protection system, but we are not sure of the exact type. We used Nero v5.5.8.0, InCD v3.24.3, CloneCD v4.0.0.0. beta 21 and NeoDVD v2.6 for the recording tests.