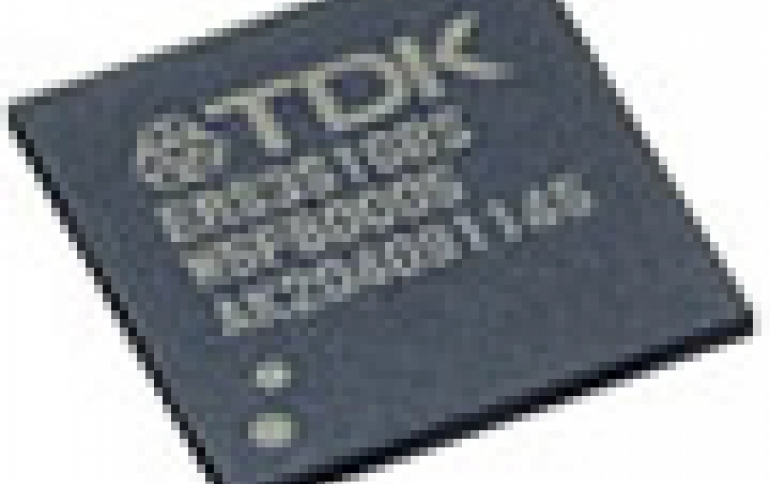 TDK eSSD Series Chip Integrates NAND And Flash Memory Controller Into a Single Package
TDK has developed the eSSD series, a single chip 3Gbps SSD with serial ATA interface that integrates the TDK SSD controller GBDriver RS3 with NAND flash memory in a single package. TDK plans to start selling the new chip in April.
The chip provides a storage capacity of up to 4 GB in a 17 mm x 17mm 208-ball BGA package, making it a more cost-efficient SSD solution for industrial equipment, office printers, commercial projectors, game consoles, or audio-visual devices.
Existing SSD configurations feature a separate flash memory chip and an SSD controller.
The eSSD has been designed for reliability and long life span, featuring SLC flash memory, error correction, the power interruption tolerance algorithm (an algorithm reduces the risk of collateral data errors such as corruption of data other than the data being written if power is interrupted when writing data), data randomizer (data patterns are automatically randomized during the write process, to minimize the risk of bit errors due to writing the same data repeatedly), and auto refresh function (while there is no access by the system, internal data are automatically refreshed. This function is paused during access, so there is no delay in response). Data security has also been enhanced, with an automated AES 128-bit encryption function. Data in the NAND Flash memory is encrypted, providing robust security against data tampering and leaks. For example,. the 4GB verion supports 786 million rewrite cycles. Even at a rate of 2.5 rewrites per second, this equates to an expected service life of 10 years.

Performace figures for the 4GB version include read speeds of up to 55 MB/sec and write speeds of up to 30 MB/sec.
TDK is also offering evaluation kits of the eSSD device, which includes an mSATA module and a mSATA-SATA converter board.