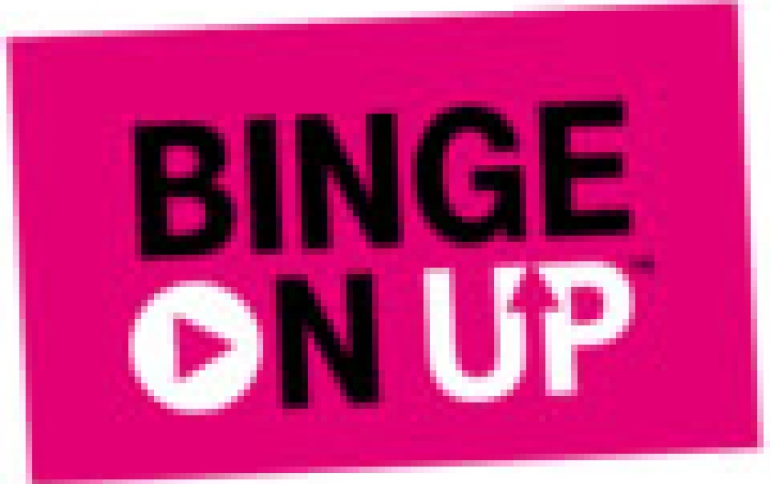 T-Mobile 'Binge On Up' Hands-free Device Offers You Everything
T-Mobile today launched Binge On Up, a revolutionary new device that frees you to watch whatever they want and do whatever you want. Binge On Up is yet another disruptive Un-carrier move to free T-Mobile's customers from the old rules of an arrogant wireless industry. For years, the carriers have forced wireless customers to choose between bingeing their favorite shows and going about their everyday lives. With Binge On Up, you don't have to choose, and customers can enjoy non-stop streaming every waking second. In true Un-carrier style, T-Mobile is making Binge On Up available to T-Mobile Simple Choice customers first - and at absolutely no extra charge.
"When America's Un-carrier sets out to abolish a pain point for US wireless customers, we mean that literally," said John Legere, president and CEO of T-Mobile. "The Duopoly inflicts pain on their customers, and they like it! They will lock you in, tie you down, and slam you with overages. The Un-carrier is all about making the pain go away. With Binge On Up, you can binge-watch anytime from almost anywhere - with no worry of steep overages or watchers elbow!"
When recent reports revealed T-Mobile customers were suffering from more injuries from distracted walking, Netflix Neck and YouTubular Degeneration due to longer binge-watching sessions, the Un-carrier took decisive action. Binge On Up is the result - a totally new Un-carrier approach to solving this latest customer pain point. While the carriers force you to choose between suffering in silence and maxing out your insurance deductible, the Un-carrier's delivering a practical way to binge-watch non-stop no matter where you are or whatever else you're doing. It's the first device of its kind to give customers true binge-watching mobility.
Binge On Up comes in several models - like Theater Mode, Dual View, and Real Reality - suitable for home, office and everywhere in between. And, of course, the Un-carrier is making Binge On Up available to T-Mobile Simple Choice customers at absolutely no additional cost for a limited time. Today only, April 1, 2016, all Simple Choice customers can grab one Binge On Up per mobile device on their T-Mobile account.
Also, Binge On Up is a joke.