Sony Unveils OLED TV, Visual And Audio Entertainment Products At CES
Sony's new XBR-A1E Bravia 4K OLED TV is raising your eyebrows, as its screen doubles as a speaker. Sony has also on display products with HDR (High Dynamic Range) support and enhanced audio at CES.
At the Sony press conference held on Wednesday, Sony President and CEO Kazuo Hirai took the stage and introduced the audience to the ever expanding world of HDR-enabled products and content, beginning with the unveiling of the A1E series, Sony's first ever line of 4K BRAVIA OLED TVs.
The new A1E series of BRAVIA OLED brings together the best of Sony's picture quality technology, including the 4K HDR processor X1 Extreme featured in Sony's flagship Z9D series. X1 Extreme, which accentuates the visual appeal of 4K HDR content, is capable of drawing out the full potential of self-emitting OLED panels, producing deep blacks and brights that more faithfully capture real world visuals. The A1E series is also equipped with Sony's Acoustic Surface technology that vibrates the display and enables sound to be output directly from the TV screen. By eliminating the speakers ordinarily placed around the periphery of the screen, this series achieves a speaker-less and stand-less form factor.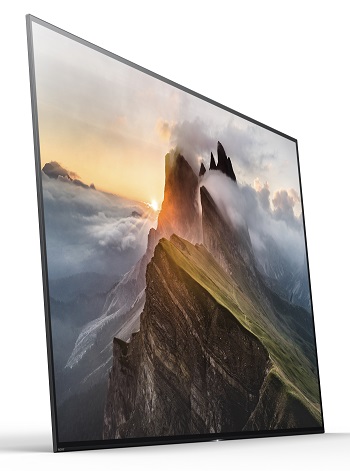 The BRAVIA X93E series of 4K HDR TV is equipped with Sony's Slim Backlight Drive+(plus) technology, taking brightness and contrast to even greater heights. Moreover, the 4K HDR processor X1 Extreme features HDR remaster for upscaling standard dynamic range (SDR) content to near 4K HDR quality, as well as a host of other technologies for boosting picture quality for a wide range of content. With X1 Extreme, the X93E series realizes 4K HDR levels of visual expression with high picture clarity, high contrast, and a wide color. This new BRAVIA TV, when hung against a wall, virtually disappears into it thanks to their stylish form factor.
Precision 4K HDR contrast with the X930E/X940E Series
Also introduced today, the X930E/X940E series features new LED backlight driving technology alongside the X1 Extreme processor, Slim Backlight Drive+. The Slim Backlight Drive+, an evolution of Slim Backlight Drive, is a further improved grid-array backlighting system in a slim form factor which allows for even more precise local dimming control. With its quad-edge LED structure and X-tended Dynamic Range PRO local dimming and boosting technology, it brings superior brightness and contrast - in fact it will deliver 10 times the XDR contrast of conventional LED TV. The X940E features a full-array boosting and dimming backlight.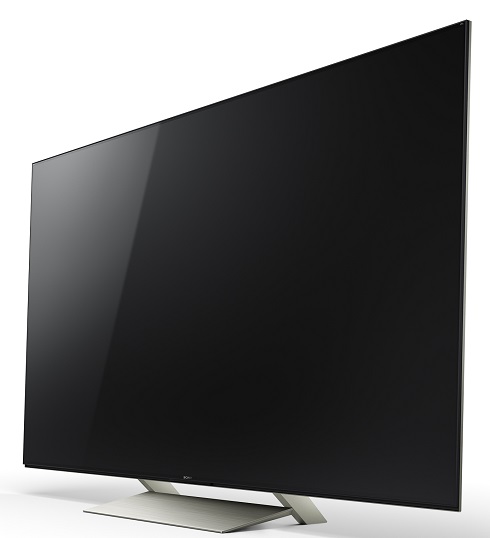 The XBR-X930E/X940E series also features the 4K HDR Processor X1 Extreme, which offers 40% more real-time processing power than Sony's 4K Processor X1. The processor also takes all content and improves it to near 4K HDR quality.
Both the new XBR-X930E/X940E and XBR-A1E BRAVIA OLED series TV will support Dolby Vision, the HDR format from Dolby Laboratories. Both series will be powered by Android TV.
New Sony TV models and key features:
A1E Series (77", 65", and 55" Class model) 4K HDR OLED TV
Features OLED display technology. 8 million self-illuminating pixels.
Features Acoustic Surface technology: the entire screen resonates with sound emanating directly from the screen itself.
4K HDR Processor X1 Extreme provides the 4K HDR viewing by incorporating three picture-enhancing technologies: object-based HDR remaster, Super Bit
Mapping 4K HDR and dual database processing.
Features with TRILUMINOS Display
Uses 4K X-Reality PRO to produce detail with Sony's algorithm of reality creation database for any content, such as TV broadcasting, DVD, Blu-ray Disc,
Internet video and digital photos.
HDR compatible to receive and process the new video standard signal with higher brightness, higher contrast and more vibrant colors via Internet video services, HDMI and USB port. Supports Dolby Vision HDR format.

X930E Series (65" and 55" Class models) 4K HDR TV
Features Slim Backlight Drive+ with a quad-edge LED structure. (X930E only, the X940E is built in with full-array direct LED backlight.)
4K HDR Processor X1 Extreme
X-tended Dynamic Range PRO enhances HDR and non-HDR content by boosting and dimming the backlight levels precisely for each zone of the screen with a backlighting algorithm.
Uses 4K X-Reality PRO
Android TV
HDR compatible

In the realm of audio equipment, Sony announced a range of new products. Among these is Sony's new flagship sound bar, the HT-ST5000. This sound bar supports not only Hi-Res, but also the Dolby Atmos next-generation 3D surround sound format. It also features the wave-front control technology of Sony's S-Force PRO Front Surround, which channels sound waves in just the right direction to realize room-filling audio. Additionally, sound professionals at Sony Pictures Entertainment lent their expertise to the HT-ST5000, helping to calibrate audio quality and optimize it for the playback of movies. The new STR-DN1080 multi-channel integrated amplifier is compatible with DTS:X, in addition to Hi-Res and Dolby Atmos, generating sound that moves about freely in three dimensions. The amplifier is equipped with other technologies as well for creating a Sony acoustic space, including Speaker Relocation, which realizes an optimal acoustic environment even in the limited installation conditions of the home, and Phantom Sound Back, which generates rich surround sound that spreads to every corner of the room.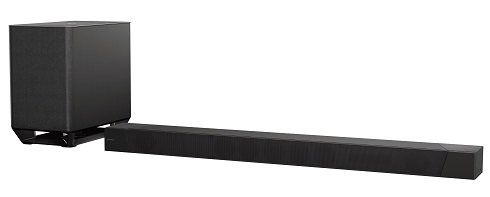 Sony is expanding the EXTRA BASS headphones. The four additional members of the EXTRA BASS family are the MDR-XB950N1 wireless noise cancelling headphones, the MDR-XB950B1 wireless, the MDR-XB550AP which comes in a wide variety of colors, and the MDR-XB510AS water-resistant, in-ear sports headphones.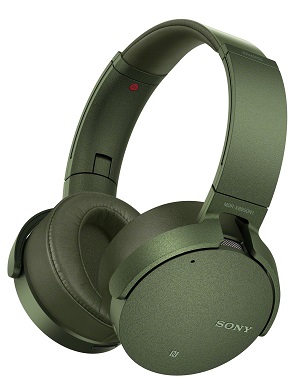 The MDR-XB950N1 and MDR-XB950B1 wireless headphones deliver powerful, enhanced bass response - the MDR-XB950N1 has added noise cancelling technology. Both support Bluetooth audio streaming and simplified connectivity with Near Field Communications (NFC) technology. For the ultimate wireless audio streaming experience, aptX& AAC codec support ensures maximum signal quality.
The MDR-XB950N1 and MDR-XB950B1 listening experience can be controlled with a smartphone Sony Headphones Connect app. For the MDR-XB950N1, this app can turn the noise cancelling settings on or off.
The MDR-XB950N1 headphones are easy to fold and come with a handy carrying pouch and the built-in rechargeable battery provides up to 22 hours of continuous, wireless music playback for the noise cancelling XB950N1. The XB950B1 provides up to 18 hours on a full charge. When your battery does run low, passive mode allows for continued listening with the supplied cable.
The MDR-XB550AP wired headphones feature a metal headband and their specially designed ear cups work in conjunction with the drivers to deliver deep and punchy enhanced bass response. The 30 mm driver units deliver balanced sound with exceptional low-end, with 5 - 22,000 Hz frequency response. The MDR-XB550AP will be available in five fun colors: black, red, blue, green, and white.
The specially designed MDR-XB510AS in-ear sports headphones work in conjunction with the drivers to deliver enhanced bass response. The easy to wear style with arc supporter provides a stable fit for active users and with an IPX5/7 water-proof design, the XB510AS can be worn while running in rain or sitting around the pool.
The XB510AS headphones come with a clip, arc supporter, cord adjuster, and mesh carrying pouch.
EXTRA BASS Wireless Speaker Series
Sony will expand the EXTRA BASS series to include four new portable wireless speakers. All speakers feature one-touch connectivity and music streaming with NFC and Bluetooth compatibility and the SRS-XB40/XB30/XB20 models have special lighting effects.
Thanks to these speakers' compact size and long battery life, they can be picked up and moved to where the action is.
The 4 by 11 inch (100mm by 279mm) SRS-XB40 features club-like lighting effects with an LED perimeter line-light, a strobe flash and speaker light. The line-light creates multicolor patterns, ranging from pure white to rainbow. The 3 by 9 inch SRS-XB30 has a similar multicolor line-light and strobe flash, and the 2 ½ by 8 inch (68mm by 198mm) SRS-XB20 features a single color line-light which compliments the speaker color.
Up to 10 units can be interconnected via Bluetooth, mix and match the XB40/XB30/XB20 models and use them interactively. It is also possible to pair two speakers of the same model together to enjoy stereo sound.
For those really on the go, the approximately 3 and ½ by 3 inches (91mm by 75mm) SRS-XB10 offers EXTRA BASS sound, loudness and punchy bass in a tiny body. Thanks to a long battery life of approximately 16 hours it's possible to keep the party going all night long and well into the next day.
The SRS-XB40, SRS-XB30, SRS-XB20, and XB10 wireless speakers will be available Spring 2017.
In the imaging realm, Sony has been working to provide the entire range of technologies and solutions end-to-end, from light source, lens, and image sensor to image processing, IP transmission and display.
The new VPL-VZ1000ES Ultra-Short Throw laser light projector announced at CES 2017 boasts a space-saving design that can fit into a living room, making it easy to enjoy 4K HDR picture on a big screen. Featuring an ultra-short throw lens, the VPL-VZ1000ES can project from as close as 6 inches away from the screen surface.
The VPL-VZ1000ES is approximately 36 x 20 x 9 inches in size (WxDxH, 925 x 494 x 219mm) and weighs about 77 lbs (35 kg). Despite its compact size, the VPL-VZ1000ES's Z-Phosphor laser light source generates 2,500 lumens of color light output, 25% brighter than VPL-GTZ1. Sony's advanced SXRD panels coupled with the laser light engine produce high dynamic contrast, enhancing the highlights and lowlights of HDR content.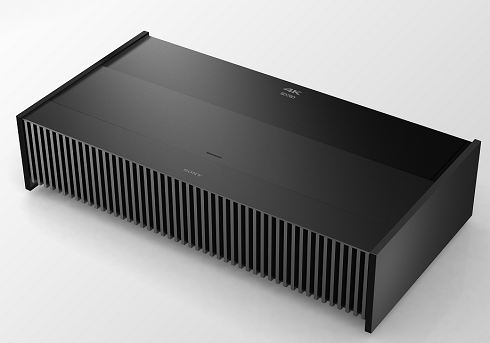 VPL-VZ1000ES Ultra-Short Throw 4K HDR Home Theater Projector will be available April 2017 for a suggested retail price of USD $24,999. It is available now for pre-order from authorized Sony retailers.
New 4K Ultra HD Blu-ray Player, Home Audio and Home Theater Devices
Sony's audio products for 2017 include an advanced audio/video receiver (AVR), several new sound bars, and an Ultra HD Blu-ray universal player.
Sony's first 4K Ultra HD Blu-ray player is the UBP-X800. It is compatible with Ultra HD Blu-ray as well as video streaming in 4K resolution and High Dynamic Range (HDR). The UBP-X800 provides Ultra HD Blu-ray playback with wide color space BT.2020 and HDR is up to 100 times dynamic range. The UBP-X800 is also a great match to Dolby Atmos and DTS:X object- audio compatible receivers.

In addition to support for Ultra HD Blu-ray, the UBP-X800 utilizes a Sony developed Precision HD drive to help maintain consistent performance with virtually every optical disc format, including DVD Video and DVD Audio; CD and Super Audio CD; and Blu-ray 3D, and BD-ROM media in additional to almost any format available via USB.
Hi-Res Audio sound reproduction can playback up to 192kHz/24-bit and DSD 11.2MHz. For standard resolution music DSEE HX upscales the original signal's sampling frequency and bit-depth. And the UBP-X800 integrated Bluetooth means it is possible to listen to wireless headphones while the sound can continue to play from the TV for the rest of the family in the room.
The UBP-X800 4K Ultra HD Blu-ray Player will be available Spring 2017.
Building on Sony's amplifier design methodology, the STR-DN1080 Object Audio Compatible HiFi AV Receiver offers improved sound quality, flexible speaker solutions, and support for the latest audio formats such as Dolby Atmos and DTS:X. You can enjoy 7.1.2ch speaker configuration with actual speaker setting with 5.1.2ch. The receiver also supports a long list of legacy surround formats, including Dolby TrueHD and DTS-HD Master Audio.
To complement this, the STR-DN1080 includes Sony's latest sound field compensation technology, D.C.A.C. EX, which combines Advanced D.C.A.C.2 with Speaker Relocation. This technology balances output to closely simulate sound as would be produced by optimally positioned and angled speakers - even when the ideal configuration is not possible.
The STR-DN1080 features six HDMI inputs and two outputs that provide full HDCP 2.2 compliance and supports the latest 4K 60P (4:4:4. 3) Ultra HD content. It can also distribute both 4K video and multichannel audio simultaneously to two different zones. The STR-DN1080 is even compatible with the new BT.2020 wide color gamut broadcast standard.
The STR-DN1080 HiFi Audio Video Receiver will be available Spring 2017.
New NW-A35 Walkman
Sony allows you to enjoy your music in style with the debut of the Walkman NW-A35 series. With a focus on fashion, the new Walkman NW-A35 has a vivid design and supports High-Resolution Audio playback.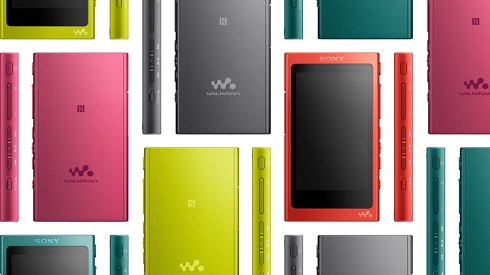 The new Walkman NW-A35 is compact and weighs just 98g. Being Bluetooth and NFC-enabled means you can connect wirelessly to your speakers or headphones.
The NW-A35 is also optimised with an extended battery of up to 45 hours (MP3) or 30 hours (Hi-Res Audio) from a single charge.
The new Walkman NW-A35 is equipped with five POSCAP capacitors that strengthen the power supply for the S-Master HX digital amplifier, cutting distortion and noise across a wide range of frequencies. Also, the NW-A35 has two clock oscillators that are switched to provide optimal modulation which increases the clarity of sound.
It is available in 16GB with built-in memory that is expandable with a microSD card to store large music libraries.
The new Walkman NW-A35 will be available from February 2017.