Sony Outlines Its 2013 Home And Shelf Audio Product Lines
Sony today officially introduced its 2013 Home Audio product lineup, highlighting the STR-DN1040 Audio/Video Receiver and the HT-CT660 Soundbar. The company also unveiled its 2013 shelf audio system product l, which includes the RDH-GTK37iP portable sound system and the LBT-SH2000 mini system.
Available in June, both home audio products are packed with connectivity and accessibility features. Both the STR-DN1040 receiver, priced at $599, and the HT-CT660 soundbar, priced at $399, will be available at Sony Stores and http://store.sony.com, as well as retailers.
The STR-DN1040 AV Receiver has been designed for home theaters and features 7.2 Channel 1155 Watts (165 W x 7) of power, ten HD inputs (8 HDMI in), a newly redesigned chassis, an increased power transformer as well as Sony-designed capacitors and audio-grade transistors.
Sony claims that features such as Sound Optimizer maintain the nuances of the complete sound field even at low sound levels. Sony?s High Definition Digital Cinema Sound (HD DCS) adds auditory depth. Sound is further enhanced through support of Dolby TrueHD, Pro Logic IIz and dts HD audio codecs. Video signals can be converted up to 4K Ultra HD HDMI. Complementing the sound performance is ample connectivity for HD and 4K Ultra HD devices, supporting both new and legacy connectivity.
Sony offers consumers AV receivers with built-in Wi-Fi, Bluetooth and AirPlay, and the STR-DN1040 receiver leads the way. Wi-Fi enables the STR-DN1040 receiver to easily access streaming media sources, and has integrated applications for Sony Entertainment Network?s Music Unlimited, Pandora, Slacker, vTuner, and more, as well as capabilities to stream music from DLNA enabled PCs. Moreover, the receiver also has built-in AirPlay and Bluetooth, allowing it to wirelessly receive the broadest amount of music from phones, tablets and computers. Users can also operate the receiver with the free Media Remote app available for both iPhones and Android phones.
Also available in June is the STR-DN840 AV receiver, a 7.2 channel, 1050 Watt device with the same connectivity convenience of built-in Wi-Fi, Bluetooth and AirPlay. With six HDMI inputs, 4K pass-through, Sound Optimizer and more, the STR-DN840 is aggressively priced at $449.
The HT-CT660 Soundbar is a 330 Watt system. The 2-way, 4-driver mica reinforced speaker system is complemented by a wireless subwoofer, which can be placed anywhere in the room. The three HDMI inputs allow connection to up to three devices. Dolby TrueHD and dts HD Master Audio modes are also available.
Sony's S-Force PRO Front Surround 3D technology also synchronizes sounds to match the motion and depth of images on screen.
Connecting the HT-CT660 soundbar with mobile devices such as phones and tablets to stream music is as simple as one touch of any Near-Field Communication (NFC) or Bluetooth enabled device.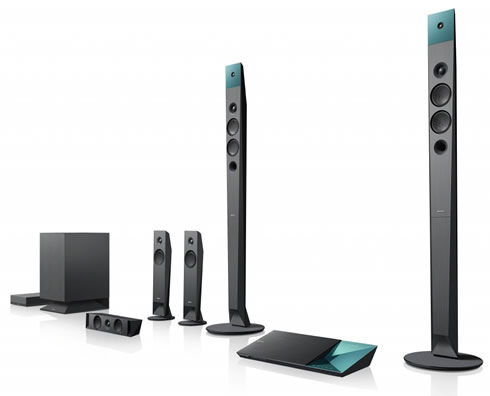 Sony also unveiled its complete Home Theater lineup, including the BDV-N8100W and BDV-N7100W. Both products feature 1000W, 5.1 channel 3D Blu-ray Disc Full HD 1080p playback, with built-in Wi-Fi to stream Netflix, HuluPlus, Pandora, the Sony Entertainment Network and more, and wireless rear surround sound speakers. Additionally, NFC or Bluetooth enabled devices connect with one touch. The BDV-N8100W system also features 3-way, 47-inch floor standing speakers, with the upper portion of the speaker separable for wall-mounting installations.
Priced at $699 and $599 respectfully, the BDV-N8100W and BDV-7100W home theaters in a box are available now at Sony stores.
2013 Shelf Audio System Product Line
At a same special listening event today, Sony also today debuted new products from its 2013 Shelf System and Personal Audio lines. Available May 27, the products include the RDH-GTK37iP portable sound system and the LBT-SH2000 mini system.
The RDH-GTK37iP portable sound system is a 420 Watt mega-boombox party on-the-go, with connectivity features designed to get the party started with OneTouch. Simply touch Near-Field Communications (NFC) enabled mobile devices such as smart phones and tablets to the sound system to quickly tream your music. Devices without NFC capabilities can still connect through the system's built-in Bluetooth. Additionally, a front USB input connects MP3 players and flash drives, and an integrated docking system accommodates iPod and iPhone devices with ease.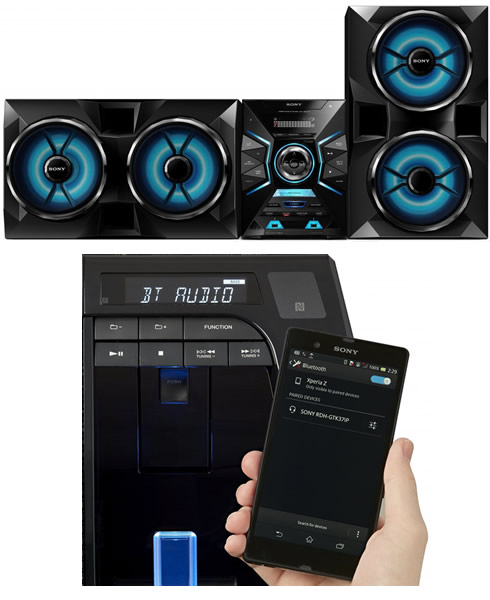 Music is powered through a 2-way bass reflex speaker system with dual subwoofers, delivering 420 Watts total RMS power, and EQ and DJ effect controls let you customize the sound and take over as MC. The system speakers also incorporate multicolored LED/strobe lights to display illumination effects. Priced at $349, the RDG-GTK37iP boombox will be available at Sony Stores.
Sony is also releasing the new LBT-GPX55 and LBT-GPX77 mini systems. Boasting 1600 and 1800 Watts respectively, the systems both feature 3-way speaker systems and a single disc CD player, as well as dual front USB inputs for use with MP3 players and flash drives and also include Bluetooth audio streaming with simple NFC OneTouch pairing.
Both products feature EQ and DJ effects controls and the Sony Digital Sound Enhancement Engine (DSEE), which restores life to compressed MP3 files.
Starting at $499 for the LBT-GPX55, both mini-systems are available now.