Sharp And Sony To Exhibit Technologies at CEATEC JAPAN 2010
Sharp will be exhibiting a range of new products including the GALAPAGOS e-book reader and smartphones at CEATEC Japan 2010. At the same event, Sony will showcase its 3D products and technologies.
Sharp's exhibit highlights
Sharp will exhibit
two GALAPAGOS e-book readers
: a mobile-type featuring a 5.5-inch LCD screen and a home-type featuring a 10.8-inch LCD screen. CEATEC visitors can try operating the tablets via a touchscreen to read downloaded newspapers and magazines, as well as experience how recommended e-books can be purchased at the e-book store. They can also experience the GALAPAGOS e-book reader and its range of e-book store services and features through demos of audio and video content that will be available in the near future.
Visitors will also see smartphones that integrate the company?s expertise in mobile phones, with features, such as a large screen and a full keyboard for easy blogging and e-mailing.
Sharp will introduce the four-primary-color Quattron and the other one-of-a-kind technologies behind it, in addition to features like energy efficiency and high-speed response. The CEATEC visitors can experience high-picture-quality 3D video provided by AQUOS Quattron 3D (
the LB3 Series
) with built-in Blu-ray Disc recorder.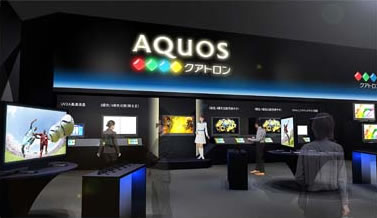 Multiple PN-V601 60V-inch professional LCD monitors will also join to form a multi-screen display system with narrow bezels between individual monitors.
Sony at CEATEC 2010
"3D world created by Sony" will exhibit a complete end-to-end lineup of 3D products and its supporting technologies provided by Sony Group ranging from the 'Lens to the Living Room' including contents creation.
A 3D compatible LED screen measuring 21.7 meters wide on the main stage (technology reference exhibit) will display various 3D contents including movies, music videos, games and sports. Sony will also introduce solutions for 3D contents creation by installing professional 3D camera systems and 3D compatible broadcasting systems on stage to demonstrate the operation of live 3D public viewing, such as sport events in high quality broadcast.
Sony will connect its 3D compatible Bravia TV (240Hz high frame rate) with LED backlight, together with Blu-ray 3D playback compatible Blu-ray Disc Recorder/Player and 3D Theater Stand System, and deliver 3D contents offered by Sony Pictures Entertainment(Japan) Inc. and Sony Music Entertainment (Japan) Inc.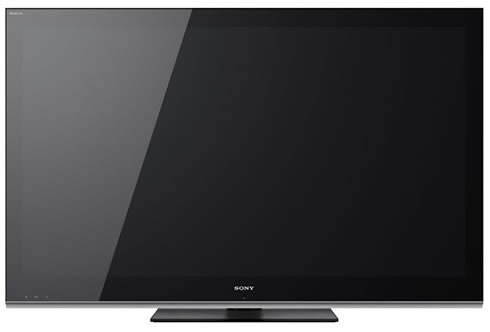 "Cyber-shot" and "α" (pronounced Alpha) with 3D Sweep Panorama feature will introduce new ways of enjoying personal 3D contents. There will also be personal computer "VAIO" 3D compatible prototype display. Moreover, attendees will be able to enjoy stereoscopic 3D compatible "PlayStation 3" games including "Gran Turismo5," which will hit the market on November 3, 2010.
Key 3D products, technologies, and contents to be displayed:
Sony 3D TV
-
LX900 series
built-in 3D sync transmitter with two pairs of active shutter glasses
-
HX80R series
3D compatible with built in Blu-ray Disc Drive/HDD and LED backlight all-in-one Blu-ray Disc
Blu-ray disc Recorder/Player
-
"BDZ-AX2000"
high-end 3D compatible stand-alone Blu-ray Disc recorder with built-in high image quality circuit "CREAS Pro"
-
"BDP-S470"
slim 3D compatible stand-alone Blu-ray Disc player with high-speed motion
Theater Stand System "RHT-G15"
AV rack with built-in speakers realizing surround sound, features 3D pass-through technology
Digital Imaging
- "α": "α55" "α33" Translucent Mirror Technology achieving high auto focus speed
- "α": "NEX-5" "NEX-3" compact interchangeable lens digital cameras
-
Cyber-shot: "DSC-WX5" "DSC-TX9"
All models are equipped with 3D Sweep Panorama. These 3D images can be managed and viewed by "PlayMemories" application which can be operated on "PlayStation3"
Personal Computer "VAIO" 3D compatible prototype
3D in Full HD, built-in 240Hz high frame rate technology and LED backlight to realize high image quality in 3D
3D Home Projector "VPL-VW90ES"
3D in Full HD, realizing high dynamic contrast ratio of 150,000:1
3D Image Contents Creation Solution
- 3D Camera System
- "MPE-200" Multi image processor which enhance the efficiency of 3D image shooting and production
- "MVS-8000G" 3D compatible multi format switcher processor
Large-sized LED 3D screen
(technology reference exhibit)
Size: 21.7 meters (width) x 4.8 meters (height)
PlayStation3
Stereoscopic 3D game for online car life simulator, "Gran Turismo5" for "PlayStation3" will be available to play
Sony related exhibition in other booths
Special Exhibition CEATEC JAPAN "Smart Grid Innovation 2010" booth
- Exhibit samples equipped with 1.2kWh-class energy storage module using lithium-ion rechargeable batteries made with olivine-type lithium iron phosphate
- Demonstration of open energy system experiment conducted in the developing region of Ghana without electricity TransferJet Consortium booth
- Exhibit the
2nd Generation LSI
of TransferJet developed by Sony
CEATEC JAPAN 2010 is a trade show of cutting-edge IT and electronics products and will be held from October 5 to 9, 2010 at the Makuhari Messe in Chiba Prefecture, Japan.