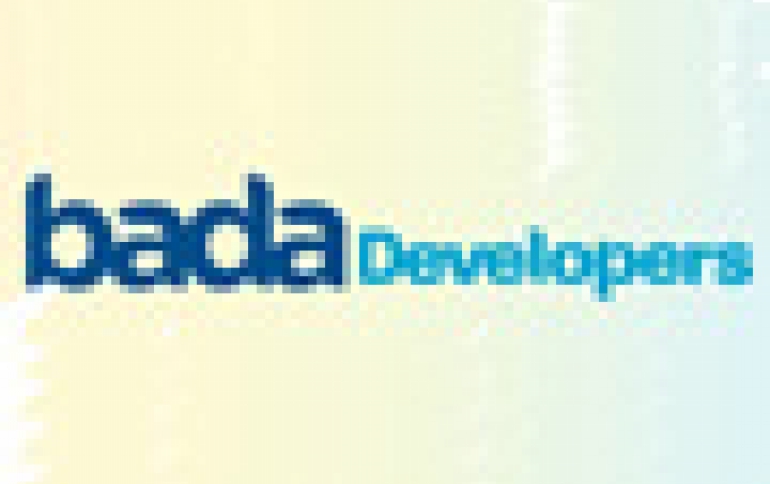 Samsung Officially Unveils New Smartphone Platform
Samsung today unveils its new smartphone platform, Samsung bada. At this unveiling on Tuesday in London, Samsung showcases the bada SDK (Software Development Kit) for partners and presents the benefits and opportunities that the bada platform will bring to developers. Based on Samsung's signature TouchWiz User Interface, Samsung bada platform provides an easy UI without compromising efficiency. Bada provides flash control, web control, motion sensing, fine-tuned vibration control, and face detection. Also, it supports sensor-based, context-aware applications. By using various sensors such as accelerometers, tilt, weather, proximity, and activity sensors, application developers can implement context-aware interactive applications

Samsung bada also supports various service-centric features such as social networking, device synchronization, content management, location-based services, and commerce services; - all supported by back-end bada servers.

The platform enables developers to take full advantage of mobile device capabilities to create new applications with ease. Applications can use device functions to make phone calls, send messages, or access the contact list. Also, various service applications can share information such as personal profiles, social relations, schedules, or contents with a simple user confirmation in order to provide services with greater personal relevance and cooperative service extension.

Samsung also introduced at today's launch event the new Samsung bada Developer Challenge. The Challenge is the first chance for developers to win a share of a US$2,700,000 prize fund, simply by using the features of the new bada platform to build a wide variety of applications for bada devices.

Samsung is also set to announce a series of Developer Days to take place across the world during 2010. Open to all developers, the initial events will be held in Seoul, London and San Francisco, with more events following as the year progresses.

The event will also feature insights from current bada development partners including micro blogging service Twitter, movies and games rental outlet Blockbuster, Video and iconic games developers CAPCOM, EA Mobile, and Gameloft .

For further information visit the bada website (http://developer.bada.com)

What's left to see is whether developers will actually release applications based on the Bada platform. Smartphone sales will grow some 20 percent or more this year despite the recession crimping consumers spending on more simple cell phone models, industry analysts said.

Next year, falling smartphone prices are set to boost market growth as Nokia and Google push their operating systems to cheaper phones where sales volumes are higher.