Samsung M3 1TB USB 3.0 HDD review
2. Inside the package
The drive retails in the package illustrated below. It includes the external HDD, a USB3.0 cable and a warranty card. AutoBackup personal backup solution, Secure Manager and SecretZone encryption software come preloaded on the drive.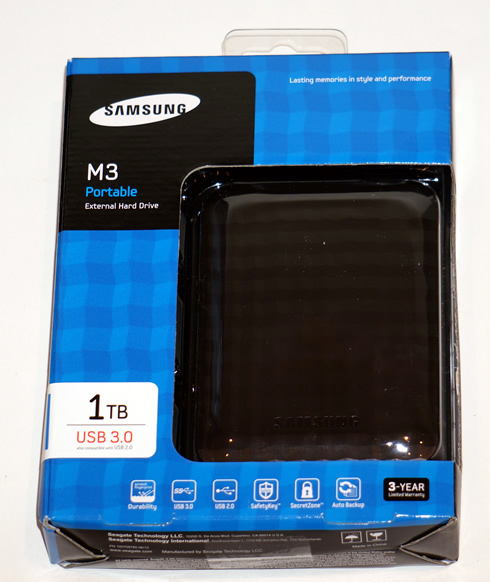 Also backwards compatible with USB2.0., the M3 drive is housed in a stylish black case with scratch-resistant finish.

The 'Samsung' logo is embossed on the top side of the drive. The USB 3.0 port is positioned at the side of the drive's body and a small label at the bottom side of the drive includes product information.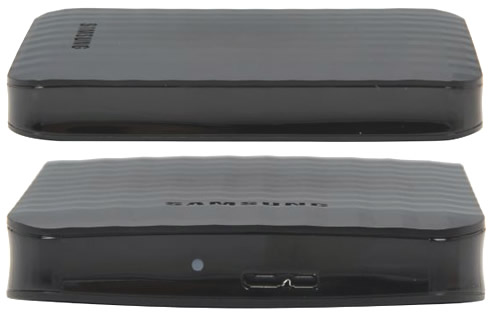 The drive measures 4.4 x 3.2 x 0.8 inches and its weigh is just 151g.
At the heart of the drive there is a Samsung 2.5" Spinpoint M8 1TB HDD, spinning at 5400rpm. It is equipped with a 8MB cache and
Samsung says it has a 12ms seek time:
Capacity: 1TB
Platters: 2 (500GB x2)
Interface: SATA 3.0Gbps
Cache: 8MB
Rotational speed: 5400RPM
Average seek time: 12 ms
Average latency: 5.6 ms
Form factor: 2.5"
Z-Height: 9.5 mm
Format: Advanced 4K sector
The Spinpoint M8 also utilizes a Marvell 88i9322-TFJ2 controller with 8MB of DDR cache provided by a Samsung K4H641638-LCCC memory chip.
The Samsung M3 1TB HDD came with firmware Ver. 2AR10001 installed.