Samsung Introduces New Smartphones at CommunicAsia 2010
Following the global debut of the Galaxy S, Samsung will be showcasing a lineup of devices based on Android, Windows Mobile, and bada at CommunicAsia 2010 in Singapore from June 15 to June 18. The complete portfolio includes the Wave 2 and Wave 2 Pro bada based smartphones, the Android-powered Galaxy Beam, Galaxy 3 and Galaxy 5, and the Windows Mobile 6.5-based Omnia Pro 4 and Omnia Pro 5.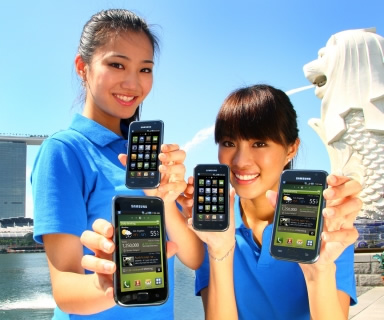 Samsung Galaxy S
The Samsung Galaxy S (I9000) is featuring Samsung's 4-inch Super AMOLED screen and a 1 GHz application processor. The Android-powered Samsung Galaxy S features Samsung's super-fast TouchWiz 3.0 user-interface (UI), giving users instant access to their mobile lives. The Smart Life is further enabled through integrative features, including the Swype text input service, the rich augmented reality browser, Layar, and advanced Location Based Service (LBS) capabilities.
Over 100 mobile operators across the globe have selected the Galaxy S as their key smartphone market driver, according to Samsung.
The Galaxy S is now available in Singapore and will be gradually expanded to the global market.
The Galaxy Series: Galaxy Beam (I8520), Galaxy 3 (I5800), Galaxy 5 (I5500)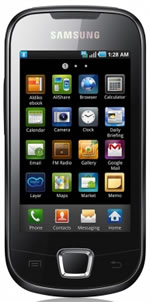 Samsung's latest Android lineup includes the Galaxy Beam (I8520), Galaxy 3 (I5800), and Galaxy 5 (I5500). Introduced earlier this year at CES 2010, the Galaxy Beam, an android-powered mobile projector phone, is now launching in Singapore. The Galaxy Beam is the world?s first smartphone equipped with a beam projector along with multimedia features such as an 8 megapixel camera, HD video recording &playing, and a 3.7 inch Super AMOLED WVGA display.
The Galaxy 3 (I5800) is the latest android-powered smartphone offered by Samsung, delivering a multimedia and social media experience. The Galaxy 5 (I5500) is especially targeted at the youth market, which wants to stay connected on-the-move.
The Galaxy 3 and Galaxy 5 will be available in the European and Asian markets in July and the Galaxy Beam will also launch in July in Singapore.
The Wave Series: Wave 2 (S5250), Wave 2 Pro (S5330)
The Samsung Wave 2 (S5250) and Wave 2 Pro (S5330), the newest smartphones to be based on the bada platform, are also showcased at CommunicAsia 2010 for the first time. Samsung?s Social Hub, a phonebook integrated with social networking accounts and connectivity via wireless networks and Wi-Fi, make the Samsung Wave lineup the perfect smartphones for a highly social lifestyle.
Samsung Apps is also available on Wave 2 and Wave Pro, featuring a gaming, social networking, e-book, health and lifestyle applications. Adding Java applications to the list, Samsung Apps will enhance users' mobile experience with a wider variety of contents.
The Samsung Wave 2 (S5250) and Wave 2 Pro (S5330) will be available from August in Russia and the Southeast Asia region.
The OMNIA Family: Omnia Pro 4 (B7350), Omnia Pro 5 (B6520)
For young business professionals, Samsung introduces the Omnia Pro 4 (B7350) and Omnia Pro 5 (B6520), Windows Mobile 6.5-based smartphones. These devices bring communications and an integrated social experience to busy work schedules.
The Samsung Omnia Pro 4 will be available from July in Europe, CIS and Southeast Asia whilst the Omnia Pro 5 will be available from August in Southeast Asia, Middle East & Africa, India and Latin America.
4G Solution Demonstrations
Samsung will also display 4G wireless technologies, including Mobile WiMAX and LTE, with various device and networking demonstrations held at CommunicAsia 2010. The technologies exhibited include the 3D live video streaming via LTE network and FMC (Fixed Mobile Convergence) live demonstrations via Mobile WiMAX network.