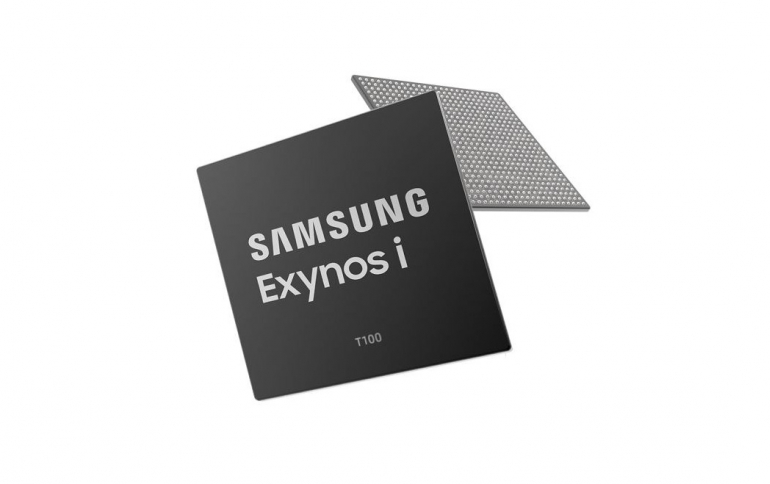 Samsung Introduces Exynos i T100 for IoT Devices, Develops Its Own GPU
Samsung Electronics today announced a new Internet of Things (IoT) solution, the Exynos i T100, which enhances the security of devices designed for short-range communications.
Along with the previously introduced Exynos i T200 for Wi-Fi and Exynos i S111 for long-range narrow-band (NB) communications, the launch of the Exynos i T100 allows the company to cover a wider gamut of connectivity for IoT devices.
Based on a 28-nanometer (nm) process technology, the Exynos i T100 is optimized to be used with short-range IoT devices that automate and control environments within homes or businesses. The vast array of applications for such devices would include smart lighting, home security and monitoring, temperature control, fire and gas detectors, and fitness wearables.
The Exynos i T100 supports popular short-range communication protocols, Bluetooth Low Energy (BLE) 5.0 and Zigbee 3.0, and also integrates the processor with memory in a small single-chip package.
Security features that protect against potential hacking and other threats is a must when it comes to wireless IoT devices that automate and control their environment. The Exynos i T100 comes with a separate Security Sub-System (SSS) hardware block for data encryption and a Physical Unclonable Function (PUF) that creates a unique identity for each chipset. 
This new IoT solution also adds to reliability in that it can endure extreme temperatures as low as -40°C and up to 125°C.
The Exynos i T100 is currently sampling.
Self-Developed GPU for smartphones
In related news, Samsung Electronics is developingof its own graphics processing unit (GPU).
According to recent employment announcements by the Samsung Austin R&D Center (SARC), the South Korean company is recruiting employees with expertise in GPU, aiming to develop a product that can be installed in its flagship smartphone Galaxy S series, contrary to the expectations that it would first install its self-developed GPU on low-end smartphones to verify its performance.
Last year, Samsung was rumored to launch a gaming smartphone equipped with its own GPU, but it is clear now that the GPU will be first used for the company's flagship Galaxy S series. Samsung's GPU development is led by Dr. Chien-Ping Lu from NVIDIA, who joined last year.
GPU is an integral part needed to enhance the performance of application processors (APs). ARM's GPU Mali is currently installed on Samsung's Exynos AP, but it does not stack up against the GPUs from Apple and Qualcomm. Some critics also pointed out that ARM's GPU takes up too much space in an AP, making it difficult to improve power efficiency and performance. Samsung's contract with ARM expires next year.
Samsung's employment announcement stated that "the next generation GPUs will cover growing markets such as autonomous driving, machine learning, and deep learning."