Samsung Debuts Three Professional Monitors at IFA
Samsung Electronics announced today three new professional monitors for the modern workplace, the CH89 (34-inch curved model), CH80 (27-inch curved model) and SH85 (23.8- and 27-inch flat-screen models) at IFA 2017.
The CH89, CH80 and SH85 feature the USB Type C interface, as well as optimized clarity and color presentation at the ultra WQHD (CH89), Full HD (CH80) and WQHD (SH85) resolutions. The monitors also feature a three-sided, bezel-less design, with the CH89 and CH80 further amplifying the bezel-less effect through an 1800R curved structure.
These models include a dedicated USB Type C interface, enabling transmission of data, Display Port (DP) signals and power within a single-cable connection. Beyond removing excess wires from the workspace, the USB Type C composition ensures compatibility with personal laptops, tablets and mobile devices.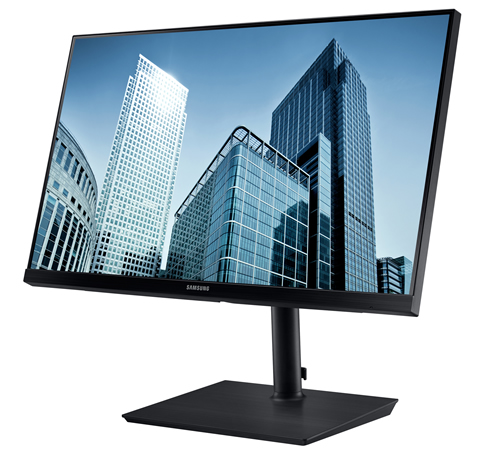 Professionals additionally can customize their content presentation through Samsung's Easy Setting Box software. Within the program's interface, users can select from a library of split-screen template and screen-size optimization options and choose their preferred viewing parameters.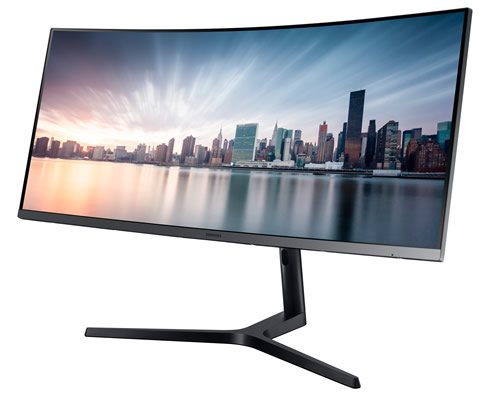 For convenient collaboration and screen sharing, the CH80 and SH85 monitors feature DP Out Daisy Chain technology. Users can extend their current desktop across single monitors or monitor groups through one DP connection, preventing the need to synchronize each monitor with a PC or other external device.
The CH89's ultra WQHD resolution (3,440x1,440) produces a sharp presentation with nearly 2.5 times the pixel density of FHD. The SH85 follows suit with WQHD resolution (2,560x1,440).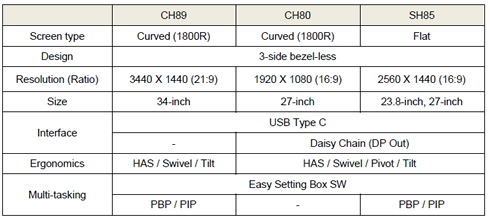 All three displays contain a height-adjustable stand as well as swivel and tilt capabilities, allowing users to set the monitor at their ideal viewing distance and position. These models also include Samsung's Flicker Free and Eye Saver features.
Additionally Samsung will exhibit a 49-inch CHG90, the HDR (high dynamic range) QLED monitor at IFA 2017. The CHG90 expands the workspace while offering panoramic views of figures, diagrams and charts within a single screen. This ultra-wide size prevents users from having to combine two 27-inch monitors to complete their tasks, and also deters the misalignment and central bezel interference that come with such arrangements. Coupled with its HDR QLED picture quality, the CHG90's size accommodates a range of content while upholding a colorful and true-to-life presentation.
In addition to the Easy Setting Box screen optimization technology, the CHG90's Picture-by-Picture functionality allows users to connect and view input sources without degrading the original image quality. The CHG90's connectivity, including DP, Mini-DP, HDMI and USB ports, also welcomes content sharing to and from external personal devices.