Samsung 360 Round 3D Video Camera and Samsung DeX Pad Now Available
At the National Association of Broadcasters Conference (NAB) today, Samsung is showcasing an enhanced Samsung 360 Round camera solution. The company also announced availability of the Samsung DeX Pad in the U.S. beginning May 13.
The new Samsung 360 Round camera includes updates to its livestreaming and post-production software. The solution gives professional video creators the tools they need-from capture to post-production-to tell 360-degree and 3D stories for film and broadcast.
The Samsung 360 Round delivers real-time 3D video to PCs using the 360 Round's bundled software so video creators can now view live video on their mobile devices using the 360 Round live preview app1 In addition, the 360 Round live preview app allows creators to remotely control the camera settings, via wifi router, from afar. The updated 360 Round PC software now provides dual monitor support, which allows the editor to make adjustments and show the results on a separate monitor dedicated to the director.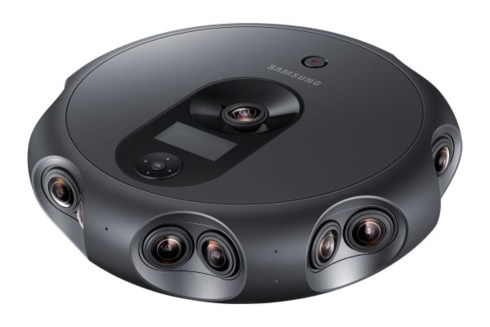 With a rolling shutter, 11.7 stops of dynamic range, f1.8 aperture size, and now, limiting luminance levels to 16-135, noise reduction and sharpness adjustments, as well as a hardware IR filter-it's possible to get a clear shot with 360 Round in almost no light. The 360 Round also offers advanced stabilization software and ability to color correct on the fly, with an easy to use histogram. In addition, users can set up profiles for each shot and save the camera settings.
The 360 Round comes equipped with Samsung's Stitching software, which weaves together video from each of the 360 Round's 17 lenses. Creators can stitch, preview and broadcast in one simple step on a PC without the need for additional software. The 360 Round also enables fine tuning of seamlines during a live production, such as moving them away from objects in real time, and calibrating individual stitchlines to fix misalignments. In addition, a new local warping feature allows for individual seamline calibrations in post-production, without requiring a global adjustment to all seamlines, giving creators quick and easy, fine grain control of the final visuals.
The 360 Round delivers real-time 4K x 4K (3D) streaming. SDI capture card support enables livestreaming through multiple cameras and broadcasting equipment with no additional encoding/decoding required, and with the newest update, now further streamlines the switching workflow for live productions with audio over SDI. In addition, 360 Round offers a number of new features, such as:
Ability to record, stream, and save raw files simultaneously.
Live streaming support for HLS over HTTP, which adds another transport streaming protocol in addition to the RTMP and RTSP protocols.
Ability to upload direct (via 360 Round software) to Samsung VR creator account, as well as Facebook and YouTube, once the files are exported.
360 Round is available for purchase at numerous resellers.
Samsung DeX Pad
Seperately, Samsung announced availability of the Samsung DeX Pad in the U.S. beginning May 13. Introduced alongside the Galaxy S9 and Galaxy S9+, DeX Pad enables a desktop-like experience for the Galaxy smartphone. For those who are always on the go, the DeX Pad enables document editing, full-screen mobile gaming, PC-style multitasking and more for your Galaxy smartphone.
The DeX Pad i savailable for pre-order on Samsung.com starting today, and for a limited time, a purchase of the Galaxy S9 or Galaxy S9+ on Samsung.com will include a free DeX Pad ($99.99 retail value).
DeX now features multi-resolution support, providing a choice of clear and vivid visual experiences from HD+ to WQHD (2K) resolutions so you can now play your videos on various partner applications like MX Player and VLC and view more content at a glance. In addition, phone calls, messages and notifications are all readily accessible on the taskbar and the phone's Infinity Display can be used as a virtual touch pad.
Samsung DeX is also a business tool, supporting secure virtual desktops and apps from Citrix, VMware and Amazon. In addition, DeX gives enterprise IT admins enhanced customization and management tools through Knox APIs, including the ability to disable apps, change the loading screen, add/remove shortcuts from the home screen, and set the screen timeout.
Samsung DeX Pad Spec

Connection Ports:
2x USB-A 2.0
HDMI
USB-C Charging
Display Output: 1600 x 900 HD+
1920 x 1080 FHD
2560 x1440 QHD
Power: 9.0V x 1.67A
Compatibility: Galaxy S8, Galaxy S8+, Galaxy S8 Active, Galaxy Note8, Galaxy S9, Galaxy S9+