Rocket Division Software Grab&Burn
2. Copying - Splitting - Grabbing - Erasing
Rocket Division Software Grab&Burn
Copying - Splitting - Grabbing - Erasing
After launching the product installation wizard comes up:
The installation process is quick and requires minimum of user interaction. Grab&Burn takes about 11M of space on hard drive, so it is pretty light weight.
When launched Grab&Burn displays the Quick Start Wizard that provides quick access to most common functions of the application: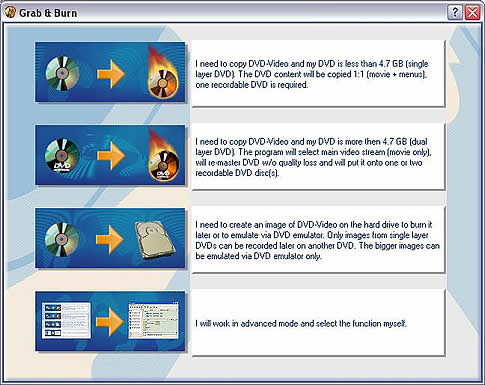 Disc Copying
The first button opens up the Disc Copying Wizard. This option allows copying any media (DVD or CD) to CD or DVD (of course you can not copy DVD to CD due to space restrictions that CD has). This is the easiest way to backup your original CD or DVD and copy will not have any differences from the original. And don't forget CSS supported Grab&Burn builds allow protected disc copying! Of course Grab&Burn should only be used to make legal CD or DVD copies.
The copying procedure is fast and simple. Only four steps have to be completed to begin copying
source media should be selected
select copying options
select destination CD/DVD burner
confirm copying procedure
The duration of the copying process depends on the burner speed.
Disc splitting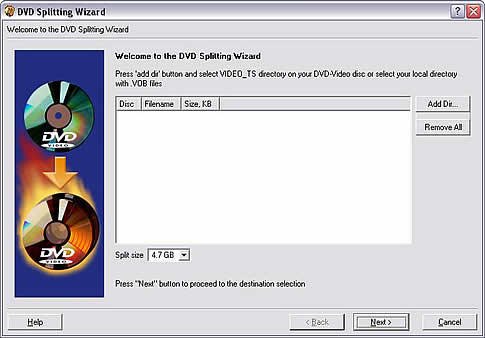 Disc Splitting Wizard allows splitting dual layer DVD Video to one or two DVD-R discs. The wizard will remaster DVD without any quality loss. This option is the best if you have dual layer DVD Video and want to make a backup copy of it. The wizard prompts to select 'VIDEO_TS' directory on DVD-Video disc or local directory with '.VOB' files. Again the procedure is very simple and seamless.
Disc Grabbing
Last wizard that appears on the Quick Start Wizard page is the Disc Grabbing Wizard. It allows grabbing any DVD or CD to an image stored on a hard drive.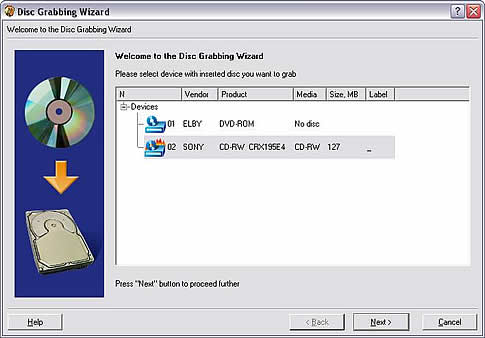 After selecting the desired device the wizard guides through the steps similar to those of Disc Copying Wizard (the difference is that you select location on the hard drive instead of destination device).
There are two more wizards available in Grab&Burn. They can be accessed by clicking the fourth button in the Quick Start Wizard. This button invokes advanced mode window with all the program functions accessible in one click of the mouse button.
Disc Erasing Wizard
This simple wizard allows erasing any CD or DVD. Erasing options include fast erasing (only table of contents erased) and full disc erase.