The Raspberry Pi $25 Linux Computer Goes On Sale
Raspberry Pi, a low-cost credit-card sized computer designed to help teach children to code goes on general sale for the first time today. The Raspberry Pi is a low-cost computer created by volunteers mostly drawn from academia and the UK tech industry. Sold uncased without keyboard or monitor, the Pi has drawn interest from educators and enthusiasts.
Supporters hope the machines could help reverse a lack of programming skills in the UK.
"Six years after the project's inception, we're nearly at the end of our first run of development - although it's just the beginning of the Raspberry Pi story. Now we start developing educational tools and initiatives, at the same time as continuing research and development on Raspberry Pi hardware," said Eben Upton of the Raspberry Pi Foundation which is based in Cambridge.
The Raspberry Pi Foundation has entered into licensed manufacture partnerships with two British companies, Premier Farnell and RS Components. They'll be manufacturing and distributing the devices on behalf of the Raspberry Pi Foundation, and handling the distribution of the first batches as they arrive in the U.K. The Foundation will make a small profit from each Raspberry Pi sold, which will be put into the charity.
The Raspberry Pi machines run on open-source operating system Linux and can be hooked up to a typical computer monitor - with additional ports used to attach a keyboard, mouse and other peripherals. They also feature an ethernet port, meaning the device can make use of high-speed internet connectivity.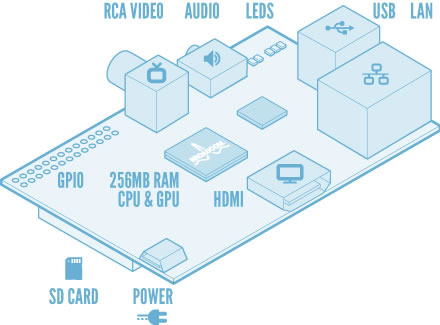 Initially the £22 ($35) model of the Pi (B model) will be offered for sale. A cheaper £16 ($25) version (A model) will go on sale later in the year.
The Raspberry Pi Model B are the more fully featured versions of the Raspberry Pi. The main difference from the Model A is that they include an Ethernet port, and 2 USB ports.
The $25 Model A will include 256MB of RAM and will be going into production immediately, the foundation said.