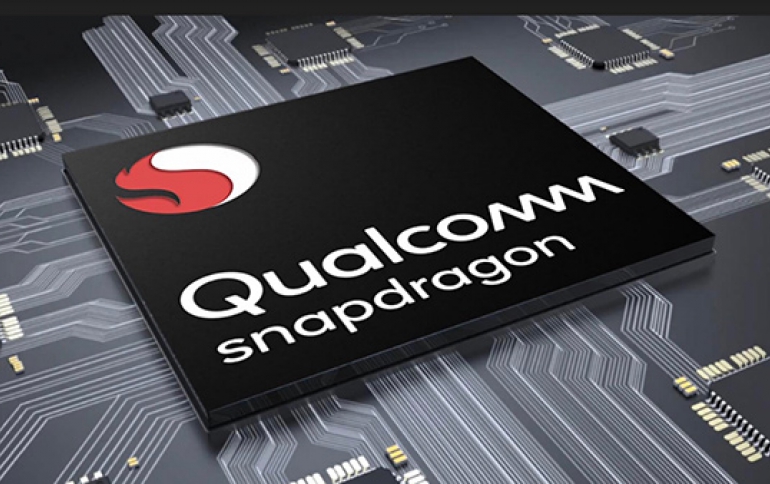 Qualcomm Faces Slow Demand For Smartphone Chips
In its first quarter earnings released Wednesday, Qualcomm reported revenues are down 19% year over year at $5.77 billion, as the smartphone business is maturing. Qualcomm also reported profit declined 24% at $1.5 billion. Chip shipments for the quarter are down 10% from the same quarter last year with 242 million units shipped.
For the second quarter fiscal earnings, the chip maker is expecting a revenue range of $4.9 billion to $5.7 billion. The company, however, expects stronger results in the second half of the year. That?s when Qualcomm will likely start seeing results with the introduction of its new premium mobile chip, the Snapdragon 820.
"We delivered a stronger than expected quarter with earnings per share above the high end of our initial estimates, driven by better than expected 3G/4G reported device sales and benefits realized from cost actions across the company," said Steve Mollenkopf, CEO of Qualcomm Incorporated. "We signed several new license agreements in China and are on track with our cost reduction initiatives. Design traction for our new Snapdragon 820 processor continues to be strong, and we expect improving trends in our chipset business in the second half of fiscal 2016."
The company has been resolving patent disputes over its wireless technology with China phone makers in recent months after having paid a $975 million fine to the Chinese government over antitrust allegations. Qualcomm has agreed on licensing terms with Xiaomi, Huawei, ZTE, Haier and others. Lenovo continues to be the only top five Chinese phone maker holding out on an agreement with Qualcomm.
Qualcomm is also facing a new patent dispute with LG Electronics, and this is separate from the recently opened antitrust investigation from the South Korean government. Although LG is paying licensing fees for the time being as the two work it out, Qualcomm is holding off on reporting $100 million that LG paid in licensing fees for the first quarter of 2016.
During 2015 Qualcomm had to deal with an antitrust investigation from China and lost out on a lot of business in Samsung?s 2015 phones.
But most importantly, Qualcomm is dealing with a slowdown in the smartphone market. Even the mighty Apple phone engine experienced its first slowdown in iPhone sales.
In the face of declining financials, Qualcomm announced earlier this month two major partnerships. The first was to create a $3 billion joint venture with Japan?s TDK to develop wireless radio components.
Another deal announced this month was with the Chinese government designed to grow in its new processing chips for servers. Qualcomm announced that it?s working with the regional government of the Guizhou Province to develop and license its server chips in a deal representing $280 million.