Pokken Tournament DX to Debut on Nintendo Switch
The Pokemon Company has announced the first Pokemon game for Nintendo's Switch console. That Pokken Tournament DX is an enhanced version of the Wii U game and will be released on September 22nd.
Nintendo says that the deluxe version of Pokken Tournament will feature improved graphics, new modes and new characters. Along with all the content from both the Wii U and arcade versions of Pokken Tournament, the Pokemon fighting game where Pokemon in battle move in direct response to the player's actions, Pokken Tournament DX also introduces an array of new features:
Play Pokken Tournament DX in TV mode, handheld mode, or share a Joy-Con controller with another Trainer to battle one-on-one in tabletop mode anywhere.
Decidueye enters the battle, alongside all previous Pokemon from the Wii U and arcade versions.
Litten and Popplio make their debut to lend their support in battle.
Pick three Pokemon and battle it out to be the first to defeat all your opponent's Pokemon to win in the new Team Battle mode.
Find similar skilled players in battle rooms for intense and fun battles online.
Complete a variety of different daily challenges.
Hone your skills by watching other players' replays and share your best matches online with the new replay feature.
All characters and Support Pokemon will be available right from the start of the game.
Nintendo will have a playable demo of the game at E3 2017 and will also host a tournament on June 13th.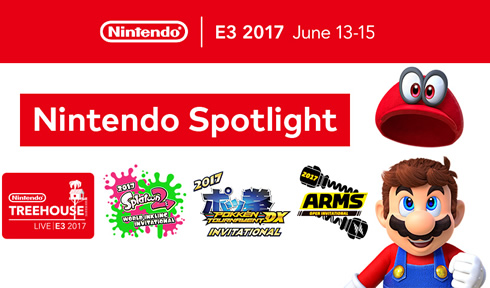 Nintendo also unveiled Pokemon Ultra Sun and Pokemon Ultra Moon for the 3DS. The new games will aunch on November 17th.
The company is also bringing Game Boy classics Pokemon Silver and Pokemon Gold to the 3DS Virtual Console on September 22nd. Both titles will be compatible with the wireless communication features of the Nintendo 3DS and Trainers can look forward to Link Trades and Link Battles between Virtual Console versions of Pokemon Gold and Pokemon Silver. In addition, these titles will be compatible with the Time Capsule function, which allows players to Link Trade Pokemon between the Virtual Console versions of Pokemon Gold or Pokemon Silver and the Virtual Console versions of Pokemon Red, Pokemon Blue, or Pokemon Yellow in Pokemon Centers within the games. Both titles will be compatible with Pokemon Bank and will also launch on September 22, 2017.