PleXWriter PX-W4012U CD-RW
2. Package - Installation
PleXWriter PX-W4012U external CDR-W - Page 2
- The package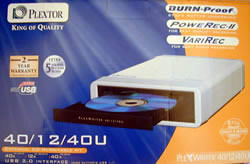 We got the European retail package which contains: PlexWriter 40/12/40U, 5 blank Plextor 80min 40x CD-R disks (made from Hitachi Maxell), 1 blank Plextor 4-10x HS-RW disk, CD-Recording software Nero + InCD (OEM version), Plextor Utility software (PlexTools), manual in 16 languages, 1 USB cable and the AC power adapter. The drive has 2 years of warranty (only valid in Europe, Middle-East and Africa) and Plextor's unique On-Site Collect and return Service (EU countries + Norway and Switzerland).
The PleXWriter PX-W4012U is placed in a well designed silver case. The front panel is black and contains the PleXWriter 40/12/40U logos, indication led, the eject button and the headphone jack.
In the rear panel of the drive you will find the power supply, the USB cable connector, the power switch, the audio connector and the SelfTest switch.

- Installation
The Plextor PX-W4012U was installed through the USB 2.0 interface. The drive was identified as a "PLEXTOR CD-R PX-W4012A". WinXP activated DMA without our interference.
The drive was a June 2002 model with firmware revision v1.02 and TLA#0102 hardware revision. We used Nero v5.5.8.4 CloneCD v3.3.4.1 and Ahead InCD v3.31 for the recording tests.