PleXWriter PX-W1610A CD-RW
6. RW Writing Tests
- Page 6
RW Writing Tests
We used Nero 5.0.3.9 for writing CDs in 10x RW writing speed since the drive supports the new HS RW recording standard. We created a 74min Data Job task and burned it with all four recorders:
The PX-W1610A simply gave back the lower recording time in this test with 488secs. The Sanyo/TDK Drives needs 2-3 more secs to end the task the of course Yamaha 2100E cannot compete here since it supports only 8x re-write speed. The erase time was higher than the competition does (60sec). No problems were noticed when writing to 10x with new adopted Mitsubishi HS RW media.
- Packet Writing Tests:
We used Ahead InCD v1.79 for all Packet Writing tests. We used the Plextor 74min HS-RW media and we formatted it. The formatting of the media takes around 8min. After formatting, we tested all three drives for their packet writing performance. The formatted disc had 530mbs of free space. We copied a 403 MB file (403.1476kbs) from a Hard Disk (on the same pc as the writers) to the formatted RW media-using explorer (we dragged and dropped). We performed the test twice, to eliminate possible time measurement faults and user errors: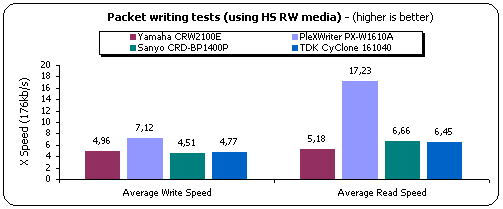 The results show clearly that the Plextor PX-W1610A drive has the best reading/writing speed results when compared to the other three drives. Here is another big improvement over the previous Plextor models, especially in the reading area! The competition simple cannot follow and stays behind with very low recording/reading speeds.