Pioneer DVR-A06 DVD±RW recorder
12. KProbe PI/PO measurements
Pioneer DVR-A06 DVD±RW recorder - Page 12
KProbe PI/PO measurements
In the following screenshots you can see the PI/PO scans for various 4x DVD-R/+R and DVD-RW/+RW media, recorded with Pioneer DVR-A06 at the maximum speed.
The software we used for the measurements is the KProbe, and the reader is LiteOn XJ-HD-165H. The specific methodology is very depended on the drive we use as a reader. The reliability of the PI/PO provided output is also not technically confirmed. As a result, we cannot safely come up with absolute results, but we are allowed to compare the behavior of the drive with various DVD recordable/rewritable media, since this seems currently our only feasible approach.
The recordable discs we used come from Hitachi-Maxell, Pioneer, Philips, TDK, Verbatim and Ritek. More information about each disc type is available at the bottom of the page.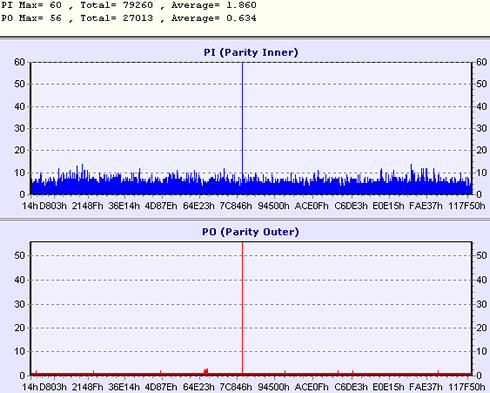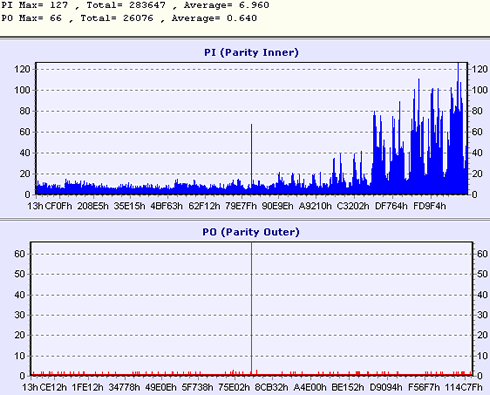 Below you can see the actual codes of all the media we used for the graphs reported above.
| | |
| --- | --- |
| Media | Code |
| Verbatim 4X DVD-R | MCC01RG20 |
| Verbatim 4X DVD+R | MCC 002 |
| Maxell 4X DVD+R | MAXELL 001 |
| Maxell 4X DVD-R | MXLRG02 |
| TDK 4X DVD-R | TTG01 |
| TDK 4X DVD+R | RICOHJPNR01 |
| Pioneer 4X DVD-R | PVCR001002 |
| Philips 2.4X DVD+R | RICOHJPNR00 |
| Ritek 4X DVD-R | RITEKG04 |
| Pioneer 2X DVD-RW | PVCW00V00245 |
| Philips 2.4X DVD+RW | CMC MAG W01 |