Pioneer BDR-XS05 Slot Loading Blu-ray Burner Available In the U.S.
Pioneer is bringing the BDR-XS05 slot loading BD/DVD/CD burner in the U.S. The drive can be used in a horizontal or vertical position and features a special slot loading mechanism, which elegance and a differentiating style to conventional tray or clamshell drives. The slim BDR-XS05 supports all BDXL discs (including 128GB Quad Layer QL and 100GB Triple Layer (TL) Blu-ray Disc) and includes CyberLink software for Blu-ray and DVD playback, video editing and authoring, and data/file storage. In addition, the drive offers USB 3.0 connectivity.
Three design sheets included with the drive that can be interchanged and inserted between a protective clear acrylic top panel for a more customized look. Users can also insert their own customized sheets such as a photo or image for a "picture frame" look.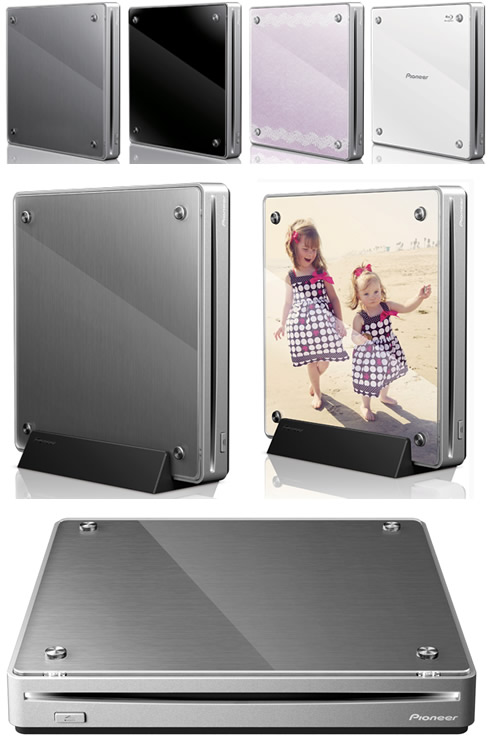 The drive supports 6x writing on BD-R single-layer and dual-layer discs. 4x writing on BD-R triple-layer and quad layer discs.
The BDR-XS05 also offers Pioneer's own technologies, PureRead 2+ and Auto Quiet Mode.
PureRead2+ enables the drive to dynamically adjust its optical playback settings through the use of an algorithm. Clicking or popping sounds that might normally occur due to minor scratches and fingerprints on CDs can be minimized, resulting in optimized playback of discs.
Auto Quiet Mode minimizes the drive's operating noise based on the type of use. The rotation speed changes to a quieter mode (slower speed) when watching Blu-ray and DVD titles or listening to conventional audio CDs and increases in speed when used for reading or writing data onto media.
Both the Auto Quiet mode and PureRead can be configured as well as enabled and disabled with the Pioneer BDR-XS05 Drive Utility, available for download at Pioneer's web site.
The BDR-XS05 measures 5.3" (W) X 0.8" (H) X 5.3" (D), weighs a mere 11.6 ounces, and also has the ability to be powered directly via USB (no AC adaptor needed).
It is now available with a suggested retail price of $149.
Write support
BD
BD-R, BD-R DL, BD-R TL, BD-R QL, BD-RE, BD-RE DL, BD-RE TL
DVD
DVD-R, DVD+R, DVD-R DL, DVD+R DL, DVD+RW, DVD-RW, DVD-RAM
CD
CD-R, CD-RW
Read Support
BD
BD-ROM, BD-ROM DL, BD-R, BD-R DL, BD-R TL, BD-R QL, BD-RE, BD-RE DL, BD-RE TL
DVD
DVD-ROM, DVD-ROM DL, DVD-R, DVD+R, DVD-R DL, DVD+R DL, DVD+RW, DVD-RW, DVD-RAM
CD
CD-ROM, CD-R, CD-RW
Write Speed
BD-R
BD-R SL/DL = 6x, BD-R TL/QL = 4x, BD-R LTH = 6x
BD-RE
BD-RE SL/DL/TL = 2x
DVD-R
8x
DVD - RW
6x
DVD + R
8x
DVD + RW
8x
DVD + R (Double Layer)
6x
DVD - R (Double Layer)
6x
CD - R
24x
CD - RW
24x
Read Speed
BD-R
BD-R SL/DL = 6x, BD-R TL/QL = 4x, BD-R LTH = 6x
BD-RE
BD-RE SL/DL = 6x, BD-RE TL = 4x
BD-ROM
BD-ROM SL/DL = 6x
DVD-ROM (Single)
8x
DVD-ROM (Dual)
8x
DVD-R, DVD-RW
8x
DVD+R, DVD+RW
8x
CD-ROM
24x
CD-R
24x
CD-RW
24x
Other Specifications
Data Buffer
4MB
Mounting Orientation
Horizontally
Interface
USB 3.0
Operating System Support
Windows 8, 7, Vista, or XP SP3
Dimensions
Dimensions (inches)
5.31" (W) x 0.80" (H) x 5.31" (D)
Dimensions (mm)
135 (W) x 20.3 (H) x 135 (D)
Weight
330g or 11.6 oz