Philips Announces First 21:9 "Cinematic" LCD TV
Philips announced the world's first cinema-proportioned LCD technology, which boasts a 56" screen shaped in the 21:9 aspect ratio, so movies in the 2.39:1 format completely fill the screen - exactly as you experience at the cinema. The new LCD TV promises to deliver "a genuine Cinematic Viewing Experience" to movie lovers in their own home.
Films fill a cinema screen. The images reach right out to the very limits of the screen and of our peripheral vision, enveloping us so completely in the action that we actively 'feel' along with the characters in front of us. This cannot be achieved on a conventional 16:9 widescreen TV at home without moving to a 'letterbox' view or losing the full scope of the original shot.
Philips Cinema 21:9 technology promises to solve these issues. In addition, the new LCD TV features Philips' Ambilight technology - accurately matching on-screen content to extend the picture beyond the confines of the screen.
Using advanced formatting technology, regular 16:9 content from sources such as TV broadcasts and games consoles is also adapted to fill the 21:9 screen.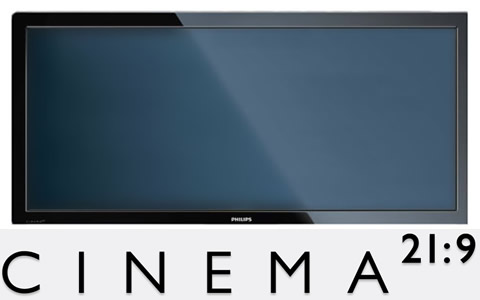 Des Power, Senior Vice President Marketing Television, Philips Consumer Lifestyle, commented: "With our unique Cinema 21:9 we have developed a television which takes you as close to the experience that you enjoy at the cinema as you can get without buying a ticket. We believe that to really become absorbed in watching a film at home consumers are looking for a real cinematic viewing experience, so we have launched the world's first cinema-proportioned TV screen perfectly complemented by our immersive Ambilight technology."
He added, "Philips new Cinema 21:9 takes enjoying movies at home to an entirely new level, the advantages over a traditional 16:9 ratio screen in side by side comparisons are truly striking."
Philips has not provided detailed product specifications of pricing details for the new Cinema 21:9 LCD TV, which will be available in spring 2009.