Panasonic LUMIX GX85 Packs High Image Quality In a Compact Body
Panasonic's latest Mirrorless Interchangeable Lens Camera, the LUMIX DMC-GX85 (GX85), has been released for enthusiasts looking for an alternative to bulky DSLRs. Nearly half the size of most DSLRs, the GX85 delivers large sensor performance in a compact camera system. Thanks to the elimination of the low pass filter, its detail resolving power is boosted nearly 10% over previous 16-Megapixel sensors.
The LUMIX GX85 incorporates a new 5-axis Dual I.S. (Image Stabilizer) for more effective suppression of blur. Combining an O.I.S.(Optical Image Stabilizer, 2-axis) and a B.I.S.(Body Image Stabilizer, 5-axis), the 5-axis Dual I.S. compensates for a larger range of movement than ever before.
The camera features a 16.0-megapixel Digital Live MOS Sensor without a Low Pass filter and the new Venus Engine. It adopts a new electromagnetic drive in the shutter unit. The shock caused by the movement of shutter diaphragm is reduced and the shutter sound is also minimized. The Contrast AF System features DFD (Depth From Defocus) technology and excels in both speed and accuracy by exchanging the digital signal between the camera and the lens at max. 240 fps, resulting in fast auto focusing of approx. 0.07 sec. A variety of AF functions including Face/Eye Detection AF, Pinpoint AF, One-shot AF and advanced Low Light AF enhance usability to comply with wide-ranging shooting situations.
The GX85 integrates a LVF (Live View Finder) with 2764K-dot equivalent high resolution and approx.100% color reproduction. This 16:9 Wide Screen LVF boasts approx.1.39x / 0.7x (35mm camera equiv.) magnification and 100% field of view. The new 3.0-inch large, approx.1040K-dot high resolution static-type touch monitor with approx. 100% of field of view tilts up by 80-degrees and down by 45-degrees.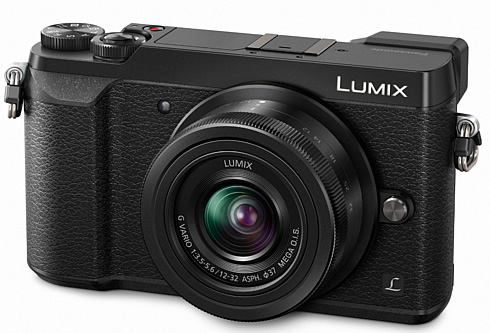 For even more creative photography, the LUMIX GX85 integrates the new L.Monochrome mode in Photo Style that offers monochrome capture with rich gradation comparable to that of B/W film. Focus Bracket and Aperture Bracket are also new additions to conventional Exposure Bracket and WB Brackets that allow users to choose the best shot later. Thanks to its Wi-Fi connectivity, users can connect the camera to their smartphone / tablet to expand the flexibility in shooting/storing/sharing images.
Taking advantage of the high speed signal readout capability of the sensor and high speed signal processing, the LUMIX GX85 is capable of recording 4K video in 3840 x 2160 at 30p or 24p in addition to the full-HD 1,920 x 1,080 60p (60 Hz) videos with practical full-time AF.
Thanks to this 4K technology, users can enjoy 4K PHOTO which users can capture the fleeting photo opportunities at 30 fps by extracting the most appealing frame. Three exclusive modes are available to choose from depending on the situation; 4K Burst, 4K Burst (Start/Stop) and 4K Pre-burst. All these function in 4K PHOTO enable saving pictures in 8-megapixel equivalent high resolution.
The LUMIX GX85 will be available at the end of May for $799.99 in both silver and black versions with a 12-32 kit lens.