Panasonic Introduces World's First 6x BD-R Media
Panasonic has developed the world's first Write-Once Blu-ray Discs (BD-R) supporting the 6X writing speed. The new discs will be available in Japan with both 25GB and 50GB capacities in July. Panasonic, which introduced the world's first dual-layer 1X BD-RE Blu-ray Disc in 2004, 2X BD-R/RE Discs in 2006, and 4X BD-R Disc in 2007, is now launching the world's first 6X BD-R to meet consumer demand to write and read large amounts of data at a higher speed. The new 6X discs have a maximum data transfer speed of 216Mbps, which is 20% faster than that of 16X DVD-R discs.
The Blu-ray Disc Association aproved the BD-R recording specifications for 6x in March (Blu-ray Disc Recordable Format Ver.1.3).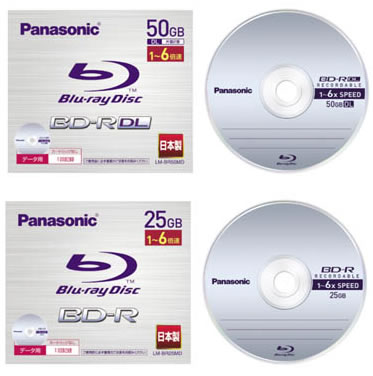 The new discs have a wide power margin at any writing speeds from 1X to 6X. This enables high-quality recording, even if the drive's laser power fluctuates, resulting in greater overall drive compatibility.
Panasonic's adoption of newly-developed disc technology produces well-balanced discs with precise signal grooves. This improves servo characteristics and enables the laser beam to focus to the right position even when the disc is rotating fast while writing at 6X.
Panasonic plans to release its first Blu-ray disc drives compatible with 6X write-once Blu-ray discs by the end of September 2008. S.Korean is already offerign 6x BD drives for PCs, which feature reading and writing speeds of 6x. The latest models are the BE06, GBC-H20L and GBW-H20L.
Specifications