1. Introduction
Sony NEC Optiarc is a joint venture that combines Sony's and NEC's optical disc drive (ODD) divisions. The new company was announced last February. Under the alliance, Sony and NEC work together in the development, design and marketing of optical data-storage disk drives, including rewritable CDs and DVDs. The joint venture will replace both companies' own activities in the optical disc market, at least for red laser drives.
We recently received the first DVD burner from Sony NEC Optiarc Inc., the Optiarc AD-7170A. The drive offers the fastest available DVD recording speeds of 18x for SL and 8X for DL media, together with a high CD recording speed of 48x. It also supports DVD-RAM, with the impressive recording speef of 12x. At an 18x writing speed for DVD-R / +R media, a 4.7GB compilation can be burned in around 5 minutes. Below is a summary of the specifications for this device.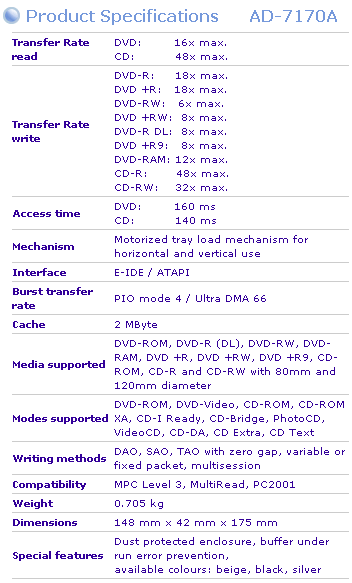 The 12x DVD-RAM writing speed is supported with compliant media, currently announced from Maxell and Panasonic. However, the availability of such discs (RAM2) is very limited - if at all - in Europe. Maxell will not ship the new media to Europe at all, making most European owners of the new drive disappointed to say the least.
Manufactured in the company's plant in Malaysia, the AD-7170A is currently available in Europe.
In the following pages, we examine the writing quality and the behavior of the drive with various DVD-R and DVD+R media brands. All media were measured using the DaTARIUS DVD Analyzer R 2x. More information on the testing equipment is given in the following pages. In case you are not familiar with the signals and the various quality measurements carried out on DVD recordable media, we recommend you take some time and read the next two pages, where you will find a detailed explanation of the signals measured.
All discs were burned at the maximum available speed, allowed by Nero Burning Rom. The recording project, a data compilation, was the same for all discs.