Nvidia to Provide AI platform For Chinese Auonomous Vehicle Start-ups
Nvidia has signed deals with Chinese electric vehicle startups XPeng Motors, Singulato Motors and SF Motors to develop autonomous driving technology, Chief Executive Jensen Huang said on Wednesday.
At the GPU Technology Conference in China, upstart automakers, trucking companies and suppliers announced their selection of NVIDIA DRIVE AGX as the platform for their upcoming self-driving systems. Xavier is fully automotive grade and in production now.
China accounts for about one-third of worldwide vehicle sales and produces 24.5 million cars annually. On any given day in China, trucks are transporting as much as 84 million tons of freight on the nation's highways, putting increasing strain on the country's 30 million truck drivers.
To help ease these pressures, Chinese delivery companies are turning to NVIDIA DRIVE AGX to provide the compute performance necessary for driverless vehicles.
FAW Group, one of China's largest truck manufacturers, is teaming up with autonomous driving startup PlusAI and Full Truck Alliance (FTA), a logistics company, to develop a driverless commercial trucking fleet planned for a large-scale truck-hailing service in 2021.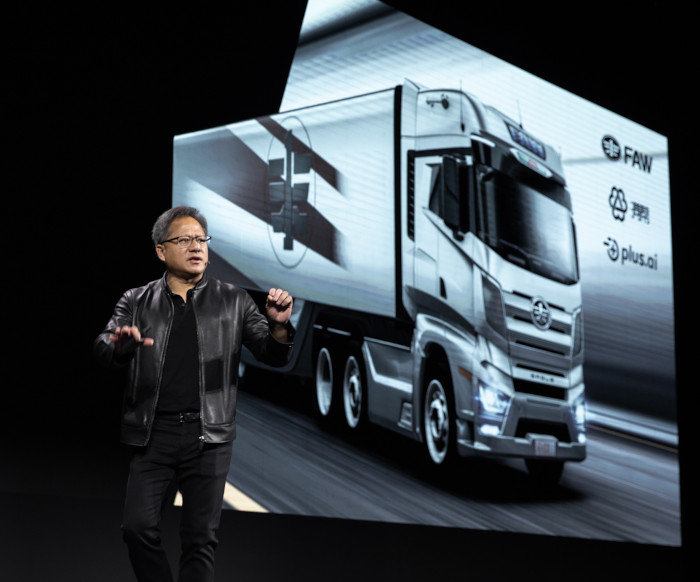 The companies said this week that they will use NVIDIA DRIVE AGX Pegasus, an AI supercomputer capable of 320 trillion operations per second (TOPS), to operate the self-driving trucks.
"Connecting trucks with drivers is a huge challenge — 40 percent of the time trucks are driving, they're empty," said NVIDIA CEO Jensen Huang. "We're working together with FAW, PlusAI and FTA to create an autonomous truck, so, in the short term, it can ease the challenge for truck drivers. Then, eventually, the truck will be able to drive autonomously."
On the GTC China show floor, PlusAI exhibited the autonomous truck developed with FAW, which leverages multimodal sensor fusion and surround perception for safe driverless commercial operation.
Another autonomous truck was also on display at the conference. TuSimple, based in China and the U.S., is developing a camera-based perception system that allows the truck to see more than 1,000 meters away at all times.
AutoX, an autonomous delivery startup that in August launched a self-driving pilot in San Jose, Calif., also selected DRIVE AGX Pegasus for its level 4 last-mile delivery vehicles. It's using high-resolution cameras and other sensor inputs paired with the redundancy and diversity of the NVIDIA DRIVE platform for its driverless delivery fleet.
In the past five years, China has invested more than $15 billion in electric vehicle technology and aims to produce 2 million EVs by 2020 and growing to 7 million by 2025, becoming home to a budding generation of electric vehicle startups. Some of these companies are tackling new powertrain technology as well as autonomous driving, and are using NVIDIA DRIVE to get there.
XPENG Motors, a startup based in Guangzhou, China, along with one of the largest Chinese electronics tier 1 suppliers, Desay SV Automotive, will use our DRIVE AGX Xavier — which delivers 30 TOPS using just 30 watts of power — for its level 3 automated driving system slated for production vehicles by 2020. Level 3 automated driving enables the car to steer and brake on its own, but still requires a human to take control in certain conditions.
The XPeng G3, an intelligent EV powered by NVIDIA DRIVE and equipped with the X-Pilot advanced driver assist system, automatic parking and AI voice assistant, was also showcased this week on the GTC China show floor.
DRIVE AGX Xavier will also power upcoming vehicles from Beijing-based Singulato Motors, a startup developing software-defined, customizable EVs, for level 3 autonomous driving and scheduled for production in 2020.
Additionally, SF Motors, which plans to launch its first electric crossover, the SF5, next year, said it will develop its next-generation autonomous compute platform with DRIVE AGX Xavier.