Nokia Announces The Nokia 220, Nokia Asha 230 and three smartphones in the new Nokia X family At MWC
Nokia on Monday announced five new phones at Mobile World Congress in Barcelona today. The phones are the Nokia 220, the Nokia Asha 230 and three smartphones in the new Android-based Nokia X family: the Nokia X, Nokia X+ and Nokia XL.
Nokia is targeting emerging markets with a low-cost smartphone that uses Google's Android operating system rather than the Windows Phone software from Microsoft.
The new Nokia X phone announced Monday will emphasize Microsoft services such as Bing search, Skype communications and OneDrive file storage.
The Nokia X family features Nokia's design with a tile-based user interface inspired by the company's Lumia family. All devices come with Fastlane, a screen which lets people switch between their apps. People can access apps from Nokia Store, third-party app stores and by sideloading. Out of the box, they can enjoy free HERE Maps, with offline maps and integrated turn-by-turn navigation, and Nokia MixRadio for free music streaming and downloadable playlists.
Because the Nokia X family uses Android, it will be able to run most Android apps. However, app developers may have to tweak some of their software because the phone doesn't have key Google services.
The Nokia X family is also an affordable introduction to Microsoft services, including cloud storage using OneDrive. With the purchase of any Nokia X family smartphone in select markets, people will get one month of Skype's Unlimited World Subscription for a limited time.
The first device, the Nokia X, comes with a 4" IPS (800 x 480 resolution) capacitive display, a dual-core 1GHz Snapdragon processor and a 3MP camera. It's joined by the Nokia X+ which has more storage and an SD card slot. The Nokia XL is a bigger 5-inch screen and has a 5MP rear camera with autofocusand flash, and 2-megapixle forward facing camera.
Both the Nokia X and Nokia X+ will be available in bright green, bright red, cyan, yellow, black and white.
The entire Nokia X family is powered by the Qualcomm Snapdragon dual-core processor and supports Dual SIM.
The Nokia X will go on sale immediately, starting at EUR 89 and rolling-out in Asia-Pacific, Europe, India, Latin America, the Middle East and Africa. The Nokia X+ and Nokia XL are expected to roll out in these markets starting early second quarter, priced at EUR 99 and EUR 109, respectively.
At the Mobile World Congress wireless show in Barcelona, Spain, Nokia announced two even cheaper phones on Monday:
The Nokia 220 is meant as a starter phone for 29 euros ($40). It will have Facebook, Twitter and some games already installed, but users won't be able to add apps. It comes with a 2.4" colour screen, dust- and splash-proof keypad, and comes with Facebook and Twitter pre-loaded and Bing as the default search engine in the pre-loaded Nokia Xpress browser.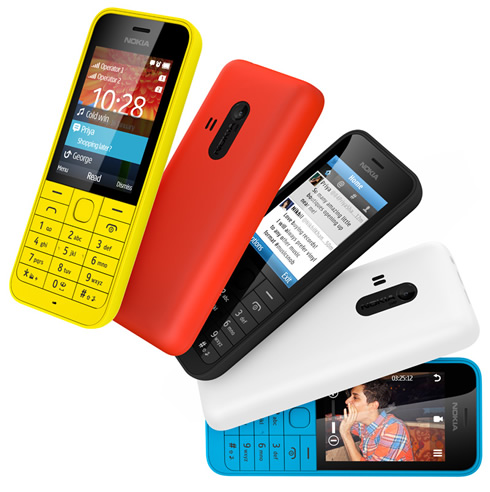 The 45-euro ($62) Nokia Asha 230 phone is meant for people who are not yet ready for the Nokia X. It comes with a touch screen, but lacks the power and versatility found in smartphones. The Nokia Asha 230 includes all the benefits of the Nokia Asha Software Platform, including Fastlane and access to social apps like Line, WeChat and WhatsApp. One swipe up from the lockscreen activates the Nokia Asha 230's camera. With a forthcoming software update, the Nokia Asha 230 will introduce 7GB of free cloud storage on Microsoft OneDrive, and the option to automatically back up photos to the cloud.
Global apps will be available at launch for the Nokia X family of devices, including Facebook, LINE Free Voice and Messages, LINE Camera, LINE Bubble, Picsart, Plants vs. Zombies 2, Real Football 2014, Skype, Spotify, Swiftkey, Twitter, Viber, Vine and WeChat, among others. And in a first for Nokia users around the world, Blackberry's BBM mobile messaging platform will also be available on the Nokia X family of devices in addition to Windows Phone.
Nokia is also creating even more opportunities for Android developers. Also announced today are extensions to allow them to publish their apps to the Nokia Store, and to create new experiences for the Nokia X family using a wide range of new APIs for imaging, entertainment and other services, including operator billing, which takes advantage of Nokia's agreements with more than 160 operators across 60 markets.
While the bulk of today's news concerned more affordable devices, at today's press conference Nokia also announced news for Windows Phone.
Nokia's partners such as Facebook, BBM, Twitter, LINE, Viber, Electronic Arts, Gameloft and Rovio are making their key apps available across Nokia's device portfolio of feature phones, Asha, Nokia X and Lumia. Facebook Messenger will also be coming soon across Nokia's four tiers of products.
 
Nokia Asha 220
Nokia 230

Dimensions

Height: 116.4 mm
Width: 50.3 mm
Thickness: 13.2 mm
Weight: 83.4 g

Height: 99.5 mm
Width: 58.6 mm
Thickness: 13.2 mm
Weight: 89.2 g

Display and UI

QVGA (320 x 240) 
Display colors: HighColor (18-bit/262k) 
Aspect ratio: 4:3 
Pixel density: 166 ppi
Display technology: LCD Transmissive 

Display size: 2.8 ''
Display resolution: QVGA (320 x 240) 
Display features: Brightness control, Tactile feedback, Low power mode, Nokia Glance screen
Display colors: HighColor (18-bit/262k) 
Aspect ratio: 4:3 
Pixel density: 142 ppi
Display technology: LCD Transflective 
Display height: 57.6 mm
Display width: 43.2 mm
Sensors: Accelerometer, Proximity sensor

Photography

Main camera

Main camera sensor: 2 MP 
Main camera focus type: Fixed focus 
Camera digital zoom: 2 x
Sensor size: 1/5 inch 
Main camera f-number/aperture: f/2.8 
Camera image formats: JPEG 

Image capturing

Capture modes: Video, Self-timer
Scene modes: Automatic, Night
Colour tone modes: Normal 
Photos viewed by: Album  

Main camera

Main camera sensor: 1.3 MP 
Camera resolution: 1280 x 960 pixels
Main camera focus type: Fixed focus 
Camera digital zoom: 3 x
Main camera f-number/aperture: f/2.8 
Camera focal length: 2.3 mm
Camera minimum focus range: 60 cm
Camera image formats: JPEG, RAW10

Main camera features

Main camera - other features: Landscape orientation, Auto and manual white balance, Still image editor, Full screen viewfinder

Image capturing

Capture modes: Video, Self-timer
Scene modes: Automatic 
Colour tone modes: Sepia, Normal, Negative, Black and white
White balance modes: Fluorescent, Daylight, Automatic
Light sensitivity: Automatic 

Power management

Maximum standby time with dual SIM: 24 days
Maximum talk time (2G): 15 h
Maximum music playback time: 51.5 h

Maximum standby time with dual SIM: 21 days
Maximum talk time (2G): 12 h
Maximum music playback time: 42 h

Data Network

GSM network: 900 MHz, 1800 MHz
GSM max data speed UL: GPRS 85.6 kbps 

GSM network: 850 MHz, 900 MHz, 1800 MHz, 1900 MHz
GSM max data speed DL: EGPRS 236.8 kbps 
GSM max data speed UL: GPRS 42.8 kbps 

Memory

User data storage: In device, Memory card
Expandable memory card type: MicroSD 
Maximum memory card size: 32 GB 

User data storage: Memory card 
Expandable memory card type: MicroSD 

Video

Main video camera

Camera video resolution: QVGA (320 x 240) 
Camera video frame rate: 15 fps
Camera video zoom: 2 x
Video playback frame rate: 30 fps
Video playback codecs: H.263, H.264/AVC, MPEG-4
Video playback file formats: 3GP, MP4
Video recording formats: AVI M-JPEG 

Main video camera features

Video recording features: Video zoom

Main video camera

Camera video frame rate: 15 fps
Camera video zoom: 3 x
Video playback frame rate: 25 fps
Video playback codecs: H.263, H.264/AVC, MPEG-4
Video playback file formats: 3GP, MP4
Video recording formats: 3GP/H.263 
Video scene modes: Automatic 
Video white balance modes: Fluorescent, Automatic, Daylight, Lightbulb

Main video camera features

Video streaming: YouTube browsing and video streaming, Streaming from video services and internet, Download and Play
Video recording features: Video zoom 
Video recording colour modes: Black and white, Negative, Sepia

Connectivity

SIM card type: Mini SIM 
Dual SIM: Dual Standby SIM 
Charging connectors: Micro-USB 
AV connectors: 3.5 mm audio connector 
System connectors: Micro-USB-B 
USB: USB 1.1, USB mass storage
Bluetooth: Bluetooth 3.0 
Bluetooth profiles: Object Push profile (OPP) 1.1, Phone Book Access Profile (PBAP) 1.1

SIM card type: Micro SIM 
Dual SIM: Dual Standby SIM 
Charging connectors: Micro-USB 
AV connectors: 3.5 mm stereo headphone connector 
System connectors: Micro-USB-B 
USB: USB 2.0 
Bluetooth: Bluetooth 3.0 
Bluetooth profiles: Object Push profile (OPP) 1.1, Hands-free profile (HFP) 1.5, Headset profile (HSP) 1.1, Audio/Video Remote Control Profile (AVRCP) 1.3, Phone Book Access Profile (PBAP) 1.0, Advanced Audio Distribution Profile (A2DP) 1.2, Dial-Up Networking Profile (DUN), File Transfer Profile (FTP)
Nokia X
Nokia X+
Nokia XL

Height: 115.5 mm
Width: 63 mm
Thickness: 10.4 mm
Weight: 128.7 g

Height: 141.4 mm
Width: 77.7 mm
Thickness: 10.9 mm
Weight: 190 g

Display size: 4 ''
Display resolution: WVGA (800 x 480) 
Display features: Brightness control, Tactile feedback, Orientation sensor, Nokia Glance screen, Wide viewing angle, Screen double tap
Display colors: TrueColor (24-bit/16M) 
Aspect ratio: 15:9 
Pixel density: 233 ppi
Display technology: IPS LCD 
Touch screen technology: Capacitive two-point touch 
Sensors: Ambient light sensor, Accelerometer, Proximity sensor

Display size: 5 ''
Display resolution: WVGA (800 x 480) 
Display features: Brightness control, Tactile feedback, Orientation sensor, Nokia Glance screen, Wide viewing angle, Screen double tap
Display colors: TrueColor (24-bit/16M) 
Aspect ratio: 15:9 
Pixel density: 187 ppi
Display technology: IPS LCD 
Touch screen technology: Capacitive Multipoint-Touch 
Sensors: Ambient light sensor, Accelerometer, Proximity sensor

Main camera

Main camera sensor: 3 MP 
Camera resolution: 2048 x 1536 pixels
Main camera focus type: Fixed focus 
Camera digital zoom: 4 x
Sensor size: 1/5 inch 
Main camera f-number/aperture: f/2.8 
Camera focal length: 32.4 mm
Camera minimum focus range: 50 cm
Camera image formats: JPEG 
Flash type: No Flash 

Main camera features

Main camera - other features: Auto and manual white balance, Active toolbar, Still image editor, Face recognition, Auto exposure, Center weighted auto exposure
Digital camera add-ons: Panorama lens 

Image capturing

Capture modes: Panorama, Video, Still
Colour tone modes: Sepia, Solarize, Normal, Negative
White balance modes: Cloudy, Incandescent, Fluorescent, Daylight, Automatic
Light sensitivity: Automatic, ISO 100, ISO 200, ISO 400
Photos viewed by: Album, Timeline

Main camera

Main camera sensor: 5 MP 
Camera resolution: 2592 x 1944 pixels
Main camera focus type: Auto focus 
Camera digital zoom: 4 x
Sensor size: 1/4 inch 
Main camera f-number/aperture: f/2.8 
Camera focal length: 32 mm
Camera minimum focus range: 50 cm
Camera image formats: JPEG 
Flash type: LED flash 
Flash operating range: 1.0 m
Flash modes: Off, Automatic, On

Main camera features

Main camera - other features: Auto and manual white balance, Active toolbar, Still image editor, Face recognition, Auto exposure, Center weighted auto exposure
Digital camera add-ons: Panorama lens 

Image capturing

Capture modes: Panorama, Video, Still
Colour tone modes: Sepia, Solarize, Normal, Negative
White balance modes: Cloudy, Incandescent, Fluorescent, Daylight, Automatic
Light sensitivity: Automatic, ISO 100, ISO 200, ISO 400
Photos viewed by: Album, Timeline

Secondary camera

Secondary camera resolution: 1600 x 1200 pixels
Secondary camera f-number/aperture: f/2.8 
Secondary camera - other features: HD 2 MP wide angle, Video recording, Video call

Battery model: BN-01 
Battery capacity: 1500 mAh
Battery voltage: 3.7 V
Removable battery: Yes 
Maximum talk time (2G): 13.3 h
Maximum talk time (3G): 10.5 h
Maximum standby time with dual SIM: 17 days
Maximum music playback time: 26 h
Maximum video playback time: 8.4 h
Maximum cellular network browsing time: 4.5 h
Maximum Wi-Fi network browsing time: 4.7 h

Battery model: BN-02 
Battery capacity: 2000 mAh
Battery voltage: 3.7 V
Removable battery: Yes 
Maximum talk time (2G): 16 h
Maximum talk time (3G): 13 h
Maximum standby time with dual SIM: 30 days
Maximum music playback time: 37 h
Maximum cellular network browsing time: 5.5 h
Maximum Wi-Fi network browsing time: 6 h

WCDMA network: 900 MHz, 2100 MHz
WCDMA max data speed DL: HSDPA - 7.2 Mbps 
WCDMA max data speed UL: HSUPA - 5.76 Mbps 
GSM network: 850 MHz, 900 MHz, 1800 MHz, 1900 MHz
GSM max data speed DL: EGPRS 236.8 kbps 
GSM max data speed UL: GPRS 85.6 kbps 

User data storage: In device, Memory card
RAM: 512 MB 
Mass memory: 4 GB 
Expandable memory card type: MicroSD 
Maximum memory card size: 32 GB 

User data storage: In device, Memory card
RAM: 768 MB 
Mass memory: 4 GB 
Expandable memory card type: MicroSD 
Maximum memory card size: 32 GB 

Main video camera

Camera video resolution: FWVGA (864 x 480) 
Camera video frame rate: 30 fps
Camera video zoom: 4 x
Video playback frame rate: 30 fps
Video playback codecs: H.263, H.264/AVC, MPEG-4
Video playback file formats: 3GP, MP4
Video recording formats: 3GP/H.263 
Video white balance modes: Cloudy, Fluorescent, Incandescent, Automatic, Daylight

Main video camera features

Video streaming: Streaming from video services and internet 
Video recording colour modes: Black and white, Negative, Sepia

Main video camera

Camera video resolution: FWVGA (864 x 480) 
Camera video frame rate: 30 fps
Camera video zoom: 4 x
Video playback frame rate: 30 fps
Video playback codecs: H.263, H.264/AVC, MPEG-4
Video playback file formats: 3GP, MP4
Video recording formats: 3GP/H.263 
Video white balance modes: Cloudy, Fluorescent, Incandescent, Automatic, Daylight

Main video camera features

Video streaming: Streaming from video services and internet 
Video recording colour modes: Black and white, Negative, Sepia

Secondary video camera

Secondary video camera resolution: 720p (HD, 1280 x 720) 
Secondary camera video recording formats: 3GP/H.263 

SIM card type: Micro SIM 
Dual SIM: Dual Standby SIM 
Charging connectors: Micro-USB 
AV connectors: 3.5 mm audio connector 
System connectors: Micro-USB-B 
USB: USB 2.0 
Bluetooth: Bluetooth 3.0 + HS 
Bluetooth profiles: Headset profile (HSP) 1.2, Hands-free profile (HFP) 1.5, Audio/Video Remote Control Profile (AVRCP) 1.3, Phone Book Access Profile (PBAP) 1.0, Advanced Audio Distribution Profile (A2DP) 1.2, General Audio/Video Distribution Profile (GAVDP), General Audio/Video Distribution Profile (GAVDP) 1.2, Dial-Up Networking Profile (DUN), File Transfer Profile (FTP), Object Push profile (OPP) 1.2, PAN 1.0
Wi-Fi: WLAN IEEE 802.11 b/g/n 
Wi-Fi security modes: EAP-TTLS/MSCHAPv2, WPA, WEP, WPA-Enterprise, WPA-Personal, PEAP-MSCHAPv2, WPA2 (AES/TKIP), WPA2-Enterprise, WPA2-Personal, EAP-TLS
Other wireless connectivity: WAPI 

Qualcomm Snapdragon S4 Dual-core 1 GHz