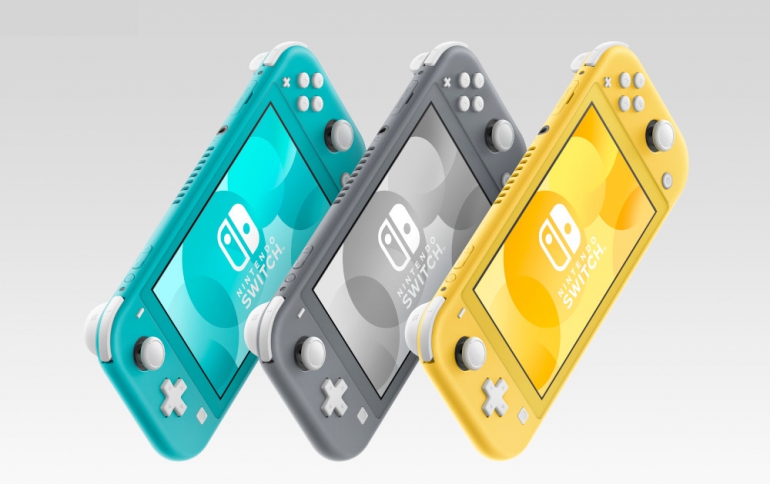 Nintendo Switch Family Lite Launched
The latest addition to the Nintendo Switch family of systems, the Nintendo Switch Lite, is launching today.
A lightweight device with integrated controls designed specifically to play Nintendo Switch games that support Handheld mode, Nintendo Switch Lite is available in three colors: yellow, grey and turquoise. Nintendo Switch Lite has integrated controls and is smaller than the original version of Nintendo Switch.
As a dedicated handheld gaming device, Nintendo Switch Lite supports all Nintendo Switch software that can be played in Handheld mode. It's has been designed for people who have lots of opportunities to play on the go, and for anyone who wants to play online via Nintendo Switch Online (sold separately) or local wireless multiplayer with friends or family who already own a Nintendo Switch system.
The Nintendo Switch Lite does not include Joy-Con controllers not included or the HD Rumble or IR Motion Camera, found in the Nintendo Switch. In addition, the handheld device is not compatible with Nintendo Switch dock. It does not support output to a TV. Therefore, it does not come with a dock, HDMI cable or kickstand.
The device itself is 3.6" high, 8.2" long, .55" deep and weighs in approximately .61 lbs. it has a 5.5" touch screen and its battery life is approximately 3 - 7 hours, depending on the games you play. For instance, the battery will last approximately 4 hours for The Legend of Zelda: Breath of the Wild.
Nintendo Switch Lite can play the games in the Nintendo Switch library that support handheld mode. For games that do not support handheld mode, players can wirelessly connect compatible controllers (sold separately) to Nintendo Switch Lite. If using separate Joy-Con controllers, users will need to have a device to recharge them, such as the Joy-Con Charging Grip.
Also launching today, The Legend of Zelda: Link's Adventure joins the lineup of games that can be played on any Nintendo Switch family system. In this reimagining of one of the most beloved games in the Legend of Zelda series, Link has washed ashore on a mysterious island, filled with strange and colorful inhabitants. To return home, Link must explore a reimagined Koholint Island that's been faithfully rebuilt in a new art style. Along the way, he will battle enemies and conquer numerous dungeons riddled with tricks, traps and enemies, including some from the Super Mario series.
In the new Chamber Dungeon mode, players earn Chambers (dungeon rooms) throughout the story and arrange them to complete objectives. Launching alongside the game is an adorable new Link amiibo figure. By using this Link amiibo figure, players can unlock Shadow Link in the Chamber Dungeon.
The Nintendo Switch Lite system is now available at a suggested retail price of $199.99. The Legend of Zelda: Link's Awakening, which can be played on any system in the Nintendo Switch family, is also available at a suggested retail price of $59.99.