NHK Develops New Optical Storage Systems For Super Hi-vision Video Signals
NHK (Japan Broadcasting Corp) unveiled a new archive system that uses thin optical discs as well as a high-density holographic recording technology at the OpenHouse 2010, which takes place from May 27 to 30, 2010. The NHK Science & Technology Research Laboratories (STRL) and Ricoh Company Ltd. have been researching high-speed, large capacity thin optical discs for archiving. The protorype system in the exhibition can handle flexible thin optical discs in the same wasy as currentl optical discs. STRL created a prototype of a compact cartridge that can hold 100 thin optical discs, offering a total recording capacity of 2.5TB. The companies have also manufacture a prototype drive for use with these thin optical discs. The drive has a disc loading tray combined with a stabilizer mechanism that stabilizes the revolution of the discs. In addition, the companies developed a disc changer that uses air-adsorption to disctibute the flexible optical discs in several drives without damaging them.
The system is currently in the development stage and is expected to be used for archiving purposes, especially for storing Super Hi-Vision content.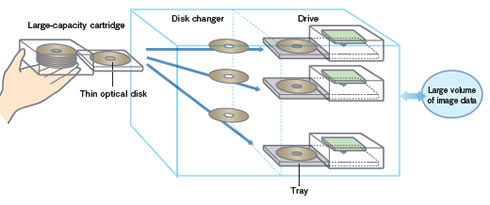 STRL has been also studying a holographic reording technology that can store huge amount of data and record Super Hi-Vision video signals. The new system is based in the angle multiplexing recording method: The method changes the relative angles between an incident beam and the recording medium, allowing to record different data in the same place. STRL has managed to increase the data access speed by changing from a way the recording medium is rotating. The new method controls the incident angle of teh beam on the recording medium. STRL also claims that they made it possible to record and reproduce data in any type of recording medium configuration. In addition, the improved holographic recording system is compensating for distortion. Vibrations, temperature changes and changes in the volume of the recording medium cause distortions in the recording process. To maintain a high signal quality under such circumstances, STRL used wavefront control techniques to achive the optimal conditions for beam wavefronts in recording and reproduction.
STRL says that the new experimantal holographics recording and reproduction system offers four times the recording density of the corresponding system shown at last year's Open House 2009 show. This has been achieved by increasing the numerical aperture of the object lend used in the system. Generally, a large numerical aperture means that the beam can be made to converge on a smaller area.
STRL plans to continue to develop the holographic recording technology's signal processing methods and optimize its optical systems. The goal is to make a holographics recording equipment that can record Super Hi-Vision video signals.
The Super Hi-vision (Ultrahigh-Definition Wide-Screen System with 4000 Scanning Lines) format is still experimental, and NHK researchers build their own prototypes from scratch. The system uses a video format with 7680 x 4320 pixels (16 times higher than standard Hi-vision, NHK?s HDTV system). Although Super Hi-Vision has increased resolution compared with existing HD standards, it uses the same number of frames per second (60 or 50 Hz, whereas modern cinema films are usually 24 Hz).
The ultimate goal is for UHDTV to be available at homes, though the timeframe for this happening varies between 15 to 25 years, mainly based on supported technical reasons to do with storage and broadcast distribution of content.