New Wireless NES Controllers, Games and Nintendo Switch Online
Nintendo's latest Direct video presentation went live on Thursday evening, and it included confirmations of long-rumored games and ports for the Nintendo Switch-along with a surprise NES controller pack launching next week.
We are starting with Nintendo Switch Online service. Members will gain access to online play and Save Data Cloud backup in compatible games, the NES - Nintendo Switch Online collection of classic games with added online play, special offers and a smartphone app with features to make online gaming sessions more engaging for supported games.
In addition to Splatoon 2 , more online games will support voice chat through the app, including Mario Kart 8 Deluxe , ARMS and Mario Tennis Aces. Nintendo Switch owners won't automatically become members when the service launches on Sept. 18, so they will need to purchase an individual or family membership in order to continue enjoying their online play in compatible games. For pricing information, and to pre-order a 3- or 12-month individual membership from select retailers so you can be ready to go once the service launches, visit https://www.nintendo.com/switch/online-service/pricing. A free seven-day trial will also be available. At launch, 20 NES games, including Super Mario Bros. 3, The Legend of Zelda, and the newly announced Ice Hockey and Pro Wrestling (available for the first time since its 1987 release) will be available to play, with more games added regularly.
The new wireless Nintendo Entertainment System Controller will be available for purchase exclusively for Nintendo Switch owners with a paid Nintendo Switch Online membership in the U.S. and Canada. This re-creation of the original, iconic NES controller comes in a pack of two for $59.99 and can be charged by attaching to a docked Nintendo Switch system. These controllers connect wirelessly to Switch consoles, and they also include latches to hook to the sides of a Switch console, but Nintendo advertises this solely as a controller-charging feature. Meaning, you won't be able to use these NES controllers in traditional Switch games-particularly when you might prefer a traditional D-pad over the Joy-Cons' clicky buttons. NES controllers will be available for pre-order on Sept. 18.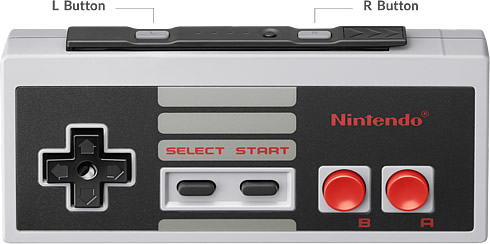 Those NES controllers will be compatible primarily with Switch Online's NES game collection, and we now know which 20 classic first- and third-party games to expect in the USA at launch:
Baseball, Balloon Fight, Dr. Mario, Donkey Kong, Double Dragon, Excitebike, Ghosts 'N Goblins, Gradius, Ice Climbers, Ice Hockey, The Legend of Zelda, Mario Bros., Pro Wrestling, River City Ransom, Soccer, Super Mario Bros., Super Mario Bros. 3, Tecmo Bowl, Tennis, Yoshi
Additionally, Nintendo teased the next nine games to expect in the line-up: Solomon's Key, NES Open Tournament Golf, and Super Dodge Ball in October; Metroid, Mighty Bomb Jack, and Twin Bee in November; and Wario's Woods, Ninja Gaiden, and Adventures of Lolo in December.
Nintendo also revealed that new games in two major Nintendo series are currently in development for the Nintendo Switch system. Animal Crossing for Nintendo Switch (working title), a new main game in the Animal Crossing series, and Luigi's Mansion 3 (working title), will both come exclusively to Nintendo Switch in 2019.
The Nintendo Direct revealed a diverse lineup of games headed to Nintendo Switch, including a massive collection of classic FINAL FANTASY games, an HD remake of the Katamari Damacy game and adaptations of some best-selling card and board games like Carcassonne and Pandemic. The Nintendo Direct revealed more details about previously announced Nintendo Switch games like Yoshi's Crafted World, DAEMON X MACHINA and Mega Man 11.
The Direct video confirmed the first Katamari Damacy game on a Nintendo console, dubbed Katamari Damacy Reroll, coming in "winter 2018," and it will ship with unique Joy-Con control options. We'll also soon see a seven-game pack of Capcom beat-'em-games from the late '80s and early '90s arcade era, dubbed simply Capcom Beat 'Em Up Bundle, on September 18.
Much of the presentation centered on games that had already been announced for Switch, including Blizzard's Diablo III, Capcom's Mega Man 11, Ubisoft's toy-filled Starlink (complete with a Star Fox cameo), and 2K Games' Civilization VI.