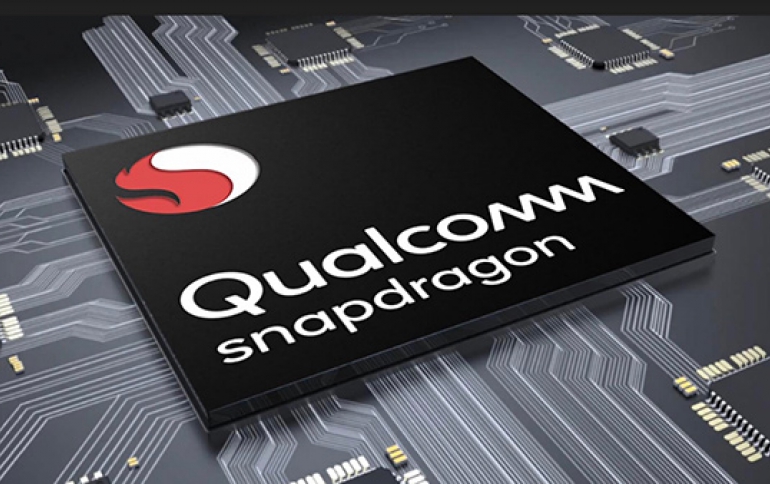 New Snapdragon X20 LTE Modem Is Paving the Way for 5G
Qualcomm has started sampling Qualcomm Snapdragon X20 LTE chipset, its seventh-generation LTE multimode modem and second generation Gigabit LTE solution, which is built on a 10nm FinFET process.
The modem and its new Snapdragon X20 LTE transceiver is the first commercially announced Gigabit LTE chipset designed to deliver fiber-like LTE Category 18 download speeds of up to 1.2 Gbps, a 20 percent improvement in download speeds over the previous generation. Additionally, it allows support for up to 5x20 MHz downlink Carrier Aggregation (CA) across licensed and unlicensed FDD and TDD radio frequencies, as well as 4x4 MIMO on up to three aggregated LTE carriers. Lastly, it supports integrated Dual SIM Dual VoLTE (DSDV) capability, a first for Snapdragon LTE modems.
The Snapdragon X20 LTE modem peak speeds extend beyond Gigabit LTE by using Carrier Aggregation and 4x4 MIMO. With these capabilities, the Snapdragon X20 LTE modem can simultaneously receive 12 unique streams of data on as few as three 20 MHz carriers. On each downlink stream, the Snapdragon X20 LTE modem's support for 256-QAM boosts the peak throughput to ~100Mbps. On the uplink, 2x20MHz carrier aggregation plus 64-QAM allows for speeds up to 150Mbps.
The X20 LTE modem also features more advanced dual SIM functionality and, as the first Snapdragon LTE modem to support DSDV, it provides users with the benefits of Ultra HD Voice and other IMS-based services on both SIMs inserted into the device. In addition, the Snapdragon X20 LTE modem supports Snapdragon All Mode, including all major cellular technologies (LTE FDD, LTE TDD, WCDMA, TD-SCDMA, EV-DO, CDMA 1x, and GSM/EDGE), over 40 cellular frequency bands (including U.S. public safety Band 14 and 600 MHz band support), over 1000 carrier aggregation band combinations, LTE Broadcast, Voice over LTE (VoLTE) with support for Ultra HD Voice quality with the EVS codec, and single radio voice call continuity to 3G and 2G.
Of note, the Snapdragon X20 LTE modem is an LTE Advanced Pro modem that supports Licensed Assisted Access (LAA), the global standard for LTE in unlicensed spectrum. Support for both 5xCA and LAA is significant because it allows operators to launch Gigabit LTE service with as little as 10 MHz of licensed spectrum, which expands the number of operators who can offer Gigabit LTE service around the globe. Additionally, the Snapdragon X20 LTE modem supports the 3.5GHz shared spectrum in the U.S. called Citizens Broadband Radio Service (CBRS), which can be used to provide new services, such as private LTE-based networks. It can also be used by existing mobile operators to offer Gigabit LTE in more places by making more spectrum available.
"The Snapdragon X20 LTE modem is the latest example of Qualcomm extending our connectivity leadership and puts us at the forefront in driving global deployment of Gigabit LTE worldwide, laying an essential foundation for the successful launch of 5G mobile services worldwide," said Serge Willenegger, senior vice president, product management, Qualcomm Technologies Inc. "We anticipate that the Snapdragon X20 LTE modem will help accelerate the worldwide adoption of Gigabit LTE, allowing users to enjoy even faster data speeds, further improving consumers' always on mobile lifestyle."
Qualcomm has started sampling the Snapdragon X20 LTE modem to its customers with first commercial devices expected in the first half of 2018.
Tri-mode System-on-Chip with Bluetooth Low Energy 5, Dual band Wi-Fi, 802.15.4 Connectivity for IoT Devices
Qualcomm also today announced two new System-on-chips (SoCs), the QCA4020 and QCA4024. The tri-mode SoC QCA4020 is integrating Bluetooth Low Energy 5, Dual-band Wi-Fi, and 802.15.4-based technologies, including ZigBee and Thread, while QCA4024 integrates Bluetooth Low Energy 5 and 802.15.4. Both solutions support hardware-based security features.
Key features include:
Tri-mode Intelligent Connectivity with Advanced Smart Coexistence:

Bluetooth 5 - Low Energy and CSRMesh connectivity
Low power Wi-Fi - 802.11n in 2.4 GHz/5 GHz bands
802.15.4 - ZigBee3.0 and OpenThread

Dual-Core Processing:

Dedicated ARM Cortex M4 CPU for customer applications
Low power ARM Cortex M0 CPU for Bluetooth Low Energy drivers and 802.15.4 control and security functions

Hardware-Based Security: featuring secure boot, trusted execution environment, encrypted storage, key provisioning and wireless protocol security
Multiple Protocols: Full network stack with pre-integrated software for HomeKit and OCF
Pre-integrated Support for Cloud Services: AWS IoT and Microsoft Azure IoT Device SDK to connect devices with Azure IoT Hub
Peripherals and Interfaces: SPI, UART, PWM, I2S, I2C, SDIO, and ADC as well as GPIOs
Integrated Sensor Hub: for post-processing to enable the low power sensor use cases
Small Package
QCA4020 and QCA4024 are sampling now and are expected to be commercially available in the second half of 2017.
3GPP-based 5G Connection Showcase at MWC
Qualcomm also announced a successful 5G connection based upon the New Radio (NR) work in 3GPP, which is expected to become the global 5G standard.
The connection, which was completed utilizing Qualcomm Technologies' sub-6 GHz 5G NR prototype system capable of operating at mid-band spectrum from 3.3 GHz to 5.0 GHz, demonstrates how advanced 5G NR technologies can be utilized to achieve multi-gigabit-per-second data rates at significantly lower latency than today's 4G LTE networks.
Qualcomm Technologies' sub-6 GHz 5G NR prototype consists of both base stations and user equipment (UE) and serves as a testbed for verifying 5G NR capabilities in bands below 6 GHz. The live prototype demonstration showcased advanced 3GPP 5G NR technologies including adaptive self-contained TDD subframes, scalable OFDM-based waveforms to support wider bandwidths, advanced LDPC channel coding, and a new flexible, low-latency slot structure based design.
Qualcomm will be demonstrating the prototype system publicly at Mobile World Congress in Barcelona from February 27 through March 2 in the Qualcomm booth. The prototype will be utilized in Qualcomm's over-the-air 5G NR trials and interoperability testing starting in the second half of 2017.