New Kindle Paperwhite is Thinner, Lighter, and Waterproof
Today, Amazon introduced the new Kindle Paperwhite, featuring a thinner and lighter design, flush-front display, and waterproofing.
It is the thinnest and lightest Kindle Paperwhite yet, measuring 8.18mm thick and weighing 182g. The six-inch, high resolution 300 ppi display features laser-quality text that reads like real paper. It also includes five LEDs and an adjustable front light for a uniform, glare-free display in any setting-even direct sunlight.
It's IPX8 rated to protect against immersion in up to two meters of fresh water for up to 60 minutes.
It also comes with Audible so you can switch between reading and listening to professionally narrated performances from a selection of audiobooks. For a limited time, you get six months of Kindle Unlimited for free, a $60 value, so you can read as much as you want from a selection of millions of titles. In addition, the new Kindle Paperwhite comes with twice the storage (8GB and 32GB).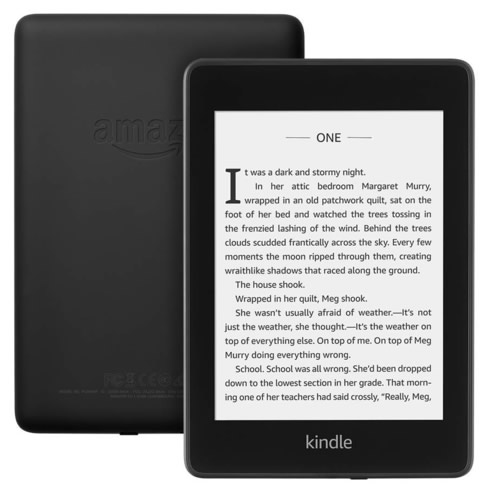 The device still includes features like a glare-free display and a battery life measured in weeks.
The new home experience makes it easier to find your next read based on your reading history, including books that are free for you to read from Kindle Unlimited or Prime Reading. You can also view reading accomplishments, like how many days in the past month you've read, as well as fun facts and tips so you can get the most out of your device.
You can now save multiple reading settings, selecting the font, boldness level, and orientation settings you prefer all from the main menu and quickly switch between those settings.
The updated home experience, as well as the ability to quickly save and access reading settings, will be delivered as a free, over-the-air update to the all-new Kindle Paperwhite, Kindle Paperwhite Gen 6 (released in 2013) and newer devices in the coming weeks.
The new Kindle Paperwhite is $129.99 for the 8 GB model and $159.99 for the 32 GB model. The 32 GB with free cellular connectivity is $249.99. All are available today for pre-order in the United States.