New Intel Core M Processor Coming In Tablets, Hybrids
Intel officially launched at IFA on Friday the new Intel Core M processor, which will power new 2 in 1 devices from a variety of manufacturers including: Acer, ASUS, Dell, HP, Lenovo and Toshiba. Intel's new processor was purpose-built for performance in the thinnest, fanless ultra-mobile devices. The Intel Core M processor can power thinner devices with Intel Core processor-level performance and deliver up to double the battery life when compared to a 4-year-old system, according to Intel.
"We've been on a multi-year mission to address end-user requirements and transform mobile computing," said Kirk Skaugen, senior vice president and general manager of personal computing at Intel Corporation. "The introduction of Core M marks a significant milestone in that journey. Core M is the first of a new product family designed to deliver the promise of one of the world's thinnest laptops and highest performance tablets in a single 2 in 1 device."
The Intel Core M processor enables up to 50 percent faster compute performance and 40 percent faster graphics performance versus the comparable, previous 4th generation Intel Core processor. Intel claims that you?ll be able to play modern games at high levels of performance. Intel?s HD Graphics 5300 will support DirectX 11.2, OpenGL 4.2 and OpenCL 2.0, with resolutions up to 3840x2160.

The Intel Core M processor can handle more than 8 hours of video play, which is up to 20 percent (1.7 hours) longer battery life versus the previous-generation Intel Core processor and double the battery life of the average 4-year-old PC.
The new 14-nanometer manufacturing process also helped reduce the Intel Core M processor package, which is now 50 percent smaller and, at 4.5 watts, has 60 percent lower thermal power than the previous generation. This lets OEMs design fanless systems less than 9 mm thin - thinner than an AAA battery and today's sleekest laptops.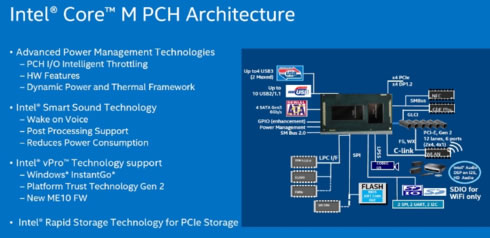 In Q4, Acer will expand its 2-in-1 series of notebooks with the Aspire Switch 12, featuring a 12.5-inch FHD display with unique kickstand and magnet keyboard to move smoothly between five modes.
ASUS introduced the ASUS Zenbook UX305, a thin Ultrabook with a 13-inch QHD display and the ASUS Transformer Book T300FA 2-in-1, which was unveiled during the Intel keynote. The Transformer Book T300FA is a high-performance 2 in 1 and is expected to be available in Europe this fall for an estimated ?599. Looking ahead, ASUS plans to go even thinner with the ASUS Transformer T300 Chi.
Dell has announced its first commercial 2 in 1, the Latitude 13 7000 Series, which combines a lightweight business Ultrabook and a detachable tablet.
HP extends its ENVY portfolio with the addition of two new HP ENVY x2 detachable PCs, available in 13.3-inch and 15.6-inch form factors.
The new Lenovo ThinkPad Helix, available in October, is 12 percent lighter and measures 15 percent thinner than its predecessor while packing even more power thanks to the Intel Core M processor.
Intel also previewed a forthcoming Intel Core M processor-based design from Toshiba, and said broader availability of Intel Core M processor-based devices is expected in the first half of next year.
To further system choice and availability, Intel said it is working with ODMs including Wistron and others. Wistron plans an Intel Core M processor-based design inspired by the Intel "Llama Mountain" reference device. Intel first unveiled the fanless Llama Mountain reference device, which measures 7.2 mm thin and weighs a mere 670 grams, at Computex in Taiwan earlier this year.
Intel Core M is also a "conflict-free" product, which means this product does not contain conflict minerals (tin, tantalum, tungsten and/or gold) that directly or indirectly finance or benefit armed groups in the Democratic Republic of the Congo (DRC) or adjoining countries.
Intel Core M Specifications

 
Core M-5Y70
Core M-5Y10a
Core M-5Y10
Cores / Threads

2 / 4

2 / 4

2 / 4

Base Frequency / MHz

1100

800

800

Turbo Frequency / MHz

2600

2000

2000

Processor Graphics

HD 5300

HD 5300

HD 5300

IGP Base Frequency / MHz

100

100

100

IGP Turbo Frequency / MHz

850

800

800

L3 Cache

4 MB

4 MB

4 MB

TDP

4.5 W

4.5 W

4.5 W

LPDDR3/DDR3L Support

1600 MHz

1600 MHz

1600 MHz

Intel vPro

Yes

No

No

Intel TXT

Yes

No

No

Intel VT-d/VT-x

Yes

Yes

Yes

Intel AES-NI

Yes

Yes

Yes
The top of the line processor will be called the Core M-5Y70. '5' is similar to i5 -- a dual-core processor with Hyper-Threading; 'Y' is for Broadwell-Y; and '70' gives its position in the hardware stack.
The CPU will leverage both processor graphics and CPU Turbo Boost, allowing each of them to turbo at different times and different rates depending on the workload. The 5Y70 features a base clock of 1.1 GHz, with turbo for both single-core and dual-core use listed as up to 2.6 GHz. The new HD 5300 GPU similarly has a 100 MHz base frequency with an 850 MHz turbo. The 5Y70 is different from the other two models in both clock speeds and features, as it will be part of Intel?s vPro program and also supports Intel TXT.
The other two processors announced today are the 5Y10a and 5Y10, with dual-core + HT configurations and 800 MHz base frequency with turbo up to 2.0 GHz. Intel notes that the 5Y10 supports "4W Config Down TDP". The graphics is clocked slightly lower on the turbo, giving 800 MHz. The 5Y10 will also support a cTDP Down mode of 4W.
Additional Intel Core M platform features include support for high-quality audio, a new Wireless-AC 7265 2x2 802.11ac component; Wireless Display (WiDi) 5.0, and wireless docking support.
Core M was also shown in paper-thin prototype tablets running Windows and Android at the Computex trade show in June. PC makers have not expressed interest in building Android tablets with Core M, but the OS can be adapted for the chips, Intal says.
The CPUs will be in volume production before the end of the year.