New HP Spectre Folio is a Leather Convertible PC
HP today unveiled the HP Spectre Folio, a new luxurious laptop wrapped in a full-grain leather shell.
The first leather convertible PC, the Spectre Folio blends craftsmanship with the latest technology. It has a 100 percent chromed tan, made of full-grain leather. It is a durable material that provides a natural hinge and flexible chassis. The Spectre Folio will be available in two colors: Cognac Brown and Bordeaux Burgundy.
The convertible PC is now easier to use with the Spectre Folio's simpler transitions to multiple positions. With one hand, the device moves from a traditional laptop position typically used for productivity, to tent position that tucks away the keyboard for sturdier support on the lap, to tablet position with a built-in tilt for inking - all made possible by strategically placed magnets and the flexibility of leather to act as a natural hinge.

To achieve a thin and light design, the Spectre Folio incorporates one of the smallest motherboards in the industry, capitalizing on 8th Gen Intel Core i5 and i7 (Y-series) processors. Additionally, a fanless thermal design leverages the qualities of leather to create an experience that feels both cool and comfortable in the lap. HP also worked with Bang & Olufsen to tune the four front facing speakers.
Other features include up to 16 GB of memory, up to 2 TB of SSD storage, and either a 300-nits FHD display or a low-power, 1W 400-nits FHD option for ideal viewing in any lighting condition. A 4K UHD display panel option will be available later this year.
On-the-go professionals alike will appreciate HP's focus on achieving ultra-mobility and connected standby, with up to 18 hours of battery life.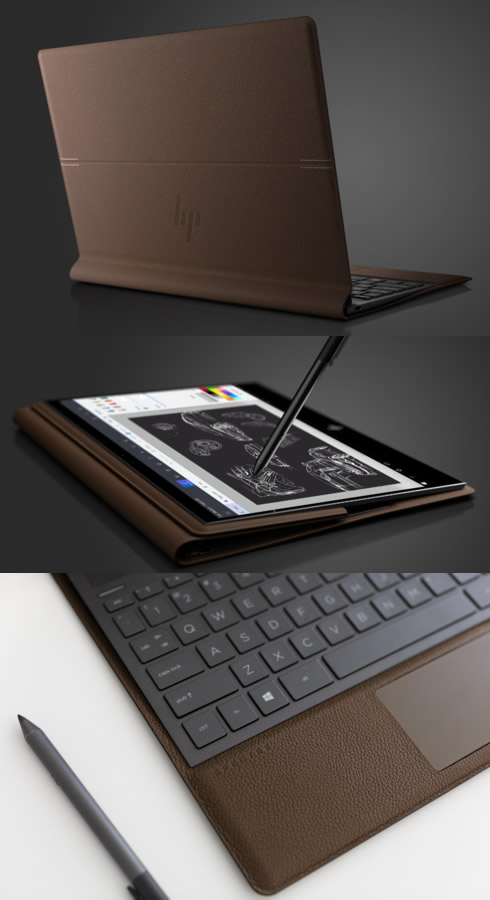 The Spectre Folio is the first gigabit class LTE Intel based laptop, providing an Always Connected PC experience. The device also supports dual eSIM, with an optional nano-SIM slot under the display and an optional embedded digital eSIM to connect to their cellular networks. For those activating the device on the Sprint network, Intel and Sprint are offering free unlimited data for six months with Autopay.
Pre-orders for the HP Spectre Folio will begin October 1, 2018, at Best Buy.com and HP.com. The device is expected to be available in Cognac Brown with an Intel Core i7 processor at select Best Buy retail locations and BestBuy.com beginning October 29.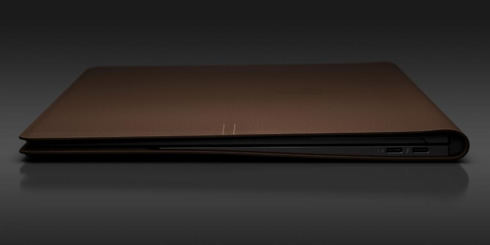 A Cognac Brown version with an Intel Core i5 processor is priced at $1,299.99. A version armed with an Intel Core i7 processor and LTE starts at $1,499.99.
The HP Spectre Folio in Bordeaux Burgundy is expected to be available in late December. The 4K panel option will also be available at the same time frame.
The HP Spectre Folio Pouch and the HP Spectre Folio Sleeve will be available at HP.com in November for $49.99 and $69.99 respectively.