New Apple iPad Coming March 7
Apple is hosting a media event next Wednesday, where it is expected to unveil a faster version of its iPad tablet. The event will be held at 1 p.m. EST (1800 GMT) on March 7 at the Yerba Buena Center for the Arts in San Francisco, where the company also introduced the last two generations of iPads.
Apple did not divulge details of the event beyond saying: "We have something you really have to see. And touch." As you see in the invitation below, the background shows part of an iPad screen, with a finger poised over the Calendar app. This hints that the tablet may not sport a physical home button, as have earlier iPads: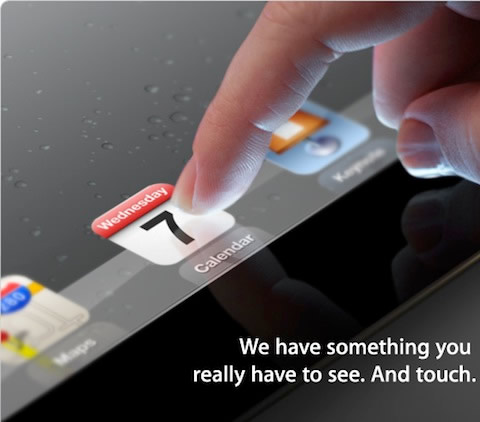 The iPad has dominated the tablet computer market, but Amazon's Kindle Fire, which sells at half the cost, has chipped away at the lower end of the market.
Industry experts expect 4G wireless capability (LTE) for the new iPad, along with a higher resolution display.
With the iPad 2 starting at $499, investors will also be watching to see if Apple plans to discount it.