Nero 2016 Released To help You Master Your PC, Mobile And Streaming Data
Nero has just released the Nero 2016, a software suite that gives multimedia fans an advanced all-in-one solution for managing, streaming, playing, editing, ripping copying, burning and sharing files. The Nero 2016 Classic and Nero 2016 Platinum suites provide full support for Windows 10 and introduce over 20 new features which revolve around multimedia streaming functions, the integration of smartphones, tablets and smart TVs, as well as auto-optimized picture and sound quality, alongside many usability improvements and increased performance.
Significant improvements have been made in streaming from and to any DLNA/ UPnP-capable device.
New App: Nero Streaming Player Connects Smartphone, Tablet, Smart TV and PC
The Nero Streaming Player is a new player app for smartphone and tablet that plays slideshows, videos and music on a mobile device directly to a smart TV in the living room. At the same time, it serves as a remote control, browser and playback device for the Nero MediaHome media server. The browsed content can then be sent directly to a smart TV. The new iOS and Android app thus combines the functionality of a PC media server, with the browsing convenience of mobile devices and the high picture quality of large smart TVs.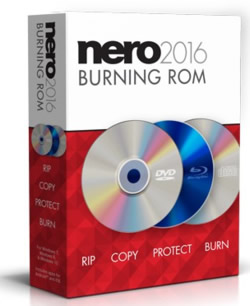 Nero 2016 Classic
Nero 2016 Classic is an all-in-one multimedia solution. A new video-editing preview function in Full HD quality with the option to turn a second monitor into a preview screen.
It might come as a surprise that over 25 percent of discs burned with Nero are still audio CDs. The new version of Nero Classic now allows music videos and radio recordings to be imported directly as audio files and to have the sound quality automatically normalized and optimized. Furthermore, improved hardware support for ripping and converting video and audio has been coupled with support for the latest and most popular mobile devices, which can be be selected from a list without having to worry about formats and settings.
Nero 2016 Platinum
Nero 2016 Platinum comes with even more enhancements and improvements. On top of all the features of the Nero 2016 Classic suite, Nero 2016 Platinum packs additional high-end functionalities for a more sophisticated digital lifestyle. The recently added "stashimi" music recorder allows a personal music collection to be created for free by using a wish list function to find and record MP3s from over 100,000 web radio stations. Users of 4K and UHD TVs, PCs, smartphones and camcorders also benefit from the integrated 4K support - 4K video editing, 4K slideshows and 4K playback. Moreover, the software offers professional video effects, and design and menu templates for every occasion.
Additional new features in Nero 2016:
Easy application launch and overview with the new scalable Nero Launcher
Create and print disc covers, inserts and labels with the integrated Nero CoverDesigner, including new design and print templates
Nero MediaHome for a customized media library that you can take with you; trouble-free transfer of your media collection including all metadata, face-recognition and geo tags to newly installed PCs
Collection of Mobile Apps
Numerous iOS and Android apps open up additional ways to use Nero 2016.
Nero Streaming Player: streams media from and to a smartphone or tablet
Nero AirBurn: burns from a smartphone or tablet via Wi-Fi directly to the PC
Nero Manual Apps: provide advice on using Nero PC products like a pro
Nero MediaHome WiFi Sync: transfers media between PC and mobile devices via Wi-Fi

Nero 2016 Classic is available at a suggested retail price (SRP) of £69,99, and Nero 2016 Platinum for £89.99 (SRP). Owners of a previous version of Nero can also upgrade at a special price. Nero also offers customized and discounted licensing programs.
Nero 2016 consists of stand-alone solutions, such as Nero Burning ROM 2016 (burning software; SRP £39.99), Nero Recode 2016 (video converter and ripper; SRP £ 29.99) and Nero MediaHome 2016 Unlimited (media file manager and media server; SRP £ 29.99) that have also been upgraded with the new functionalities and which can be purchased separately online. In addition to 4K video support and the full feature set of Nero Video 2016 (video editing; SRP £ 39.99), Nero 2016 Platinum also includes an unrestricted full license for the new music search and recording software stashimi (SRP £ 12.99) from the company bearing the same name.
All the mobile apps can be downloaded for free from the App Store and on Google Play.