MWC: LG's Mobile Strategy to Focus on Audio, Batteries, Cameras and Displays, New G7 Smartphone Could Be Released Later This Year
At Mobile World Congress (MWC) in Barcelona, the new head of LG Electronics' mobile business, spoke about the importance of meeting consumers' real needs by improving trust in the LG brand and focusing on core technologies.
High-end interim products based on premium devices such as the recently announced V30S ThinQ will play an important role toward that goal, according to LG Mobile Communications Company president Hwang Jeong-hwan.
"The majority smartphone customers today desire a great user experience that thoughtfully reflects how they work and play," said Mr. Hwang. "LG customers expect our phones to excel in four core technologies which we call the 'ABCD' of killer features - audio, battery, camera and display. We will prioritize these features not only in our new flagship products but also in our interim products starting with the LG V30S ThinQ which we are showing here in Barcelona."
Leveraging its smartphone platforms with incremental software and aesthetic upgrades will deliver a longer and more satisfying ownership experience for existing customers, LG's executive says. He hopes that thoughtful features and unique color options will attract consideration from new customers, while enhanced product build quality and after-sales service like the continuous AI suite updates will give consumers even more reason to consider LG when shopping for a new smartphone.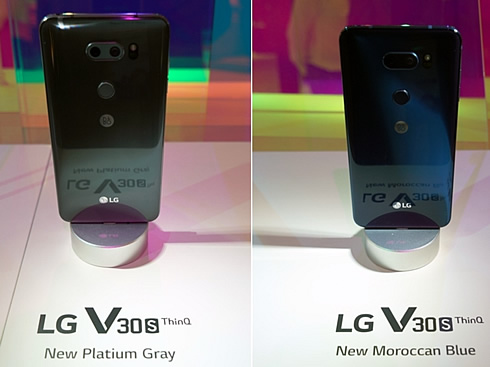 LG's high-end smartphones are already offering great audio. LG promised to further enhance its Hi-Fi Quad DAC technology in future devices. D eveloping better battery technologies in partnership with LG Chem is also a top priority for LG.
LG smartphone cameras will not only feature better lenses and improved low light performance; they will get smarter with the addition of artificial intelligence to take much of the guesswork out of capturing that perfect shot. LG also said that both LCD and OLED technologies will see significant investments in R&D.
LG has been posting net losses in its mobile arm for 11 consecutive quarters. Responding to the situation, LG hinted it plans to improve the basic earnings structure of the mobile business, rather than to just focus on adopting new features that could end up pushing up prices.
Hwang also complimented Samsung Electronics's Galaxy S9 smartphone.
"The Galaxy S9 maintained the same design with the predecessor. I think that was a good idea," Hwang said.
"Replacing or changing brands takes time, so we do not plan to hurry," Hwang said. "This year, LG will release a totally new premium smartphone that stands out from its predecessors with an emphasis on the ABCDs of the product," Hwang added. However, he did not confirm a new naming scheme for teh upcoming flagship smartphones.
"We have discussed the alleged naming scheme or giving up one brand for a long time, but it is hard to say at this moment," he added.