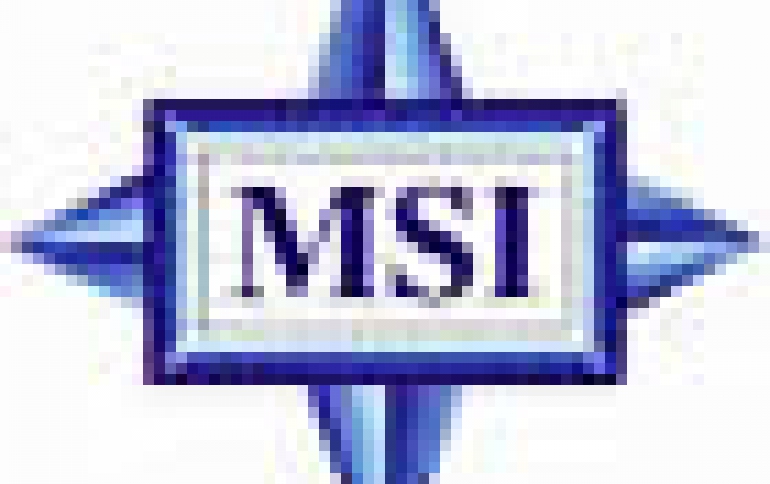 MSI P4N Diamond Motherboard
MSI creates a revolutionary new technology and implements it on the new MSI P4N Diamond mainboard for Intel Pentium 4 LGA 775 CPU - an intelligent digital switch to detect and automatically switch from normal mode to SLI mode. Moreover, the MSI P4N Diamond motherboard not only supports NVIDIA's outstanding SLI technology for extreme 3D performance, but is also the first one to integrate the most advanced controllers for outstanding connectivity and storage, SATA2 RAID. High-definition audio is ensured by Sound Blaster Live! 24Bit.

MSI P4N Diamond is equipped with the MSI Dual-Net card and Communication Slot for maximum connectivity.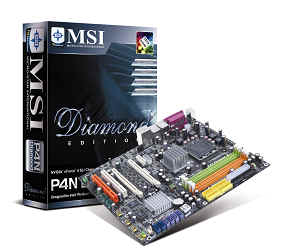 Digital Switch to SLI Mode
In ordinary procedure of configuring SLI motherboard to activate dual SLI-ready graphics card, most onboard BIOS supports auto-detect and auto-switch SLI modes even when two graphics cards are installed. But users will still need to uninstall a small SLI switch card and change its direction before installing it again. While, the MSI P4N Diamond mainboard can detect and automatically switch to SLI mode. Digital Switch delivers real-time split graphics signals to two PCI Express slots with 8 lanes.
The NVIDIA SLI technology together with the MSI P4N Diamond surely deliver tremendous performance enhancement from parallel processing to dual graphics cards.
SATA2 RAID
While most motherboard manufacturers have selected SATA1 controller based on PCI bus to accompany the integrated SATA2 RAID, MSI P4N Diamond has chosen SiliconImage SATA2 RAID controller for its advanced PCI Express architecture. PCI Express' point-to-point architecture ensures RAID performance and will not be diminished by shared bandwidth of PCI bus. The SATA2 interface supports data transfer rates up to 3GB/sec, which is twice the speed of SATA1. On the other hand, SATA2 connectors in navy blue color indicate its capacity of signal output amplitude control for external SATA devices.
The NVRAID 2.0 utility for nForce SATA2 RAID can obtain unbeatable storage performance with SATA2 hard drives. Additionally, its scalability can configure the disk array across SATA and IDE hard drives to single RAID.
High-Definition Audio
The MSI P4N Diamond equips Creative 7.1 Channel High-Definition Audio with Dolby Digital EX certification. It provides cinematic audio experience with unmatched sound quality and realistic gaming sound effects. The Sound Blaster Live! 24Bit onboard audio features EAX advanced HD, which is the latest gaming effect standard supported by the newest games.

MSI Connectivity
The wireless connectivity of the MSI P4N Diamond can support both 802.11b/g Wireless LAN and Bluetooth. Installed with MSI Dual-Net card, user can save from the cost of physical access point and IP sharing device.
The Communication Slot is an optimized and extended version of the basic PCI specification to provide the ultimate interface for PCI network cards. MSI develops proprietary Dual-Net card exclusively for communication slot(s), which combines 802.11g wireless networking with Bluetooth technology. This add-on card with antenna offers convenient connection to most wireless devices.
For the communication slot, MSI has developed a new user interface called DigiCell, which helps users' start-up the access point and gateway with just two clicks.
P4N Diamond provides dual gigabit Ethernet onboard for great connectivity. One of them is PCI Express LAN, which supports 2.5Gb/s bandwidth, and the other one is NVIDIA Active Armor technology, a hardware network firewall engine to protect intrusion from the Internet. Compared to other software protection, the Active Armor reduces the CPU utilization by handling most of the steps in the inspection of network packets.
MSI Thermal Solution
MSI ActiveMOS2 is specially designed for the best thermal solution on power circuit. Based on the same concept of laptop computer, the heatpipe and copper heatsink with Nickel-coating can efficiently dissipate heat from PWM (Pulse Width Modulation). The additional fan on the heatsink can take away the heat from extreme overclocking. It is a detachable device allowing to minimize unwanted noise. Since the exclusive reversed MOS design from ActiveMOS together with the heatpipe and copper heatsink can already handle moderate overclocking and intensive gaming.