Mozilla Launches Web Site to Help Bring Virtual Reality to the Web
Mozilla is launching the MozVR.com web site to help foster the emerging virtual reality Web. Earlier this year, Mozilla began a project to explore whether it was possible to bring virtual reality to the Web, and in June they released experimental builds of Firefox with support for the Oculus Rift.
MozVR is "a VR website about VR websites", in which Mozilla's engineers will share experimental VR Web experiences, provide resources, and showcase work from developers in the growing VR web community.
To make it easier for others to build their own VR websites, Mzilla is sharing solutions on MozVR and GitHub, from source code, to tools, to tutorials.
MozVR.com offers a seamless navigation experience, with a Web VR navigation interface that allows users to move from site to site without friction. Like a heads up display, menus and loading indicators appear as unobtrusive layers that wrap the experience and are easily summoned or dismissed. Clicking a link becomes like teleportation, as one VR world dissolves into the next.
The first demos highlighted on MozVR include Sechelt, a WebGL fly-through of coastal British Columbia built with Ricardo Cabello (aka Mr.doob) of Three.js, and The Polar Sea, a documentary by DEEP that takes users to the Arctic in 360° VR video, powered by eleVR's WebGL VR video player. It also includes Information Diving, a visualization of data as art inspired by the work of artist Tatiana Plakhova and built with Tony Parisi and Eric Levin using Tony's Vizi framework, a VR Web motion control demo from Leap Motion built by Leap's Peter Ehrlich using LeapJS, and episode 4 of Talk Chat Show Thing - a talk show filmed in VR.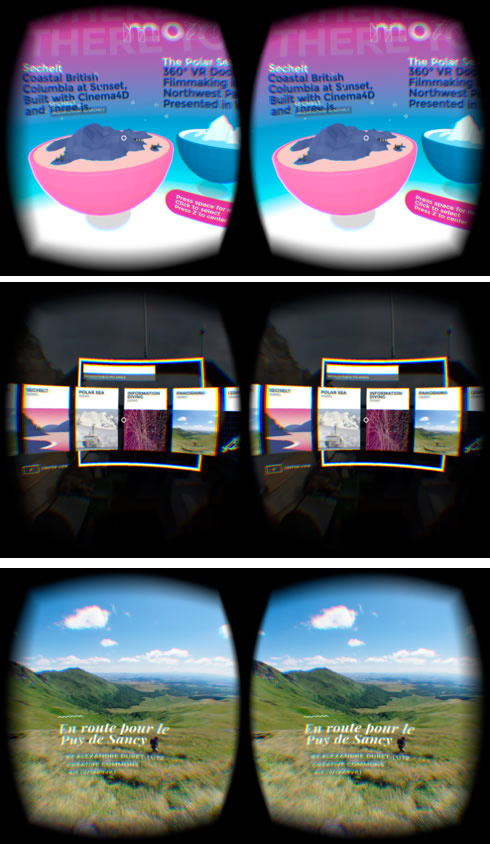 To experience the site and demos in virtual reality, you will need a VR-enabled build of Firefox for Mac or PC, and an Oculus Rift headset. In the future, Mozilla plans top make a device-agnostic Web VR, with support for additional devices coming soon. MozVR.com will also work with VR-enabled builds of Chromium.